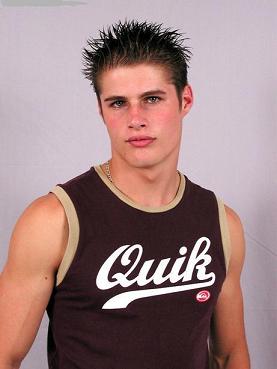 Who says that goodlooking guys are stupid?
The folks at American Eagle and the directors at Pac Sun, American Eagle and Quik consider him to be the most perfect male fashion model in his niche, and one hour of his time is worth more than most people make in a month, but to the 22-year-old boyish Belgian/American skateboarder, Kaylin-Vincente DuLuissey,  modeling is just a part time job that gets in his way because he prefers teaching his French and Dutch speaking students how to perfect their English language skills — or is it the other way around?
"I teach American business executives to speak French and Dutch," laughed DuLuissey.  "You would be surprised at how many companies send their people to Belgium and France and even Holland. Most of them are not good students but I am not supposed to say that."
He didn't say how much he makes but industry insiders estimate that he probably brings in about  $700,000 + a year doing only part-time  modeling, but KV, as he calls himself, prefers his $37.00 an hour job working as a tutor for a private, language skills company in New York City — and did we mention that he has an IQ of 171? (later reduced to 155 in private testing)   That score puts him about as high as you can reliably get on that scale, but to him it's just a number.
"When I got those test scores everybody made a huge fuss like I was some kind of genius," said the affable DuLuissey from the apartment in Brooklyn, NY  he shares with his brother Laurent, an artist and piano player who works in Soho.  He plans on moving into his grandmother's posh home on Manhattan's Upper West Side now that the old lady has returned to Belgium.  Seems Grandma is of royal lineage and is the former Countess Millicente Claire de Baillet-Latour (now DuLuissey) and  the grand niece of  the fabled Duc de Persigny.  Kaylin, however, doesn't seem to pay attention to his highly social connections; preferring instead to joke about his new life situation.
"I mean, the score says I am a genius but it's a silly thing.  One morning I am taking the PATH train to New York on my way to school and some strange man tells me that I can be a model and that evening I am on a plane to Miami with my father and the CEO of Quik and PacSun.  Then the next week a teacher from my town in Belgium tells my university counselor that my IQ is 171 and the next thing you know I am like somebody on Ripley's Believe It Or Not.  I was already a model, but I never did the big stuff like I do now.  I do not like to model but what else can I do at this point in my life.  Many of my friends do nothing so I think I should do something.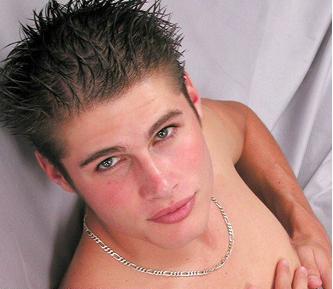 "I always knew that I was smart at languages but this IQ thing is crazy and stupid.  I don't see how I can be so smart when I had a very hard time studying for my exams last year.  I thought I was going to fail American Literature for sure."  (He got a 4.0).
"If I had to say for certain, I would say that I am better looking than I am smart but even then I don't think that I am goodlooking.  I hate to see pictures of myself.  I think I look like an ape.  My head is so big and my lips are so fat.  I will not grow up to be a handsome guy.  I'll look like some kind of freak or something.  I'll look strange but that's okay because I prefer to teach and nobody cares what you look like when you are a teacher.  Your students look up to you for all the right reasons."
KV comes from Neufchateau, Liege, Belgium.  His mother Claire Kerr-Trimmer is a Northern Ireland-born Scot who works as an English teacher at a local middle school in their cozy hometown.  His father Jean-Claude DuLuissey is a banker, and a business trip to Buffalo, New York in 2003 prompted the cagey father to enroll his son part time in Madonna High School in Niagra Falls, NY as a way of gradually introducing him to American culture.
"Kaylin was going to a school in Luxembourg but I knew he was not happy there," said Jean Claude DuLuissey. "He lived with his Aunt Debbie (film star Deborah Kerr) in Scotland for some time but she was ill and it upset him to see her like that.  He was always interested in American things and his English language skills were so impeccable that it was a logical choice because I was working two weeks per month in Buffalo and my son got to be in America — a country that has fascinated him since he was a little boy. "
What about all the money his son is making?
"I know he is making a lot of money in the USA and gradually his face is becoming more familiar in Europe outside of Belgium and France," said the proud dad.  "He's smarter than just what an IQ test can show you.  He knows to save his money and his plan is to build a good financial base and then continue to teach.  He knows that modeling is a career that will not last long but if he invests his money properly he will never have to worry about enjoying the rest of his life as a teacher.  He's a much better banker than I am but please do not tell that to my business partners."
Sounds like the kid's not in Grandma's will.  But I digress….
Kaylin-Vincente is a great looking kid who happens to be a genuine genius, but he also happens to be a heck of a down to earth American dude.  There is nothing hotshot about him and even though he has to make time to teach a class or walk a runway in New York it doesn't matter to him.  For relaxation he carries his skateboard in his suitcase when he travels but even that totally normal thing has caused a problem.
"If I want to ride my skateboard and keep my contract with American Eagle I have to pay an insurance policy in case I get hurt and scar up my face," laughed KV.
"I like to roller blade in Central Park and once I had a race with Matt Dillon.    I liked talking to him because American actors and film people are very interesting to me.  American movies are what made me get so interested in the USA. "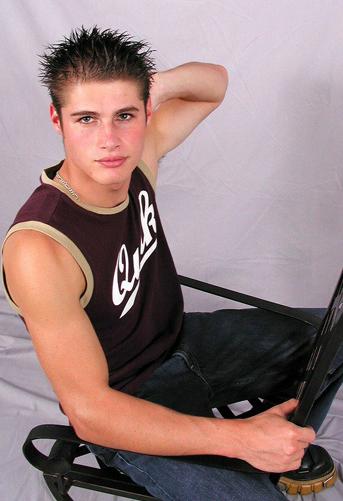 What's the future hold for this Academic Adonis?
"I am just going to work as much as I can as a model and keep teaching throughout the summer months.  After a few years I will have a better idea of what I will do.  I had an offer to work in London but for some reason England doesn't interest me.  It's nice enough but I like where I am.  I blend in and I love being close to Florida and the Caribbean.  Those places are awesome."