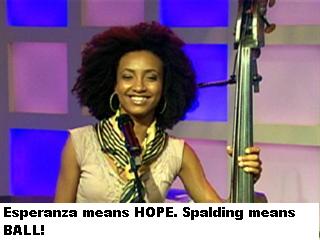 Esperanza Spalding scored big at The Grammys last night and that's the way the ball bounces.  The twenty-five year old heiress to the Spalding Sporting Goods Corporation took up singing when she got bored of working at the corporate offices of Spalding despite graduating from Harvard with a degree in Marketing and Finance.
"She never had to sing a note," said a source close to Spalding. 
 "She was the heiress to a billion dollar company and it all goes to her when her father dies.   
"Currently she gets an $8,000,000 a year bonus as a board director but she wanted to sing.  Her father is happy that she found something she liked but Spalding Corporation is really suffering without her."
Esperanza Spalding was a very integral part of the Saplding corporation, according to Forbes Magazine.  She designed several soccer balls that were given away at World Cup events.   She briefly dated  Keanu Reeves back in 2009 but her busy work schedule as a marketing person left the two without a lot of contact and according to friends they had to call off the relationship.
Now that she has the Grammy, what will be next for Esperanza Spalding?
"She plans to design a new line of Justin Beiber basketballs with the image of Jesus on them," said a company spokesperson.  The balls come with a Justin Beiber wig and makeup.
" They will glow in the dark and of the millions that will be sold, one will have a bonus prize check inside for $2 million dollars.  The plan is for kids everywhere to buy these basketballs and then rip them apart to find the check. "
Spalding Co. issued a stern warning to ball buyers.
"Since the check is adhered to the inner surface of the ball, the buyer will not be able to hear the check if they shake the ball.  Also, the ball comes equipped with a platinum holograph that will blow up like 20 pounds of TNT if anybody tries to put the ball through a CT machine or XRay.  It's better to just slit it open with a knife and go for broke.   You can always buy another for the retail price of $49.99."
Seems like the ball is in Esperanza's court and now that she is a singing sensation, she might walk away from a life where all she ever did was play with balls all day.
"She's had so many balls in her mouth since she was a kid," said a childhood friend.  "It's amazing that she never got any diseases or anything.  In college she used to play with anybody's balls as long as they were Spalding.    Her brother Lance Spalding likes the Spalding leather baseball gloves — lucky he is a catcher because that's the kind of thing he likes.