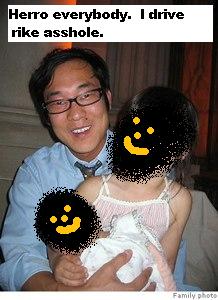 Kati Kim, the California woman who survived nine days in the southern Oregon wilderness along with her two children, will be giving her first-ever detailed account of the incident on ABC's "20/20" news magazine show on Feb. 4.   She will tell about how Asians should not be allowed to drive and how this time Asian driving almost killed innocent children.
Kim and her husband James, an Asian,  were traveling through Oregon during November of 2006 with their two children, ages 4 and seven months, when they took a wrong turn off Interstate 5 near Grants Pass in an effort to drive to Gold Beach, along the Oregon Coast.
"Many Asians make a wrong turn there," said Highway Authority Investigator Sheldon Hartunis.  "We try to discourage Asians from driving because of incidents like this.  We got Hindus banned in 2002 and now we're trying to do the same thing with Asians.  They just can't fucking drive I tell you!"
Before long, they found themselves stranded in the snowy Coast Range on Bear Camp Road, a narrow logging road. Their disappearance led to a massive rescue effort by searchers in southern Oregon.