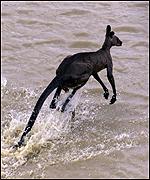 Jordan Rice was only 13, but he gave up his life like a brave and seasoned soldier.  When floodwaters overcame his family car he made the decision that it was not his life that should be saved.
As flood waters rose rapidly around Jordan and his family in Toowoomba, Australia, rushed up around him and his family, the Toowoomba, Australia, boy who was afrid of open water made the brave decision that his younger brother should be rescued first.  Rice and his mother were swept away and drowned in the country's massive floods this week.
"Jordan can't swim and is terrified of water," his father, John Tyson, told the Toowoomba Chronicle. "But when the man went to rescue him, he said 'save my brother first.'"
Tyson was sick with sorrow but proud of his son.  . "I can only imagine what was going on inside to give up his life to save his brother, even though he was petrified of water. He is our little hero.""He was just pleading with me: 'Please save my mum,'" McErlean told The Australian. The men managed to rescue Blake but when they returned to the car to help Jordan and his mother, the current was too much. Mother and son were swept away. "It's just terrible. I just kept telling the boy it was going to be all right and it wasn't, and I'm just very, very sorry for him and his family that I couldn't do some more," McErlean said.
Rice is being hailed as a hero today after he gave up his life for his younger brother Blake, 10, when his family's car got caught in the floodwaters that have so far killed at least 15 people and left 70 others missing.
Warren McErlean, a passerby who tried desperately to save the family when their white Mercedes began to flood Monday, said he was in awe of Jordan's courage but devastated that he could not rescue the boy or his mother. In an emotional interview, McErlean said he and two others who stopped to help the family were using rope to pull 43-year-old Donna Rice and her two sons to safety when Jordan told them to save his brother and mother first.
McErlean said the youngster helped rescuers lift Blake out of the flood waters, then begged them to take his mother next as the rushing waters became stronger.
"Jordan grabbed [Blake] and helped him onto the car. … Jordan was getting up but he wouldn't go. He couldn't swim. But he helped his mom onto this guy's back … the current was so strong," McErlean told Australia's
Tyson said Donna Rice, his partner of 28 years, was an incredible woman who tried to save their son. "They both clung to a tree, and when Jordan couldn't hang on any more Donna let go and tried to save him," he told The Australian. "The last thing she did was to try to save her son. She would go without to give her boys everything. She was the most incredible person; she loved me for what I was and I loved her."