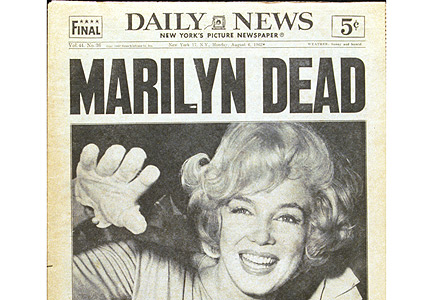 In her will, Monroe left acting coach ( who had no talent himelf)  Lee Strasberg her personal effects, which amounted to just over half of her residuary estate, expressing her desire that he "distribute [the effects] among my friends, colleagues and those to whom I am devoted".[138] Instead, Strasberg stored them in a warehouse, and willed them to his widow, Anna. Mrs. Strasberg successfully sued Los Angeles-based Odyssey Auctions in 1994 to prevent the sale of items consigned by the nephew of Monroe's business manager, Inez Melson. In October 1999, Christie's auctioned the bulk of Monroe's effects, including those recovered from Melson's nephew, netting US $13,405,785.  Photos of items here Direct photo. 
Mrs. Strasberg then sued the children of four photographers to determine rights of publicity, which permits the licensing of images of deceased personages for commercial purposes. The decision as to whether Monroe was a resident of California, where she died and where her will was probatedor New York, which she considered her primary residence, was worth millions
On May 4, 2007, a New York judge ruled that Monroe's rights of publicity ended at her death
In October 2007, Governor Arnold Schwarzenegger signed Senate Bill 771
The legislation was supported by Anna Strasberg and the Screen Actors Guild and established that non-family members may inherit rights of publicity through the residuary clause of the deceased's will, provided that the person was a resident of California at the time of death.
In March 2008, the United States District Court in Los Angeles ruled that Monroe was a resident of New York at the time of her death, citing the statement of the executor of her estate to California tax authorities, and a 1966 sworn affidavit by her housekeeper.
The decision was reaffirmed by the United States District Court of New York in September 2008. In 2010, Monroe's Brentwood home was put up for sale by Prudential California Realty.