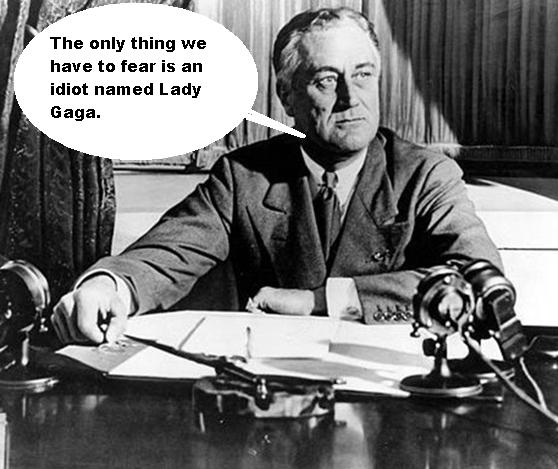 Either Lady Gaga has been wearing too much meat lately, or she has a rib roast for a brain.  Today the queen of the Dark Ages of no talent music made a "serious" public announcement about the policy  "don't ask, don't tell."   This is posturing of the highest order by Gaga, and gays everywhere ( except Emos who say they are bisexual — yeah right) seem to be okay with the military code as it is.
"I am not afraid of fairies," said Franklin Delano Roosevelt to Lady Gaga from his wheelchair in the hereafter where she had a guest pass for the day.  "If they want to serve this great country of ours in the armed forces here and abroad, they are more than welcome.  All we ask is that they don't talk about their sex lives.  The Army is not a soap opera or a salacious magazine.   It is a regimented service and the goings on in someone's psycho-sexual mind are not pertinent to the task at hand — and that task is to stand in ready against our enemies regardless of one's sexuality, race or religious background — although there are no atheists in foxholes."
According to sources, The Gaga didn't even understand what FDR was talking about.
"She didn't even know who he was," said a photographer who accompanied the meat wearing stupid ass on her trip into the next life.  "She just stood there like a moron. 
She is indeed a moron because she doesn't realize that the policy as it stands is not bothering anyone.  This fucking idiot would stir up a hornet's nest but lucky for her even hornets find her to be unappetizing.
"Never in all my ages both alive or dead have I met such an idiot," said FDR as walked away from his wheelchair.  "Of course I don't need that wheelchair because in the afterlife you are free of your afflictions, but the one affliction you are never free from is stupidity.  I fear that when Lady Gaga's time comes, she will be just as stupid here as she was on earth — that is a very sad thing for all Americans to face.
"You know, so many so-called entertainers in your time try in a way to emulate Eva Peron's air of beauty and dignity and Mae West's gift for the suggestive.  Of course I know  Mrs. Peron and Miss West and the difference is that they are and were  actually very intelligent and deeply interesting women who can not only not be copied, they will never be forgoetten.   I can tell you without restraint that both of them are sickened by the fact that 21st century entertainers of dubious intellect and talent are still trying to imitate them."
Thanks to a special clearance from the War Department and President Roosevelt personally, we at TheDamienZone.com are happy to make Lady Gaga our fucking idiot of the week.