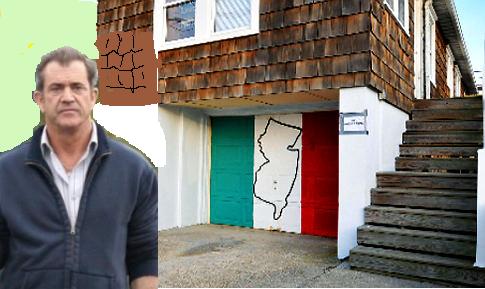 Mike "The Situation"  Sorrentino, the rocket scientist turned Jersey Guido and costar of MTV's "Jersey Shore"  got the shock of his life when he checked the telephone messages at the Seaside Heights, New Jersey home he shares with the rest of the MTV cast.
"The freakin area code was 310 so I freakin knew it was Los Angeles," said Sorrentino. This guy who left the message was  freakin screaming into the phone.   Man, I got so pumped and mad that I had to go to the gym and work it off.  If I catch the motherfucker he's gonna be sorry."
The rest of the cast sat around in disbelief when they listened to the message, but then the guys  went out and got drunk and started punching people and getting head from desperate sluts, while the girls went out and got drunker and gave bad head to guys with Kiss Me I'm Italian t-shirts.  Then they all threw up and forgot what happened.
Verizon telephone forensics people are carefully examining the voice pattern and call location in an attempt to track down the nuisance caller.
"We know it was a pay phone somewhere off of Pico near Los Angeles International airport," said Rashneesh Gambajimini from his office in Edison, New Jersey.  "Anybody could have made the call from that phone but the voice pattern analysis sounds like it could be a Mel Gibson call and run.  A mel Gibson call and run is  kind of like a drive-by but it's done only by Mel Gibson with a pay telephone."
TheDamienZone.com was able to get a transcript of the telephone message.  If you are Italian American you may find this transcript to be offensive, so perhaps it's better if you don't read it.  Maybe you can take the time to shine up your Camaro's dashboard with Armour-All or go to Pep Boys to look at rims. 
Here is the transcript of the telephone message:
YOU FUCKIN GINNYS!  Yeah — uh–  that's Ginny like in New Guinea — uh–so are you listening you scummy ginnys? —  You motherfucking ginny's make me sick. —   You ruined that fucking garage door  with that  stupid Italian and New Jersey  ginny flag because you are stupid fucking ginny's — (screams)  GINNYS!!!!!   —-  Listen, (inaudible) listen to  me you fuckin   greasy ginny motherfuckers. (static)  I want to come down to Seaside and have a sausage and peppers sandwich but now I can't and…and you know why? Because if I take a bite it will make me think about you fucking ginnys.  (Inaudible)……and the girls are ugly skanks and stupid little ginny bitches and guidos that I wouldn't fuck if I was the last starving fucking ginny on earth and their pussies and asses  were attached to a calzone.  (Screaming) GINNYS!  GINNYS!  GINNYS!   DIE GINNYS!   DIE!  — (automated operator's voice} PLEASE DEPOSIT TEN CENTS FOR THE NEXT FIVE MINUTES –  (screaming) FUCK YOU!  DO NOT INTERRUPT MY CALL YOU FUCKING CUNT!  — Hangs up.
While there is no way to prove that this was the work of Mel Gibson, it sounds like it could be.  Mel is supposed to be shooting his next film, Mad Max Beyond Barnegat Bay in October, and TheDamienZone wonders if perhaps the ginn….er… Italian Americans are stealing the allure of the beautiful and classy New Jersey coast from higher class people like Gibson.