"Dustin Diamond may have gotten away with assuming the identity of a well-endowed gay guy from Dallas named Levi Crocker, but his old biceps enscribed Saved By The Bell tattoo accidentally appeared in a few scenes of the A-List Dallas." [Sheldon Hartunis PhD,  American Society of Sitcom Facts and Factoids]
Just when you though that Dustin Diamond's career was over, everyone's beloved Screech from "Saved By The Bell" has re-emerged as the gay swaggering cowboy, Levi Crocker on the LOGO CHANNEL'S newest trainwreck, "THE A-LIST DALLAS."
"People don't bother to read the credits," said a source close to Dustin.  "They think that Levi Crocker is a real person.  Other, more observant, viewers, however, were quick to realize that Dustin Diamond is back.  The fact that he was known to have the biggest penis on the sitcom "Saved By The Bell" got him the job of filling the bulging heavy-hung  jeans of the lustful, banana-nosed Levi Crocker character.
As the cast grew up and matured, it was obvious to people in Hollywood that Dustin Diamond had a much larger penis that his costars, Mario Lopez and Paul Mark Gosselaar. 
"Dustin Diamond might have one of the largest penises in Hollywood," said a source close to the actor who claims to have seem all three "Saved By The Bell" hunks in the buff.
"It looked like Mario Lopez was packing a lot of meat  when he wore those pleated pants that gathered in the front on "Saved By The Bell" — and even more so when played the part of Greg Louganis dressed in only a skimpy swimming thong, but he was actually below average. 
"It was really Dustin Diamiond who had the big penis.  The blond guy wasn't packing a lot of meat between his legs, but he was handsome.  Dustin was at least 8 and a half  inches and very thick."
Dustin's people said that after "Saved By The Bell" his parents advised him to just follow his nose, but to never do porn — so he did what they said.  Luckily his nose pointed extremely to the right and after a few hundred thousand sharp right turns, he found himself in Dallas and smack in the cross-hairs of a LOGO producer.
"We knew that Justin was hung and hot and in need of a job," said a producer who is not part of the A-List Dallas show now.  "We also knew that he needed to look gay, so we started getting Dustin to use Latisse on his eyelashes and got him used to wearing a cowboy hat.  In a few months the Latisse had made his eyelashes longer and gay looking — and the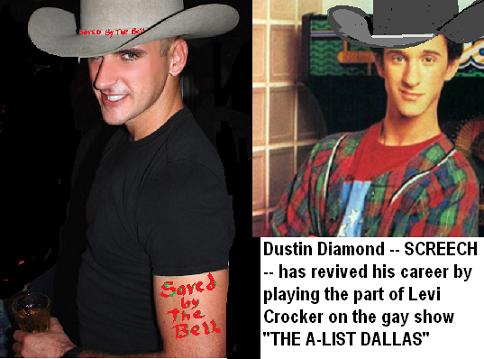 Stetson was the final icing on the cake.   Latisee is a prescription drug that a dermatologist can prescribe.  The user brushes it on their lashes once a day and in within 4 months, you have longer, thicker, and more lucious gay-looking lashes.  This is why the character of Levi looks slightly different than the Dustin Diamond we have come to know.
So — now we know why Levi caught the eye of the public.  It was just super-hung Screech disguised as a gay cowboy.