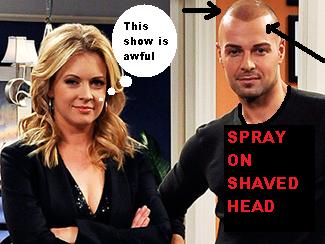 Recently Joey Lawrence appeared on Chelsea Lately and the very first thing that was addressed was the fact that he was NOT going bald.  Joey went on to explain how he shaved his head for a part in a TV show and how he stuck with it —-some say," LIE!"
According to people in the know, Joey is almost completely bald and has undergone a series of hair transplants and the Chelsea Handler spot was a set-up because after that show aired in April 2011, Joey started to let the transplants grow and you can see that his hair is totally different from what it used to be.
Anybody who has been a guest on a talk show knows that you don't just go on and jump into a conversation.  The producers call you days in advance to discuss what you will be talking about.  In this case Joey's people discussed with Chelsea Handler's people that the first thing he was going to address was his bald head.
Why does this guy have to lie?  He has an overall hair-phobic personality.  He has hair on his chest but he shaves it.  He has eyebrows but he shaves them and tweezes them and dyes them to the point where he looks like a freak.   He is not a kid anymore.  GEEZ!
Watch this an puke — it's soooooooooooooooooo rehearsed.    http://www.youtube.com/watch?v=YJQxgiRIbcs&playnext=1&list=PLB9C01F5BB3E26E4F

Notice: Undefined index: src in /home/damien/public_html/wp-content/themes/u-design/scripts/post-thumbnail.php on line 76