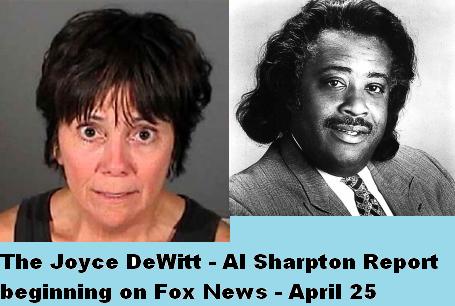 Glenn Beck is out and Al Sharpton and Joyce DeWitt are in!  Fox and Glenn Beck have come to a parting of the ways and a press release was issued wherein the Fox News Executives announced that Glenn Beck's show — the one with all the blackboards and diagrams — will be shut off.  Fox will air a new show in its place and this one will be hosted by Al Sharpton and former Three's Company star Joyce DeWitt. 
"A lot of people remember Joyce DeWitt," said Rupert Murdock from his penthouse in Harlem, New York USA.  "She was the one on the show who wasn't pretty — well she was a little pretty but everybody was just looking at Suzanne Sommers.  What most people don't realize is that Joyce is a great political thinker and for several years she was the woman behind several political campaigns.  She single-handedly got George W. Bush into the White House while working behind the scenes for Carl Rove who was really just a front man.  Joyce also has ratings appeal.  Millions upon millions of people will tune in to watch her spar with Al Sharpton.  We have already done the computer models and that's part of the reason we got rid of Glenn Beck."
Starting next week, the "DeWitt- Sharpton Report" will air on Fox News at 5pm EDT.
"We are looking forward to the huge success of the DeWitt-Sharpton Report," continued Murdock as Bill O'Reilly cleared the table and brought out another cup of coffee for the mogul.  "Joyce Landed herself in jail a few years back.  There was some made-up story about why she was arrested but the truth is that she was hauled in by the Clinton Administration goons because her strategy against Al Gore was destroying Al Gore in the early polls back in the 2000 election.   Joyce spent a night in jail for Fox News.  You don't see these Irish bastards like Hannity or O'Reilly doing that, do you?  They better watchj their asses.
"Al Sharpton was added to what was previously the Joyce DeWitt Show, but we needed for Joyce to have a punching bag and he was the perfect fit.   He's dumb and he's loud and he's the kind of guy who shows up for work.  Basically he's a nice guy but when NPR fired Juan Williams a while back Sharpton would not let Juan sleep on his couch.  So we won't forget that little snub and this bone we are throwing to Sharpton will come with a reminder that either you play by the rules or you're back in Tawana Brawley's house — and that's not something anybody would want.  Have you seen her lately? "
So don't forget to wach the new show on Fox News — and send Glenn Beck a sympathy card.