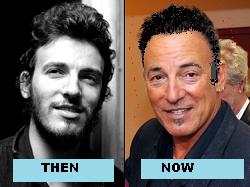 Recent photographs of Bruce Springsteen that have been spreading around the Internet have created quite a stir because it seems as though The Boss has had quite a bit of plastic surgery.  Some people think that Bruce doesn't even look like Bruce anymore.
"He certainly has had a facial lifting of some sort and he has also had an eye lift (blepharoplasty) and a brow raising,"  said plastic surgeon, Dr. Fred Ostermanz of the Ostermanz Plastic Surgery Center in Georgeville, New Jersey USA. 
"Springsteen is nearly sixty-two years old now but his eyes and lower lids appear much younger — even younger than they did fifteen years ago.  I get a lot of musicians in my practice and the ones who know Springsteen  say that he has started to look different over the course of a year.  This tells me that he has had several procedures done over a span of about 6-months.   He hasn't been out of the spotlight very much but the down time for men after these surgeries is much shorter than it is for women although men seem to experience a lot more pain."
It's hard for DamienZone readers to believe that The Boss is in his sixties, but these rockers are getting old. 
"On top of the plastic surgery for his face and neck, it appears that Springsteen has added some hair either in the form of a hairpiece or transplants," added Dr. Ostermanz.  "His hair is just a little too full for being that high up on the forehead for a man his age — the hairline is not natural.