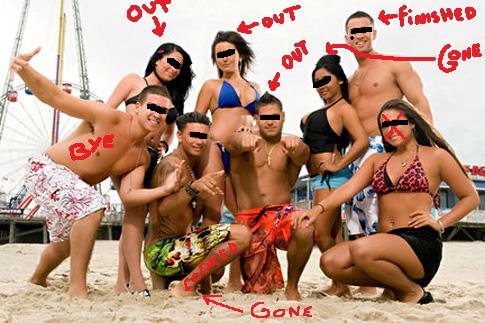 With the original cast already getting played out and too old for the routine, MTV is getting ready to start top secret casting calls for the second round of Jersey Shore which they will call "Jersey Shore Phase 2."  The original cast doesn't know it yet but our sources tell us that they will not be asked back for the 2013 season.
"We hope to start sending out our castingscouts for Jersey Shore Phase 2 by the middle of March 2012." said a source close to the associate casting director.
"This time we are going to stick strictly with Italian-Americans who have lived in New Jersey for at least the last ten years of their lives.  We will not use Chilean born midgets or subintellects from Rhode Island or New York.  This will be strictly a New Jersey thing and this time the parents of the kids will be involved in the show as well since each episode will have one of the cast member's parents hosting the episode — cooking, cleaning and supervising.   They won't live with the cast and they will have to be out of the way by nightfall when we expect the cast to do wild stuff –perhaps even wilder than what you've seen in the past."
According to our sources, MTV is looking for 4 guys and 4 girls ages 21 – 23 only!  Nobody older will be accepted — no exceptions.  They must have a clean bill of health from our doctors who include doctors of Internal Medicine and Psychiatry.  Drug tests will be performed and only low to middle-range blood  levels of designer drugs, anabolic steroids, birth control pills and marijuana will be accepted to pass the physical.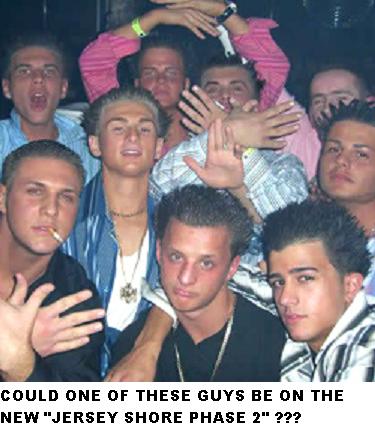 MTV is building a new, and more spacious house a few blocks from the old ragtag house that has been serving as the current house for the Guidos.
Another weird stipulation is that the casting calls will not be open so there is no reason to call.  MTV will be sending out secret scouts.  People you would never suspect will be working for MTV in search of cast members.  The theory behind this is that they don't want impostors or people who are putting on an act as though they are Guidos or Guidettes.
"They have to be real,"  said an anonymous source (that's how secret this is)  — Mike "The Situation" Sorrentino turned out to be an untalented impostor who is rumored to be gay and Paulie D was perceived of as a strange and distant almost autistic thing.   The quiet one, Vinny Guadagnino, was only really looking to start a movie career and wasn't a real Guido.  In essence, they were all wanna-be actors and actresses and in reality none of them had any talent.  The Situation's recent humiliating stint on a Comedy Central Roast was more than ample testament as to why we need really dopey Guidos who aren't up to anything but drinking, sexing and fighting.
"It sounds nasty but that's the kind of real reality we want.  It's hard to believe but reality TV is not as real as you think.  This time we want to keep it really real and our scouts are working everywhere from low-end jobs as retail cashiers to bartenders at NJ nightclubs.  We've even climbed the ladder a bit and made a bunch of our scouts junior college teachers and students.  We will find real, dyed in the wool Guidos and Guidettes.  Another key is we want them to be super hot and super sexy.  No dogs — we had a bunch of dogs in the previous cast.  The guys were okay looking but they weren't hot stuff and the girls were nothing that would turn any heads in the south of France — in other words, we are looking for gorgeous morons."
So New Jersey guys and gals 21-23 — you never know who is watching you.  But keep in mind that you have to be 21 -23 and you have to be from New Jersey.  MTV will make people they pick sign a sworn affidavit and anyone caught lying or cheating will be charged with theft of services — MTV is not fooling around.