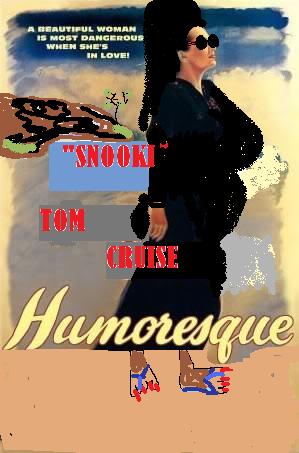 The little poof head, Snooki, from MTV's Jersey Shore has quit the show and to explain her disappearance from the Seaside Heights home, producers will write her out of the show saying that she drowned in the hot tub after having sex with Mike The Situation and doing shots of Sambuca Romana.
"Snooki has an offer to be in a film with Tom Cruise that starts shooting in March," said a source close to Snooki.  "They are going to do a remake of  'Humoresque' owing in part to Snooki's uncanny resemblance to the late actress Joan Crawford. 
 "Tom Cruise has been courting Snooki to play this part since he met her while playing ski-ball at a Seaside Heights arcade back in 2006 — way before she even got the acting job on Jersey Shore."
Other rumors persist that Snooki's character will be killed off when she walks into the surf and drowns herself after watching the original version of the Joan Crawford movie "Humoresque."
"There is an episode coming up where Snooki watches that Joan Crawford movie," continued the source.   In the end Crawford's character walks into the cold sea to sacrifice her life for the sake of her lovers career (Tom Cruise) as a concert violinist.  Snooki liked that idea and producers played with it.  Nobody knows which death they will use.
Calls to Tom Cruise's office went unanswered but SAG (The Screen Actors Guild) does have a movie log where Tom Cruise is slated to costar with Snooki in an "unnamed project" that begins shooting in March 2011.