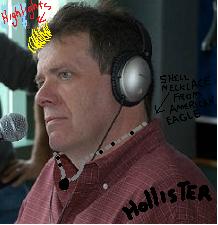 Sportswriter Steve Buckley is having a coming-out party. And the whole world's invited, but we here at TheDamienZone think that people who come out of the closet when they are 54, really just need a bigger closet and an account with a male escort service.  I mean….54……ewwwww!
The 54-year-old announced that he's gay in an especially candid column today in the Boston Herald. Shortly after it was posted, it had more than 300 comments and all of them told him that he better not start working out and wearing tight tank tops, because at 54, no matter how much you work out, you still have that old-man shape and there ain't no way around it.
In the piece, "Welcome to my coming-out party," Buckley recounts how his mother suggested seven years ago that he come out in "that story you've been talking about."  But then again his mother is Irish_American and the dish around the bars is thath she drinks big time.
The columnist said he made "the biggest mistake of my life" because he didn't write the piece immediately.
"With a vacation lined up for the first week of December, I told her I'd get to it when I returned to Boston — just before Christmas," he said, not knowing she would die of a heart attack the day after he came back from vacation.   But, she did not died of a heart attack.  She had a stroke instead and now, like a dutiful little queen, he will have to take care of his mother just like that French song about the old gay guy and his mother — "Comme Ils Dissent."
Buckley never got around to writing it — until now.
"I haven't been fair to my family, my friends or my co-workers. And I certainly haven't been fair to myself: For too many years, I've been on the sidelines of Boston's gay community but not in the game — figuratively and literally," he wrote.  He also hasn't been fair to his penis.  That poor pathetic creature has been wanting to rip out for 54 years.  Now it thinks it's gonna get young hotties — WRONG!
Gerry Callahan, a fellow sports columnist for the Herald and radio talk show host of the "Dennis and Callahan" show on WEEI, applauded Buckley but said coming out won't be easy.  Yeah, because he is an old man.  Nothing is easy when you're fifty-four.  His sexual needs are even more enlarged than his prostate.
"He's on the frontlines down at Foxborough," he said. "He's in the locker room, he's dealing with fans. He's gonna be out there in the open and it's not gonna be easy for him. And he knows it. He knows it and I'm sure that's why he was reluctant all those years, but hias locker room ability will be good.  He will have his eye out for talent."
Co-host John Dennis argued it wouldn't be an issue.
Buckley isn't the first sports writer to come out. In 2007, the Los Angeles Times' Mike Penner made international headlines when he announced he was transsexual in a column and began working under the byline "Christine Daniels." He committed suicide in 2009. <—Lovely reference, ain't it?  Ya think  maybe he oughta left that out?
Of course, not all stories end so tragically. And Buckley acknowledges he has "read sobering stories about people who came undone, killing themselves after being outed, but he will not kill himself. He will just annoy young gays with his old man shape when he tries to go to clubs wearing Hollister and Abercrombie and Fitch tight fitting shirts.   ewwwwww!