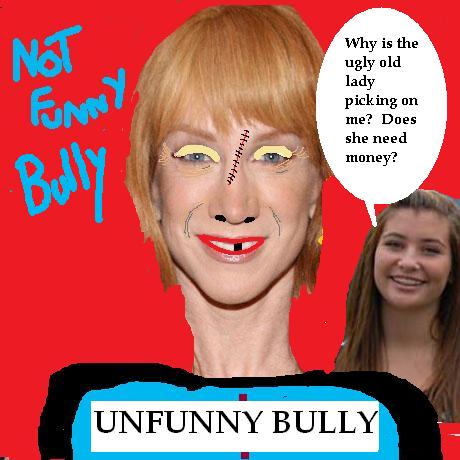 KATHY GRIFFIN HAS A NEW CAREER — BULLYING A CHILD — OR AT LEAST SAYING THAT SHE IS GOING TO "TAKE DOWN" A CHILD.  JUST BY SAYING THIS, SHE IS ALREADY GUILTY.   WHAT WOULD TYLER CLEMENTI SAY, KATHY?
"I've already gone for Sarah, Todd and Bristol obviously," said unfunny and old and stretched,  Kathy Griffin, "but I think it's Willow's year to go down.  In 2011 I want to offend a new Palin."
That's just great Kathy.  So the queen of the F-listers  wants to bully and mock a 16-year-old kid in front of her diminishing audiences just to keep her sagging career pertinent — UGH!  What a horrible monster this woman has become.
Although TheDamienZone.com doubts that Kathy has enough viewership these days to inflict any serious wounds on an innocent child, she has reached a new level of unfunny loathsomeness.  
She already had her shot at Dakota Fanning and that dumbness almost ended her  career — what was left of it anyway.
The worst thing for TheDamienZone to accept is that we used to love Kathy,but  now we can't stand the sight of her– and this was waaaaaaaay before Sarah Palin came over the hilltop.   She's just not funny anymore — she's an imposter. 
She should stop with the pretentious and disingenuous rationalization that she won't let anyone get away with using the word "faggot."   
You're not a fag, Kathy.  You are as much of a fag as is Willow Palin, but you think that you can use the word with ambassadorship because you turn a buck off of your fast-fading, and less fauning gay audience.  We don't think you have enough gays left to claim diplomatic immunity.  
Griffin's  entire career is based on contempt and loathing.   She used to have the ear of this writer,  but not now — and when I say somebody sucks they suck big time — and Kathy Griffin totally sucks!