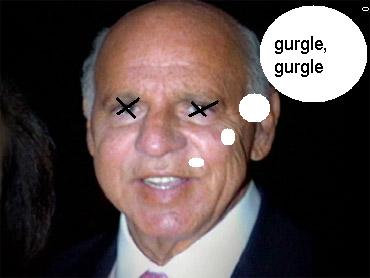 The widow ( who still has a few billion) of a Florida philanthropist/scum bag  (actually a thieving chiseler) who had been the single-largest beneficiary of Bernard Madoff's colossal Ponzi scheme has agreed to return $7.2 billion in bogus profits to the victims of the fraud, she and authorities announced Friday.
The trustee recovering money for Madoff's burned investors filed court papers formalizing the settlement with the estate of Jeffry Picower, a businessman who drowned after suffering a heart attack in the swimming pool of his Palm Beach, Fla., mansion on Oct. 25, 2009.  
"I saw him swimming in his luxurious pool on his luxurious estate and I just had to kill him," said God from his perch in the hereafter.  "I gave him a heart attack — a really nasty one that hurt like a bitch, and then I sent his billion dollar ass straight to hell — scum bag!"
"We will return every penny received from almost 35 years of investing with Bernard Madoff," Picower's wife, Barbara, said in a written statement that she had to sign or probably end up in jail for the rest of her facelift life.
"I believe the Madoff Ponzi scheme was deplorable and I am deeply saddened by the tragic impact it continues to have on the lives of its victims," she said. "It is my hope that this settlement will ease that suffering." <——ONLY BECAUSE SHE GOT CAUGHT!
U.S. Attorney Preet Bharara called the settlement a "game changer" for Madoff's victims.
A recovery of that size would mean that a sizable number could get at least half of their money back — a remarkable turnaround for people and institutions that thought two years ago that they had lost everything.  Actually, all these people were scammers who knew something was up and they really shouldn't get anything back, but they need the money to gte on on another Ponzi scheme.
"Barbara Picower has done the right thing (for her) ," Bharara said.
Jeffry Picower, who was 67 when he died, was one of Madoff's oldest clients. Over the decades, he withdrew about $7 billion in bogus profits from his accounts with the schemer. That amounts to more than a third of the dollars that disappeared in the scandal.
That money was supposedly made on stock trades, but authorities said that in reality it was simply stolen from other investors.
Picower's lawyers claimed he knew nothing about the scheme, but court-appointed trustee Irving Picard had argued in court papers that he must have known that the returns were "implausibly high" and based on fraud and that's why he clutched his chest in his opulent swimming pool and died in agony — scum bag!
In her statement, Barbara Picower said she was "absolutely confident that my husband Jeffry was in no way complicit in Madoff's fraud and want to underscore the fact that neither the trustee, nor the U.S. attorney, has charged him with any illegal act."  (SURE, HONEY!)
Lawyers for Picower's estate have been in negotiations with the trustee for some time.
After Picower drowned, his will revealed that he had earmarked most of his fortune for charity — let's see the will and when it was written.