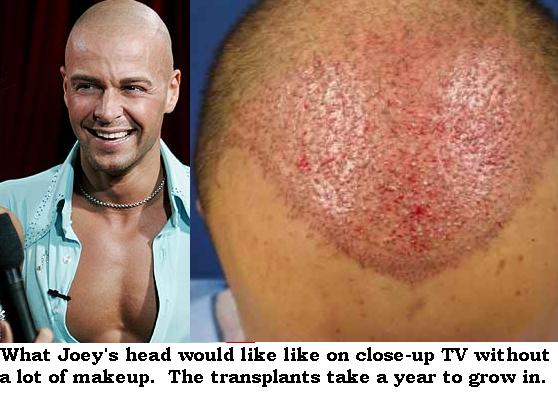 TV actor Joey Lawrence has been dogged for nearly two years about his shaved head.  It has been suggested that he is bald or seriously balding but he has makeup people paint on a hairline that would suggest that he has a full head of shaved hair.   Whatever Joey is doing, it looks weird and unnatural and now sources close to the star say that he is enduring the spray on look as he undergoes grueling hair transplant sessions. 
"Joey plans on suddenly letting his bald head grow out but he has to wait a year or so for the transplanted plugs to take root and start growing." said a cameraman who often works with Joey Lawrence on the set of his new show, "Melissa and Joey."
"We try not to shoot Joey from behind because even though he has a nice ass, he has scars on the back of his head from where the strips of hair were harvested.  Joey has been very lucky with the plugs but the doctor created a somewhat unnatural hairline in the front and he has more of a vampire peak than a natural flowing hairline, but his doctors say that will be fixed later with micro grafts of individual hairs."
Joey Lawrence has taken a lot of ribbing about how silly his spray-on hair looks but it seems that when his transplants grow in, he will have the last laugh.  Of course the laughs will not come from the audience who attends a taping of "Melissa and Joey" because the show is unbearably unfunny.  Maybe Joey should get a hair transplant live on TV as part of the show just like that actress did years ago when she got a real life face lift while playing her character on a daytime drama (soap opera).  That would get people to watch.