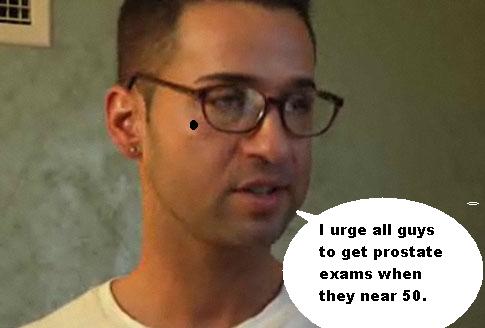 "Remarks have been made in the past that Mike "the situation" Sorrentino looked a lot older than his stated age of 23," said special investigator Benjamin Switchy. "But we have evidence that not only is Mr. Sorrentino much older than MTV's bio says he is, he is also a husband, a father and a grandfather of a baby, Nicole, age 11 months.  Mr. Sorrentino has been married to the former  Josie Mortadella since 1987.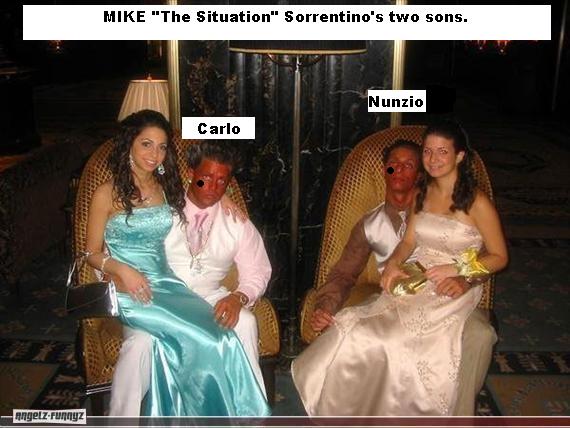 "The Situation and Josie  have two sons, Nunzio and Carlo, 25 and 23.  Baby Nicole is the daughter of Nunzio and his wife, Connie DeGennaro-Sorrentino.   Carlo, the younger son, is an artist who lives in Key West with his long time companion, Bruno Passaforte, 32, originally from Richmond Hills, Staten Island, NY."
So, when the guidettes lashed out at The Situation and said that he looked like he was 50-years -old, they were only a few years off — at least according to special detectives and life partners Benjamin Switchy and Shel Hartunis of the North Brunswick Trailer Park Investigative Task Force.
"Even though he's got 8-pack abs and stuff, we always thought that he was kind of beat in the face but we never thought he was forty-seven," said a an anonymous guidette as she sat nervously on the plastic covered sofa in her mother's Ridgefield Park, New Jersey (USA)  home.  "I had him pegged for about thirty or thirty-two — but an old looking thirty-two.  I guess that's why he has such a big personality.  You know, because he is so much older and has so much more life experience."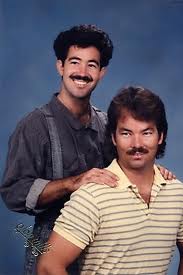 This investigation was tripped by Switchy's own personal interest in The Situation's ab muscles and a claim from a Switchy's female friend Carol MacRuthery, that she had graduated from a small Canadian high school with Sorrentino back in 1982.  MacRuthery and Switchy met at AA in Atlantic City, NJ USA.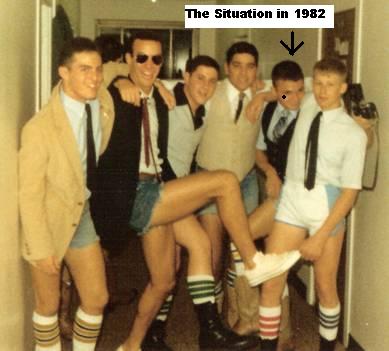 "I met Ben (Switchy) at an AA meeting last July," said the disheveled MacRuthery.  "When he told me that he was a private eye, I told him that I had a story to tell.  We went to a bar after the meeting and I poured out my story.  Ever since I came to the states from my childhood home in Park Vale, Alberta, Canada I have carried my yearbook with the intent of proving that little Michel Contier, the scrawny little kid with the mole on his cheek who sat next to me for four years, was and is Mike "The Situation" Sorrentino.
"I know it's him. " continued MacRuthery.  "I passed him on the boardwalk in Atlantic City and he said, 'Hey, Carol,' but then he realized what he said and tried to hide behind an MTV cameraman.  I know that his mother ran away with him after graduation and married a guy named Sorrentino so it all makes sense.  He changed his name from Michel Contier to Mike Sorrentino — at least that's what I figure happened."
Switchy and Hartunis vow that they will produce more evidence and are acting as agents for MacRuthery. 
"We are going to try to get the whole Sorrentino family on Maury Povich's TV show and prove with DNA that what Miss MacRuthery is telling us is true.