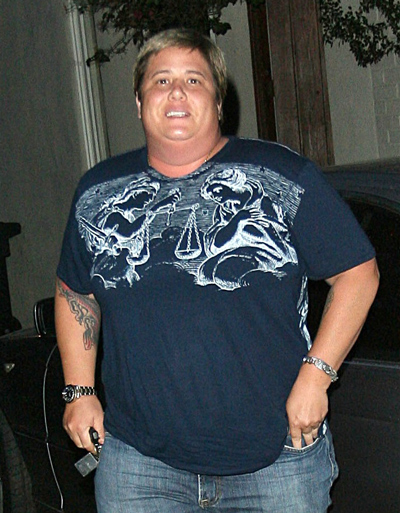 "I don't think I want to be man of the year,"  said the burly Chaz Bono as she changed a tire for an Ice Road Trucker and chaed some tabaccy.  "I like working up here in the Yukon with me and my family.
 "People say that I will get the award from some magazine for man of the year but I'm just happy living a low key life.   I think people who worry about fame and stuff like that are pussies and I don't like pussies.  No –wait, let me rephrase that."
It's too late Chazmeister, you already said it. 
Chaz Bono is in talks with Paramount Pictures to play Boss Hogg in the upcoming revival of the 70s TV series, The Dukes Of Hazzard.  Sources say that Chaz was also being considered for the part of John Candy in the upcoming Lions Gate biopic, "Funny Man, The John Candy Story."
"I would love to play John Candy in that  movie," said the newly penised daughter of Cher.  
"I will also be in Moonstruck II with my mom.  It's kind of like a look at the lives of the character's twenty years later.  I play the moon so I won't have to learn any lines but I will have to spend at least fifteen minutes a day in makeup."
Chaz has it all sewed up — but not like Betsy Ross.  This is going to be the year of the Chaz and man are we looking forward to it.