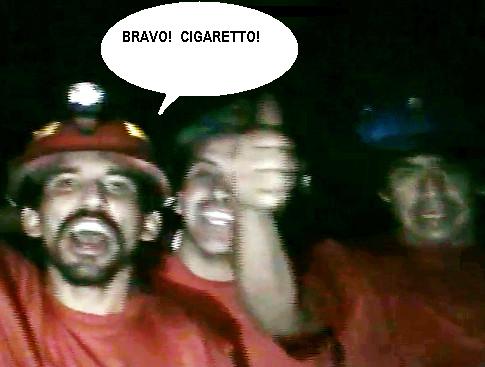 Just when it was looking like there were major setbacks in rescuing the Chilean miners who have been trapped near the center of the earth for like — ever, there is now reason to hope that everything will be okay.
"We sent down a cigarette girl," said Juan Unchez of Santiago's Cigarette's for Survivors Task Force. 
"The men are now safe with the cigarettes they need so badly.  We sent down enough cigarettes to last them at least a year but they only have enough food to last six months, so if they don't come up within six months they will have to enjoy their after- dinner smoke without the dinner."
The cigarette girl, identified as Poppi Ponchez, went down Friday night in a special one man elevator that was built at the last minute. 
When asked why they just don't use the one man elevator to just bring the men up one at a time, spokesman Unchez got testy.
"That elevator was for cigarettes and assorted sundries.  We went through great pains to build it for that purpose," snapped Unchez.   Besides, to bring the men up like that would be anti-climactic, and what fun would that be?   We are not like stuck up and health-crazy Americans.  We got the men the cigarettes that they need and that's all we care about, and if you don't like that, you can get the hell out of Chile.
"Yes, we are a beautiful country," continued Unchez. "But if we didn't have military coups and really bad earthquakes and trapped miners, when would we get any press?"
So they have cigarettes enough for a year but food enough for only six month —  but what else did they send down.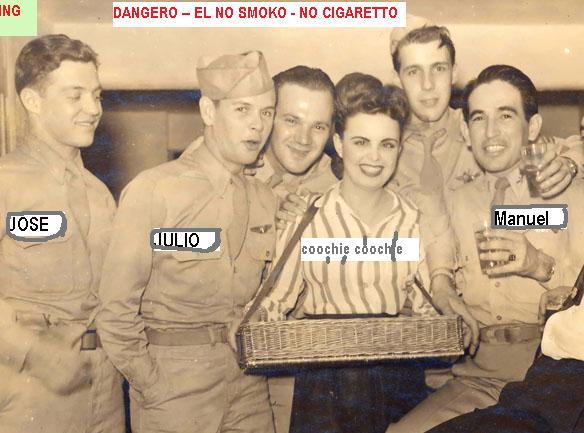 "I have condoms — well, no really no more condom because  I already run out of those," said cigarette girl Poppi Ponchez.
" I have the six packs of beer and some video and Cd to watch too — coochie coochie," .  "These muchachos are going to be in here for the long, long time and the Chilean government, she  is going to allow the same-sex marriages for anyone who is the least 5,000 feet under the earth.  Don't choo ding dats a nice ting for dem to do — coochie coochie?"
So, the stranded miners have cigarettes and condoms and beer and we all can sleep sounder knowing that it's not a cigar in their pocket, they are just happy to see each other.