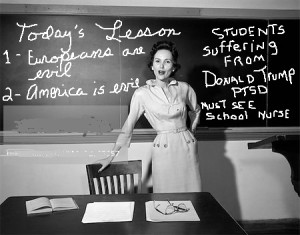 Students attending Emory University who are experiencing symptoms of PTSD after having seen chalk renderings of the name "DONALD TRUMP" written on sidewalks or cement stairs can now get mental health counseling from psychiatric specialists who have been brought in by university administrators.
These mental health experts assure the students who have been damaged or frightened by these chalk images that they will not be exposed to chalk or writing with chalk.  Also,  they will not be asked to read any names or to learn anything about any academic field of study.   These services will be available 24 hours per day, seven days per week for the next 30 days at the student center.
Emory is offering finger and hand paint therapy and other forms of self expression as a means to vent the fear and anxiety that was brought down upon them.  Students will also be offered therapeutic doses of alcohol or medical marijuana  so as to dilute the memory of the writings that have caused them so much terror and grief.   Also, each student will receive a grade of A or A+ on any assignments that were due during the span of time wherein they were exposed in any way to the Trump chalk writings.
All of this madness came about when, Trump supporters or racist pranksters, originating from either on or off campus, used white chalk, a very dangerous substance that was once used on chalk boards throughout the world's schools at a time when young people were forced to learn and study.   Scientists  estimate that a vast majority of the Western World has been influenced in areas of literature, art, history and the sciences by things that were once written in white chalk on large boards made of black slate or some similar man made substance.   Chalk has had a profound effect on the human mind.
Chalk, sticks of calcium carbonate, have, according to experts, forced unwelcome knowledge into the minds of young people who today are shown to be unable to eagerly understand the subliminal messages in chalk.  The evils of chalk are only just beginning to be understood by psychological and scientific experts.   Chalk has forced knowledge about White European accomplishments into the minds of helpless young people.
According to MSNBC talking head Rachel Maddow, chalk has injured the minds of young people for centuries.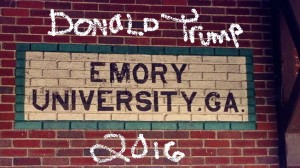 "Chalk, and the things that it has written on blackboards and sidewalks of the world for centuries, has been used to force knowledge and learning on children and young adults.  It is an evil substance that drills unwanted facts and figures into the minds of susceptible children.  Chalk has taught privileged white children the lies that Christopher Columbus was a great explorer and that white slave owners created the USA.  It has forced children to learn English – the imperialistic tongue of the Anglo monsters who supposedly civilized the world
"Chalk has ruined more lives and fried more brains than any nuclear disaster or any natural disaster known to mankind.  These poor students at Emory will never recover from the images they saw written in chalk.  Seeing the name Trump scrawled in cement is bad enough, but when they are forced to see things like history and science and Shakespeare written in chalk, the results could create mental illness that is not compatible with life.  The only chalk writing that is acceptable at Emory University are the writings of Maya Angelou, Angela Davis, Fidel Castro and Bill Ayres.  
"Soon the writings of Joanne Chesimard (Assata Shakur) will be added to the list of chalk – acceptable writings, and when that happens, chalk will then find at least some useful purpose." 
Students who are still in the middle of pain and suffering are urged to seek mental help from counselors at Emory.  The President of the University issued this statement.   If the pain and suffering is caused by a flu and not by the images of Trump, the students will have to go to a private clinic or holistic medical center.  Emory does not allow flu shots or vaccinations because they cause autism and they are made with GMO plants and preservatives.
"We wouldn't want an entire graduating class — four years in all – to suffer for the rest of their lives because they saw the name Trump written in chalk.  There is help out there.  We are here to help.