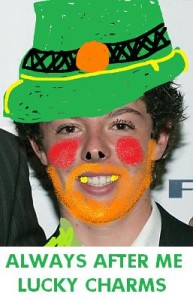 "Congratulations to Michael Thompson, who beat a top field at the Honda Classic for the 27-year-old's first PGA Tour win, and now officially becomes, 'Oh, That Guy Who Won The Week Rory McIlroy Walked Off The Golf Course.'
That stupid Irish jerk is melting down because his lassie back home in old Killkenny-Karny called to say that she had dumped him and that he was nothing but a washed-up, ugly,  leprechaun."  [Chinley O'Connor, Head Golf Pro at  the Ridge Theiss Patrol and Golf Club]
So now that everybody assumes that there had to be another reason why Rory McIIlroy ( the last name never types properly) walked off the green at the Honda Classic and got right on his private Aer Lingus plane that took him back home to the land where he can cry his eyes out over the fact that he is a leprechaun-faced Irish quitter.
"Let's face facts," said a spokesman for Tiger Woods, "Rory is an elf-face quitter.  He looks like a fucking quitter and he proved that even though he is an actual golfing leprechaun, he gave up looking for the pot of gold as soon as the rainbow got too far away.
"Rory McIlroy lost an advertisment deal where they were going to put his face on boxes of Lucky Charms and he was already angry that he was seven over par.  Guys with that overly Irish 'look' don't do well, and when you add all of that to the fact that Rory most likely has THE IRISH CURSE, it was inevitable that he would eventually fall apart on the PGA tour. 
"Also, it was well known around the clubhouse that Rory was an elf or something and it was a source of great humiliation when his girlfriend back home in Ireland called him a little Keebler elf. I think that pushed him over the edge.
Aisde from these comments, it is well kown throughout the golf world that Rory was planning to have a huge amount of plastic surgery in Beverly Hills where surgeons promised they could make him look less like a leprechaun and more like a hunky celebrity.  So far, Rory has not shown up at the plastic surgery center.
"Rory is supposed to have his up-tilted leprchaun nose fixed and have the overall 'Irishness' removed from his face and body," said noted plastic surgeon Dr. Raymond Tote-Tundy.
"It's not easy to do liposuction on people like Rory because his skin is fragile and it breaks so easily, but we had hoped that with a more gentle trocar and special pec implants we ordered from a catalog in Belfast, that Rory would make a seamless transition from looking like a leprechaun ( the doctor was not aware that Rory is indeed an actual leprechaun) and with a few touch ups here and there, Rory McIlroy would look magically delicious.
"I am very unhappy that Rory walked off the course and quit but if his wisdom tooth does hurt him as bad as he says, it might be better to put off the surgery until the tooth is healed.  Any infection in Irish people must be dealt with seriously — especially before surgery — because of the danger of doing surgery on an elf."
What most fans do not realize about Rory's wisdom tooth excuse is that leprechauns do not have wisdom teeth — they don't even have wisdom.  They are Irish for crying out loud!
So Rory is a quitter and he thinks that all the negative press is all just a ruse because everybody is always after his Lucky Charms.  According to his ex-girlfriend, however, his "charms" are small like little famine potatoes, and not at all magically delicious.