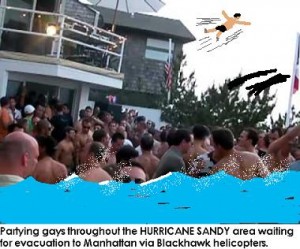 Gay Men Saved From Hurricane Sandy.
Gay Men's Hurricane Services of New York City are hunkered down in their midtown offices, preparing New York City's gay men for Hurricane Sandy.
 "Mayor Bloomberg announces that all cruising areas will remain open," said Dr. Benjamin Switchy, a representative from the the gay organization that finds shelter for gay and bi curious men during natural disasters.
"We have been assured that the city will be equipped with condom and lube dispensing machines that are able to withstand winds up to 125 mils per hour, and all glory holes have been secured.
"We have also been informed that all bars and tanning parlors in the Chelsea district and all cruising areas will remain open as will all 'Full Release' massage therapists.
Those gay men with proper cruising identity cards and all licensed Go-Go Boys will be dropped in via Coast Guard choppers dispatched from Islip, New York."
Another Gay Hurricane Spokesman contacted Mayor Bloomberg — who is now totally submerged and wearing scuba gear — about moving displaced gays from Fire island to Manhattan.
"We have hundreds of gay men and bartenders here in Fire Island," said Dr. Dean Traherne who is on the island working as a gay missionary.
"So far we have had three Backhawk helicopters take off from The Pines and each time they were loaded with ordinary gay guys, some hustlers, various go-go boys, pimply bodybuilders, bears, twinks, fag hags, and a few lost bridge and tunnel queens. 
"We are relocating them to various locations throughout Manhattan.   We are proud of the service being offered by Coast Guard pilots who, in spite of great danger to themselves,  are helping the storm-stranded gays."
Some of the passengers on the choppers were beaming with joy as the Blackhawk helicopters dropped them off at the Chelsea Pier.
"Oh!  My! God!  I just blew a Navy Seal," said Sheldon Hartunis, a bartender who is seeking shelter from the storm by riding it out at Splash bar in the Chelsea district of New York City.
"We're all helping each other," he continued.  "We're sharing our poppers and designer drugs with each other.  It's like one big happy family and I LOVE NEW YORK…whoo hoooo, people!"
" I would personally like to thank little Mayor Bloomberg who gave us this big  break.  If it wasn't for him, there would be dead gay men with rigor mortis floating down the streets.  George Bush would have let that happen to us, but we are so like happy, you know. One poor thing got blown away near the pickup spot, but he was ugly anyway so…what are you gonna do, right?"
So, if you have a gay male relative about whom you're worried because of Hurricane Sandy, you can rest easy now thanks to Mayor Bloomberg and the efforts of a great organization called the Gay Men's Hurricane Services of New York City . They are having their doing great work and  making sure that gay men who would have been victims of Hurricane Sandy, are now safe (sometimes) and enjoying their own "storm surges" — in their mouths.