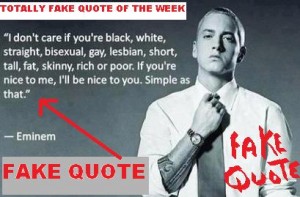 FAKE QUOTE OF THE WEEK! "I don't care if you're black, white, straight, bisexual, gay, lesbian, short, tall, fat, skinny, rich or poor. If you're nice to me, I'll be nice to you. Simple as that." – Eminem. <——FAKE!
Here are some of Eminem's REAL quotes —–>Direct Slim Shady quotes..
Before I get into detail about how annoying this fake Eminem quote actually is, I would like to show my readers what I got from Dr. James Cifell MD, a psychiatrist who works in psychiatric medicine, and also dedicates a lot of his time working with young patients as a rap music archivist, poet, analyst and researcher.  He specializes in quotes and quotations inside and outside of rap music and its origins via a psychological phenomenon called "The Matthew Effect."  Dr. Cifell told TheDamienZone about the quote's origins.
"This invented quote by Eminem has really moved rather quickly throughout the internet world, especially on Facebook, but the truth is that Eminem never said it — at least not in any publication or in any news article or radio interview that I have seen.  I flatter myself by saying that you have to get up pretty early in the morning to fool me. Archiving quotes is what I do and Eminem did not utter these words as they are ascribed to him. The quote was actually said — and the transcript is available as is a video recording of the speech — at a high school commencement by Robert L. Michaels MD, a doctor in the Detroit area."
Here, from a transcript archived by Dr. Cifell, is the actual quote as it was delivered by Dr. Robert Michaels.
THE REAL QUOTE –à "When you leave this school and go onto bigger and better things, and your life becomes the life of an adult with adult ideas about social justice, and you have to have that inner peace — the kind of tranquility of mind where you can say, 'I don't care if you're black, white, straight, bisexual, gay, lesbian, short, tall, fat, skinny, rich or poor. If you're nice to me, I'll be nice to you.' You will find that the difference between a happy life and a life of bitterness and struggle can be as simple as that, my friends, and that is a lesson I will leave you with today." [Robert Michaels MD – 2007 – Graduation Speaker- Name of school withheld]
The fact that the name of the school had to be withheld makes the whole thing even more sickening because the Eminem fans — the ones who want this quote so much for this quote to be true — might take out their anger on the school or the students there. This is the kind of sub-human thinking we're dealing with here.
Dr. Cifell went on to further explain.
"It didn't take too much research into this to find the source of the quote and to see how it was attributed eventually to Eminem. Obviously one of the students or teachers took the quote and tacked it onto someone they wish had said it. In this case the person was Eminem — a hero throughout the USA and especially in his native area in and around Detroit, Michigan.
"In psychology and in psychiatry, this is a variant of a phenomenon called The Matthew Effect." The true meaning of The Matthew Effect as it applies to sociological and socio-psychological studies describes how the rich get richer simply because they are rich and have the resources to get richer, but when stripped down to the bare bones in the psychological sense, The Matthew Effect is a way whereby people who are famous for simply saying the things they say, become even more famous and socially diverse and their words become more abundant to many millions more simply because a fan or an admirer attributes a quote to them — especially a provocative quote.
"Somebody hears something that sounds as if so and so said it and all it takes is a few clicks of the mouse for the world to believe they  did indeed say it.  Sometimes this can be harmful or hurtful to the person to whom the quote is ascribed. 
"Recently, veteran actress Betty White was annoyed by a false quote regarding testicles and vaginas.  It was all over the place that Miss White had said this rather vulgar witticism, but despite her public denials, it didn't stop the quote from spreading to the far reaches of the internet.
"The Matthew Effect was a big problem for the late George Carlin and more recently Bill Cosby has been the heaviest carrier of the load. You don't have to look very far to find a fake Bill Cosby quote. There are about 20 of them floating around chain emails and Facebook and other social media right now.
"Perhaps the most frustrating aspect of The Matthew Effect, as far as pure science goes, is that it's incurable in the sense that when the misquoter or those who help spread the quote, are presented with the facts — or the idea that their quote is untrue — they usually respond angrily and they either insist that the quote is real or they hold onto the false truth with the admonition that it doesn't matter that the quote isn't true, it still sounds like something their person would say and they stand by a false sense of authenticity simply for that reason alone.  For me, that's very frustrating because I'm supposed to help people, but some people cannot be helped.  to be blunt, some people are simply beyond learning or self-improvement."
It is TheDamienZone's opinion, that there is something mentally wrong with a lot of people on Facebook — and it just keeps getting worse. The real quote is right there in their faces, but they don't bother to look it up. They find a picture of Eminem and the quote is on there and !KABOOM! — it's the truth and they share it with other, equally gullible Facebookers.
If you read this site with any degree of regularity you will note that the easiest way to get us angry is to "share" quotes with your equally moronic Facebook friends. TheDamienZone.com loathes Facebook "sharing" — it's moronic and almost always maudlin and sickeningly sweet and gooey and FAKE!
You might ask me, "What's wrong with sharing an inspirational quote on Facebook?" The answer is easy — THEY ARE ALMOST ALWAYS FAKE!
I have spent the last year trying to teach the "Sharing Simpletons" on Facebook that all of that heart-melting, warm and fuzzy Dalai Lama and Mother Teresa and Bill Cosby stuff is FAKE!
You see, somebody takes a famous quote, or invents one, and then they give it "internet legs" by attributing the quote to someone else — usually somebody very famous. This kind of thing has been happening for centuries, but now in the age of the Facebook "share" these fake quotes are invented, slapped to a photo of some celebrity, and within days they spread all over the world like some kind of demented plague.
The latest quote that is being passed along by "inspired" Facebook bird brains — and probably the most sickening — is a totally fake quote attributed to Eminem. To me, this is the even dumber than the Bill Cosby, "I'm 83 and I'm tired" quote because it shows that Eminem fans are now getting old enough to pass on these kinds of Facebook "shares."
In other words, Eminem has been around long enough that his fan base has reached the age where they share inspirational shit the way your aunts and uncles and grandparents have been doing for the past 10 years via that new thingy called Email — and that's pretty sad.
So anyway, the quote being attributed to Eminem "I don't care if you're black, white, straight, bisexual, gay, lesbian, short, tall, fat, skinny, rich or poor. If you're nice to me, I'll be nice to you. Simple as that." is totally fake — he never said it. NEVER.  GET OVER IT AND STOP SHARING IT ON FACEBOOK.
Of course the gay-adjacent crowd loves this because they can post it on their emotionally overwrought Facebook page and act like they are in totally support of Eminem – they're all misty-eyed over this.  BIG FAKERS!
"I saw this quote and now I have a lot more respect for Eminem," said one reader who spends his entire Facebook day kissing up to all kinds of miniorities because he lives in his mom's basement — figuratively speaking.
Usually when you tell a reader that a quote is fake you get either one of two responses. The first, and perhaps the most revolting and nauseating is the response where the inspired one says, "Why does it matter that he didn't say it? It sounds like something he would say and it's a good quote."
What does it matter? Well — it's simply not true. Throughout history, misquotes and poor translations have caused a lot of mayhem.
The second response you usually get is that you are a "hater" or there is something wrong with YOU for pointing out the inaccuracy.  Rarely you get someone who admits to being carelsss, but as a rule, the average Facebook SHARER is a complete imbecile.
Sources close to Eminem note that "the popular rapper agrees with everything the quote says," but they admit that he did not say it.
DAMIEN LeGALLIENNE reporting for TheDamienZone.com