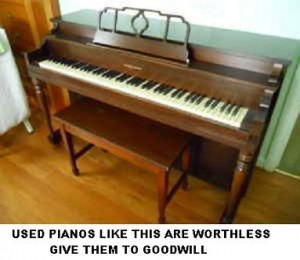 "People often say, 'I wonder what that old piano in my garage is worth?' and almost always it's not worth a penny." [Damien LeGallienne]
You know that old piano you have in your house — the one with all the picture frames and nick-nacks on it?  Gee you hate to sell it because it's so old and it's probably worth a lot of money, right?  WRONG!
Unless you have some kind of rare bird of a piano that somebody is sooooooo looking for, the odds are that your piano is a worthless piece of crap.
There are people – con artists – who sell pianos and use words like "classic" or "antique" or "appraise" — they're almost always full of shit because what they buy from you for $25 because they are "taking it off your hands" is really something they will resell as a "classic."  Of course they are lying which is why it's always better to be a seller of pianos than a buyer.
What's that you say?   "My piano is a grand piano and it's 80-years old?  It's worth a lot of money?"   NOPE!  It ain't worth nuthin'.  Maybe, just maybe, you hit the jackpot and have a valuable piano, but don't count on it — your toaster oven is probably worth more.
The retail shopper who gets ripped off the most from retailers (althought many claim to be wholesalers) are people who go out shopping for pianos — especially used ones.  If you buy a new one, even the best brands — as soon as you "drive it off the lot" it's worthless.   If, however, you buy a used piano, please know that the piano the salesman is pitching you at $3,000 if probably something he bought for $100 — and that's the truth!  I dare any piano dealer to challenge me on that.
Did you ever notice how every piano store you've ever seen has huge cheap signs that say things like, "LOST OUR LEASE ALL PIANOS 80% OFF"  "ALL PIANOS MUST GO NO OFFERS REFUSED" why do you think they do this?   Why is there always a HUGE sale?  Because the sales are bull crap just like mattress sales and carpet sales and furniture sales.
I got a letter from a reader in New Jersey who told me about a piano store on Route 1 in Edison, New Jersey USA that has been having a "GOING OUT OF BUSINESS SALE" since 1988.  How do they get away with that?  It's mind boggling.
Pianos are the most useless things on earth.  The only thing more useless than pianos are the people who sell them.
You can get a great electronic keyboard for 1/10th the price of a junky piano  — who needs a piano?  Of course if you are a pianist, you already know what you like and what you're willing to pay for it, but if your kid wants to take lessons, don't bash your head spending a lot of money.  If your kid has any talent, it will become apparent very quickly and then let the kid pick a piano he/she likes.
If you don't believe me that pianos are worthless, go take a look on Ebay at pianos that are (not) selling.
Of course the name "STEINWAY" makes everyone go gaga, but even Steinways are essentially worthless — well let's say they are worthless for the prices they are asking.  I think the people who sell Steinway Pianos price everything so high so that if they sell two a year to some dopes who hit the lottery, they will make a living,  But go take a look on Ebay.  Every single Steinway has NO BIDS!  They're even trying to sell one now for $1,200,000 — good luck, suckers.
Maybe some new hip-hop artist with beaucoup bucks will come along and buy that piece of crap because he doesn't know any better, but who the hell wants a million dollar piano?   Be serious.  Even Liberace would turn over in his grave — ewwww.  No piano is worth $2million.
Here's the thing — if you have an old or semi-new spinet or an upright or a baby grand or even a grand, more often than not, you pretty much have to pay to have it taken away.  Piano dealers will try to tell you it's not worth a penny and a week later they'll sell it for $900.
If you want  to make any money off of the big dust collector without getting duped by piano dealers, donate your piano to a school or a church or to Goodwill — and take a few hundred dollars tax write-off cause you are NOT going to be able to sell it without a HUGE hassle.
Sure you might get lucky and some kid down the street just happens to want a piano and you can sell it for a few bucks, but don't get the stupid idea in your head that it's worth more than $200 — and that's pushing it!
There is one sticking point to all this.  Before you dump the piano in the dumpster or pay two big dopes to carry it away, just check it out — do a little research.  As much as it pains me to say it, a few pianos have value so you don't want to simply ditch the thing before you check it out to see if maybe it's worth anything.  Maybe you are the one on a million who has a piano that's worth anything.
IMPORTANT!  Never dump an old player piano — they can be worth money — not a lot, but they are worth far more than their useless cousins –the regular pianos who need a human being to play them.
Newer pianos have value and somebody would rather give you a few grand for your Yamaha baby grand than pay a retailer $10,000, but what are the odds of that?
In truth, the console or spinet or upright piano that's been in your living room since the depression is pretty much worthless.  It's worth looking into, but even if you call a place that says, "WE BUY PIANOS" be prepared for a speech from the biggest liars you ever met since you tried to sell your car to "Murray's Car Lot".
Piano dealers are bandits.  Be careful.  Almost always, they will tell you that your piano is worthless but they will take it off your hands — some will even have the nerve to charge you to take it away.  Then, a few weeks later it's got a new coat of varnish and it's on their showroom floor for $1,000 and you feel like a jerk — but you're not a jerk.  You couldn't have sold that piano yourself because you don't have a fancy showroom and a quick talking salesman.  You also don't want to put an ad in the paper or on Craig's list because who wants to open their doors to some psycho piano axe murderer?
So, if you think your piano is crap, it probably is — about 99% of the time, but the best way to find out for sure is to Google the price of your piano or Goggle information about that piano.  It could be worth something, but it's proably not.
Brands that always have a little value even if they very old — and sometimes simply because they are very old — are easy to name.
CHICKERING, STEINWAY, STORY and CLARK, YAMAHA and BALDWIN.  Wurlitzer is a name we all know, but they're usually junk but some of them have value — but not a lot.
IMPORTANT:  If you have a piano with a history — and you can prove it — then you might have something worthwhile.  Let's say you have a piano that used to belong to US President Harry Truman and you have the documentation to prove it you might make a few bucks, but like I said, look at Ebay and Craig's list and you'll see — used pianos ain't worth nuthin.