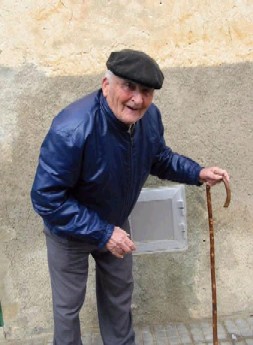 It took a lot of people to put up and dismantle the stage on which Madonna put on her awful halftime show.  Sadly the head of the whole job of sweeping and cleaning the entire removeable floor was a man full of hate.
Mario "Jasper" Camstigliero , 89, a stage janitor for nearly 75 years, was fired from his job as the head director of janitorial services for the NFL Super Bowl Half Time Show where he worked for 41 years.
Seems he used a word that may have gone unnoticed by just about everyone — except a young boy who happened to be standing by when Camstigliero used it and quickly reported the verbal insult to Super Bowl authorities.
"The man told the his co-workers that, the floor was greasy and smelly to sweep  because all the 'zootzoons' who danced with Madonna have dirty smelly feet," according to 9-year-old Dominico Monduono-Pretti of Indianapolis, IN, USA.
"I know that word because my pop-pop ( great- grandfather) used it all the time before he dropped dead playing poker in Las Vegas," said the eavesdropping little crusader for justice and tolerance and equality and open gayness.
"I know that my pop-pop is better off dead in hell because he did not know about diversity and tolerance.
"I didn't think it was a nice thing for the janitor to say because in school we learn that all people are equal and that we should report all hatred to our teachers or law enforcement.
"Mrs. and Mrs. Schutty,  our same-sex married teachers taught  us that in our Diversified Lesbian and Gay World Culture and Racial Diversity Class."
TheDamienZone checked it out and wouldn't you know it — zootzoon is an actual word that means exactly what the kid said, and because of a keen ear for hate and hate speech instilled into him by his brave and inspiring lesbian teachers, old Mario Canstigliero will have to peddle his hatred elsewhere — and he didn't get to see the last two quarters of the Super Bowl of the first time in nearly 45 years.
"I don't think it's fair that some little zootzoon lover and his dike teachers warped his mind like.  What the hell did I say that was so bad," said the old janitor as he stumbled away on a cane to collectf his last paycheck.  He suffered a stroke after the news of his hatred reached the press and doctors do not expect him to live more than 18 months.