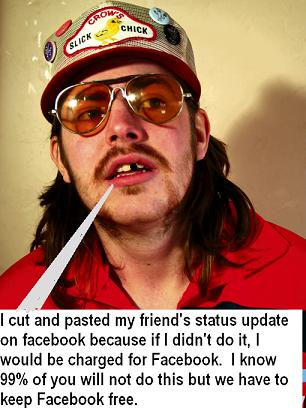 Most people are incredibly stupid — here is an example of how gullible and stupid people can be.  This is a Facebook status update that is going around.
IT IS OFFICIAL. IT WAS EVEN ON THE NEWS. FACEBOOK WILL START CHARGING DUE TO THE NEW PROFILE CHANGES. IF YOU COPY THIS ON YOUR WALL YOUR ICON WILL TURN BLUE AND FACEBOOK WILL BE FREE FOR YOU. PLEASE PASS THIS MESSAGE ON, IF NOT YOUR ACCOUNT WILL BE DELETED IF YOU DO NOT PAY.
This is NOT TRUE — but morons will keep spreading it around — the people who start this crap do it to see how many morons are on Facebook — allow me to save them the trouble — 97% of the people on Facebook are stupid.   Why do people fall for this stupid crap?