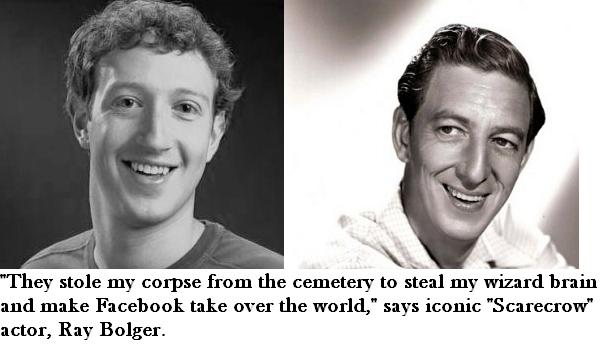 Kids, this is why you should never dig up dead bodies.
Facebook Versus Shagbook.  Exhumation creates "Zuckerberg Bolger"  The new Face behind Facebook.  by: TheDamienZone.com
Oh man, this sucks but Facebook, is using Ray Bolger's exhumed body to sue a dating site called Shagbook for trademark infringement because, in their Zombie "we-wanna-take-over-the-world opinion"  Shagbook sounds too much like Facebook.  Huh? 
 It's so confusing that I don't even know where to start. 
It's a story about a guy who played the scarecrow in the Wizard Of Oz, and about Mark Zuckerberg and exhumed corpses and a little company that has a name with the word "book" in it — it's so confusing.  If I only had the brain to make sense of all of this.  Let me give it a try.
Okay there is this company called Shagbook and it's an online dating service.  Currently they are in court battling back at man who calls himself  Zuckerberg Bolger.  The argument is that "facebook" is a "generic term."   Zuckerberg Bolger, however, believes that calling a site Shagbook implies  "the intent to call to mind and create a likelihood of confusion … and/or trade off the fame of Facebook."    Who the hell is Zuckerberg Bolger you ask?  Keep reading — it'll come to you.
Zuckerber Bolger is able to do this to Shagbook because The Wizard — played by actor Frank Morgan who was not available for exhumation —  gave Bolger (the Scarecrow)  a brain that allows him to overpower all other brains,  and Mark Zuckerberg, who is really Ray Bolger exhumed, wanted that brain and when he got it he used it to create Zuckerberg Bolger.  Do you understand now?   See, it all eventually makes sense.
The real Ray Bolger should sue Mark Zuckerberg, the kid who has taken over the exhumed remains of his remains and who claims to have created Zuckerberg Bolger without the help of any wizards, but he can't because he is dead.
There are horrifying rumors in Santerian and Voodoo circles that Zuckerberg exhumed Bolger's corpse all by himself —  although the Winklevoss brothers claim to have helped him dig —   and took over his identity of the rotted remains  so that he could have the brain that Bolger got from the Wizard.   The result of this exhumation was the creation of a being called Zuckerberg Bolger and he is the creature who will take over the internet just as long as nobody sets him on fire.  
 Cemetery workers where Bolger was buried are not talking.  They fear that Zuckerberg Bolger, who is often seen in the company of Maragret Hamilton, will murder them.   How silly!
 SNRG Ventures, the company that owns Shagbook  says the site's founder took its name from a notebook he used to carry.   Notebook or whatever,  they are all in grave danger of being scooped up by flying monkeys and locked in a room with a death-clock hourglass — so they're laying low.
Here is the sticky part for the Ray Bolger zombie body-snatcher aka Zukerberg Bolger and his exhumed facebook company that is trying to take over the world and all of your personal data.
 Zuckerberg Bolger is not being nice again ( people say he can be like that ) and he is fighting a litte too hard against Shagbook — the poor little company that stole a little from Austin Powers and a little from Facebook.
You see, in the real world,  Zuckerberg Bolger should not have even have a tademark for the word facebook and if Zuckerberg Bolger keeps banging his kinky straw hair against the wall until he gets what he wants, facebook might even lose its own  ill-gotten trademark.   Wouldn't that be something?  Wouldn't it be just great?    
Zuckerberg Bolger  has put that exhumed wizard's brain to good use.
Think about the $100 million he gave to the poor lonely and down-trodden city of Newark, NJ — not just because two days later a movie about his alleged backstabbing ways was going to hit the theaters — but thankfully because the Good Witch of Chicago, the celebrity pscyhopath enabler of all time, Oprah Winfrey, was there to enable  Zuckerber Bolger, a walking corpse,  make the whole thing look like a great philanthropic event. 
After the event at Oprah's, Zuckerberg Bolger said, "That is why the sum of the square roots of any two sides of an isosceles triangle is equal to the square root of the remaining side — ahhhhhhhhh." 
 America is sick and getting sicker.