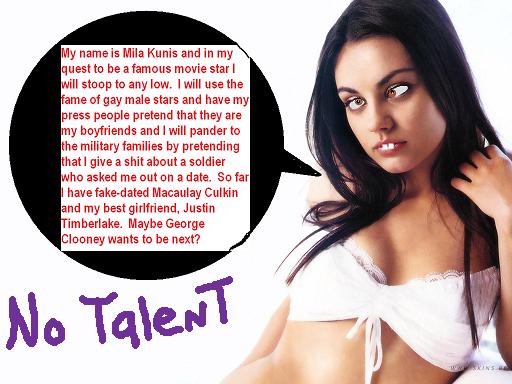 Mila Kunis is so desperate for fame that she has accepted a date that was a video request from a soldier stationed in Afghanistan.  Fake sources shilling for her even faker publicity people say that Justin Timberlake (rumored to be very gay) was the wing man who told her to do this.
Let me tell you why this makes me sick.
1)  She used Macaulay Culkin to get a little bit famous and then she dumped him — but that was all fake so nobody got hurt — but the fakeness made me sick because Culkin is an iconic celebrity who should be above letting wanna-be starlets use him.  Maybe he's a really nice guy and she did hurt his feelings — I wouldn't put it past her.
2) Justin Timberlake might be a wingman for Richard Simmons, but he's no wingman for Mila Kunis — although they might be girlfriends and, like Justin Bieber and Selena Gomez (ultimate fake daters) they might like to curl up with a box of popcorn and talk about hot guys.
3) She has opted to date this soldier simply because she wants to get caught up in the wave of military patriotism that never seems to fail.  She doesn't give a shit about the troops because she has proven time and time again that she is only in this to get famous — trouble is she has no talent.
4) She is a typical Ukrainian — unapologetic and bold and brazen.  If the Cold War had not ended, she would be taking three subway stops to stand in line to buy a turnip.
Fuck her — she's a phony and all the maudlin assholes who fall for her soldier boy bullshit are idiots!