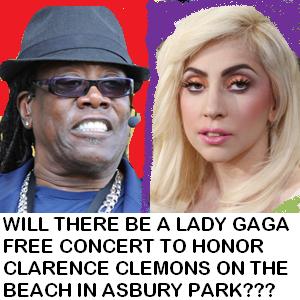 Rumors are flying in the music industry that after the death of her beloved friend Clarence Clemons, Lady Gaga might be planning a free concert in Asbury Park, New Jersey — the home of The Stone Pony bar and the origins of Clarence Clemons and Bruce Springsteen and the E Street Band.
"I heard she was going to come down her to Asbury and do a concert on the beach or something," said Lenny Squiderria of Sea Girt, NJ. a local businessman and rap studio musician and promoter.
"She was tight with Clarence and the rumors are flying around that she is setting something up soon.  I seen a bunch of guys measuring the beach with tape measures and stuff today, but that could be for anything.  You never know around here."
Asbury Park used to be a showplace and one of New Jersey's prime vacation beaches but the city fell into rotten filth over the past 35 years.  Had it not been for The Stone Pony and a few big gay bars pumping money into the community chest, Asbury Park might have been taken off the map and absorbed by the neighboring Neptune Township which considered taking over the city and leveling just about every home.  A similar project in Long Branch, an ancient beach community 2-miles north of Asbury Park had some success.
"They might still do that," said Squiderria.  "They did it in Long Branch 10 years ago and now that place is nice again.  It used to be a dump but in it's time Long Branch was never as nice as Asbury Park.  Asbury Park was one of the greatest vacation spots in the whole world and a postacrd from Asbury Park back in the day is a collector's item."
Asbury Park is a perfect venue for Lady Gaga if the rumors are true because there is a decadence about Asbury Park that perfectly mirrors the sadness and hopelessness in a lot of Gaga's tunes.  If you watch Robert DeNiro's film "City By The Sea" you will see Asbury Park.  The entire movie was filmed there, but in the film they refer to it as Long Beach — something that made no sense and makes the movie difficult for New Jersey folk to watch.
Asbury Park has a convention center that seats thousands but it's been under repair for 10 years and it never seems to get done.  The beach might be a better venue for the free Lady Gaga tribute to Clarence concert because the sea at that point is a dark blue/black and aside from the overall skankiness of the town, the beach is pretty cool.  The old Victorian structures that have fallen into ruin make it a rather interesting place for a concert.
So are they rumors or is Lady Gaga really going to have a free concert in Asbury Park in late July?  Nobody seems to know.