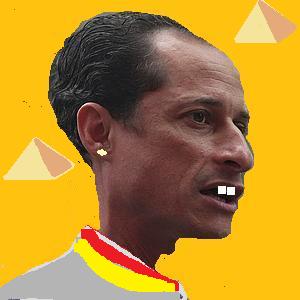 Disgraced NY Congressman Anthony Weiner has announced his resignation.  In a statement prepared for him by TheDamienZone, Weiner announced that he is resigned to several facts.
"My fellow New Yorkers.  I have done some pretty low rent things in the past few years and a few of them have come to light in the past few weeks.  I sent out pictures of my underwear wherein the head and basic shape of my penis was well-defined.  I am resigned to the fact that my penis is kind of long and arousing to many women on the internet and I am resigned to the fact that many gay men would like to play with it providing they get to put a bag over my head.
I am resigned to the fact that my well-developed and somewhat desirable pecs will never be round and naturally firm like a teenager's pecs.  I know that the borders of my pecs are irregular and reek of the fact that I never developed my muscles at an early age because I was a homely kid and an even homlier adult.  I accept the fact that I don't have Jersey Shore nipples and biceps and that my attempts to attract women have only turned on a lot of old gay men.  I am resigned to that knowledge.
I am also resigned to the fact that my face is beat.  I am not handsome but I had some political power.  I know that there are some skanks out there who would screw me for a taste of that power and that's why I tweeted them photos of my large man tool and my massive pecs and bulging biceps.  I married a woman I could never get in real life and I figured that if I could get her with this face and body, imagine what I could get if I worked out a little and showed my man sword to millions of women on Twitter.  I am resigned to the fact that it kind of worked but I am also resigned to the fact that the only woman who is f**ing me right now is Nancy Pelosi.
I would like to say that I am sorry to my family.  I didn't mean for photos of my large and stay-rock hard penis to be seen by millions.  I did not mean for my succulent man-breasts to become international objects of lust.  I'm sorry if any of my photos caused any young guy to turn gay or any young gal to become a lesbian and the various visa versas.  I can see how that might happen and for that I am resigned to say I am truly sorry.  I didn't mean to turn on so many inncocent people.
I plan to live out the rest of my life as a Ramses II impersonator and I hope a lot of you will come and see me perform in Las Vegas and Lake Tahoe.   This weekend I will be at Mount Airy Lodge in the Poconos, then I will do a regular gig at Luxor – not the one in Vegas — the real one.
Sincerely
Anthony "Call me Tony" Weiner