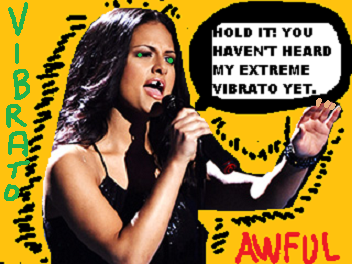 Why the fuss over this no-talent Pia Toscano?  She has that same Stevie-Wondergirl vibrato that passes for style — she over sells every song and she is often off key.  What is the taste of Americans that every singer has to have this vibrato and same old same old sound — SHE SUCKS!  SHE IS AWFUL!  SHE SCREAMS!  SHE HAS NO TALENT!
When she sang All By Myself it sounded like she was burning alive in a fire.  It was awful!  It made me sick!  The whole effing show makes me sick.  I try to watch it and within 5 minutes I have to shut it off because it kills me that I live in a nation where the average person has no fcking taste!
American Idol is the show where everybody sounds the same — all it is is SURVIVOR with music.  This Pia Toscano is the worst singer — not the very worst — but she sounds like 99% of the men and women who seem to move forward on this show that showcases the lack of taste inherent to the average American moron.
SHE SUCKS!!!!!  THEY ALL SUCK!!!!AMERICAN TASTE SUCKS!!!!