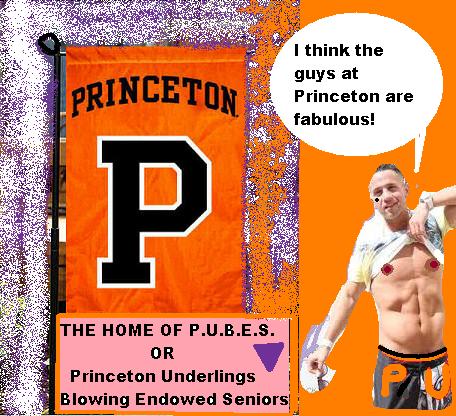 Gay male students at Princeton  University are starting a study group based on the TV Show "Jersey Shore' and their main objective is to get the show's most famous star to speak at Princeton and discuss his feelings about gays and homosexuality in general.
TheDamienZone.com spoke with Bradley Claymartin- Filligreau, the head of  P.U.B.E.S.— Princeton Underlings Blowing Endowed Seniors — the group who has initiated this speaking engagement.
DAMIEN ZONE:   HOW LONG HAS P.U.B.E.S  BEEN A FORCE AT PRINCETON?
BRADLEY CLAYMARTIN- FILLIGREAU:   P.U.B.E.S. was instituted at Princeton in 2008 and so far we have limited our activities to beach trips and Spring Break adventures to Key West and Puerto Vallarta Mexico, but this year we want to lean towards the Academic side and we feel that Mike "The Situation" Sorrentino is the perfect guest we can have on to express our concerns about the attitudes towards gays in the ultra straight circles of New Jersey. We are certain that the hot Guido population is at least 8% homosexual and we feel that this must be addressed.
DAMIEN ZONE:   WHAT KINDS OF QUESTIONS WILL YOU BE ASKING?
BRADLEY CLAYMARTIN- FILLIGREAU:   We would like for Mike "The Situation" Sorrentino to come to Princeton and give a lecture or speech wherein he describes his views on male homosexuality.  Our questions would circle around Mr. Sorrentino's own sexuality and his own experiences in life.   Did he ever have a homosexual experience?  How does he feel about being admired by homosexuals?  Has he ever been violent towards a gay guy for the sole reason being that the guy was gay?   Does he know of any muscular Guidos who are secretly gay and would like to come to Princeton and hang out?  Things like that.
DAMIEN ZONE :   HAVE YOU CONTACTED MR. SORRENTINO?
BRADLEY CLAYMARTIN- FILLIGREAU:   Yes we have.    Several members of P.U.B.E.S  have spoken with Mr. Sorrentino in the parking lot across from Feather's Bar in northern New Jersey and he was very accommodating.  He said that he would enjoy coming to Princeton and having  an "Open Mike" night.  We thought that was witty and charming.  He even invited a few of us into his car and he let us touch his abs.  That sounds totally insane and non-academic, I know, but we might never again get a chance like that, although we are thinking about charging a fee for touching the abs and splittting the profits with The Situation. 
DAMIEN ZONE:   WHY WAS MIKE THE SITUATION PARKED AT FEATHERS?
BRADLEY CALYMARTIN- FILLIGREAU:  That's where he said he likes to sit in his car and meditate on Saturday nights.
DAMIEN ZONE:   ARE YOU AWARE THAT FEATHERS IS A GAY BAR AND HAS BEEN FOR 30 YEARS?
BRADLEY CALYMARTIN-FILLIGREAU:  No.  We did not know that.
DAMIEN ZONE:  YOU MEAN TO TELL US THAT YOUR GROUP VENTURES ALL THE WAY TO KEY WEST AND PUERTO VALLARTA IN SEARCH OF GAY FUN BUT YOU WERE UNAWARE THAT A BAR SO CLOSE TO PRINCETON WAS A GAY ESTABLISHMENT?
BRADLEY CLAYMARTIN- FILLIGREAU:  I guess then that we'll have even more questions to ask Mike "The Situation" when he comes to our meeting hall on March 29. 
DAMIEN ZONE:   WHERE ARE YOU HOLDING THIS MEETING AND LECTURE?
BRADLEY CLAYMARTIN-FILLIGREAU:   It depends on how many students apply.  We strongly suggest that straight guys and girls and  nerdy Asians do not sign up just for a chance to see a clebrity.   We are taking this very seriously and we have a solid agreement with The Situation.  He is not charging a fee and neither are we so don't want the venue to turn into a circus.  We might have the meeting at a more local nightclub called The Den which is in Somerset, NJ and about a 30-minute ride from the Princeton Campus where we hold our regular P.U.B.E.S. meetings.
DAMIEN ZONE:  WHAT WOULD YOU SAY IS THE MAIN FOCUS OF P.U.B.E.S AND WHY HAVE THEY CHOSEN MIKE THE SITUATION?
BRADLEY CLAYMARTIN-FILLIGREAU:   The main focus of P.U.B.E.S. is to make contact with the closeted gay Guidos via any interraction with "Mike The Situation"  Sorrentino.  We would like some muscles and tattoos around here because even though we are Ivy League snobs, we are not above smushing with some hot Guidos.  It's not like we would have to talk to them or introduce them to our friends.   But all the guys here are Asians and other pasty white kids and after a few weeks that gets old.  I don't know if I speak for all PUBES members, but I like to get roughed up a little and I like when the guy is dumb — doesn't everybody?
TheDamienZone thinks it's important to note that P.U.B.E.S.  got a lot of inspiration from this exchange between Sarah Palin and Larry King.  http://thedamienzone.com/2010/10/10/sarah-palin-says-jersey-shore-guidos-become-gay-after-labor-day/
*********************************************************
Okay, there you have it.  Mike "The Situation" Sorrentino from MTVs "JERSEY SHORE" is going to give a lecture to P.U.B.E.S.  – (Princeton Underlings  Blowing Endowed Seniors)  but the venue has yet to be determined.  The date is March 29, 2011 and admission is free — unless it is held at a club that charges a cover.