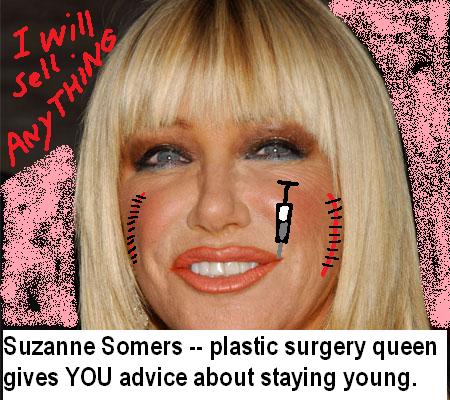 It appears every year in January: the latest in Diet Books are released as everyone is thinking of weight loss and health.   The newest fake fad useless diet book is Sexy Forever, written by that great actress — that Lady Macbeth of drama — Suzanne Somers.   Remember when she did the Thigh-Master commercials back in the 80s and then had about a hundred lipos and face-lifts ever since?  She doesn't even look like Chrissy anymore.
Sexy Forever is Somers' online program (there is also a companion book), and is stated to be a comprehensive plan for women over 40 and will help them look and feel their best.
Of course,  it's just a stupid book aimed at gullible folks with fat and insomnia who fall for every fad that some old has been hag actress tries to sell them at 4am while the rest of the world is sleeping.
Somer's book has all kinds of tests for made up things like toxicity in the body and imbalances and all the other stuff that is backed up by absolutely no medical science.  In a way, Somers might even be more dopey than J.J. Virgin — read my article about her — http://thedamienzone.com/2010/07/07/nutraceutical-and-macrobiotic-are-fake-words-the-unhappy-truth-about-people-like-jj-virgin-and-her-medical-degrees-and-the-fraud-that-is-called-holistic-medicine/ — this kind of crap makes me sick.
Anyway, for $4:00 a week, you will get all of Somers online crap and it won't do you any good.  You will stay fat and miserable because you'll be out of 4 bucks a week and you will still be a tun of lard. 
If you want to lose weight, then you should check out some of the links on this page because they are reliable sources and not fad fake diets.   You lose weight when you eat sensibly and get whatever exercise your doctor recommends.
Remember — Suzanne Somers is an actress and a bullshit artist