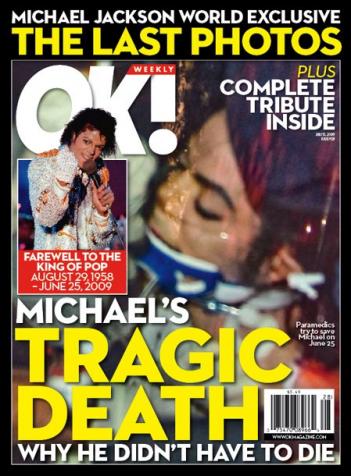 Discovery Channel International has temporarily postponed the broadcast of a show that claims  to re-enact Michael Jackson's autopsy, the company announced Friday.
"You will not be able to see his bald head as the coroner removes several layers of wigs," said a source close to the show.  "It was really going to be great!"
The Discover Channel execs believe that the start of hearings next week in the criminal case against Jackson's doctor and a request by the late superstar's estate are ample reason for the postponement.
The exectors of Jackson's will were none too pleased.
They said they were especially outraged by an Internet ad for the show because which depicts Jackson's  corpse on a steel gurney covered by a sheet with a hand sticking out wearing Jackson's signature sequined glove.
Branca and McClain, the estate's executors,  said Friday in a statement that Discovery seemed to be reacting to outrage from Jackson fans, in addition to their own criticisms.
"Discovery Channel made the correct decision in choosing to cancel this exploitative program. We are hopeful that this show will never run in any market in the future," they said.
The company's decision was first reported by celebrity website TMZ.com.
A preliminary hearing is scheduled to begin Tuesday for Jackson's physician, Dr. Conrad Murray, who is charged with involuntary manslaughter, after which a judge will decide if there is sufficient evidence to hold Murray for trial.
The singer died on June 25, 2009, of what was later found to be acute Propofol intoxication, with other sedatives found to have been a contributing factor.