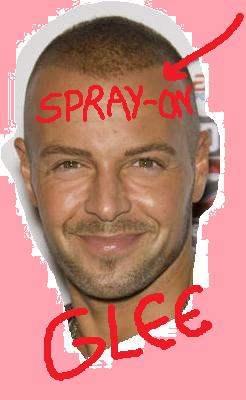 With "Sweeps Week" only a few weeks away, the producers of the hit gay show GLEE have written in parts for "Melissa and Joey" star Joey Lawrence and British Prince William.  Both stars have huge amounts of hair loss and the folks at GLEE are trying to make balding young guys feel better about themselves.  Joey will play a once promising young singer who lost his fame suddenly when he simultaneously went bald and recorded an album with John Stamos.  Prince William will play himself.
"I think the producers of GLEE realize that the balding guys are not fairly represented,"  said former THE NANNY child actor Benjamin Salisbury. 
 "I was balding in the first season of  THE NANNY and I was only twelve.  As I grew older and my hair grew thinner, the  producers dealt with my hair loss by making my part smaller — which is funny because the part in my hair was getting bigger.  I am in the Guinness Book Of World Records as the youngest bald actor in history so it wasn't a total disaster."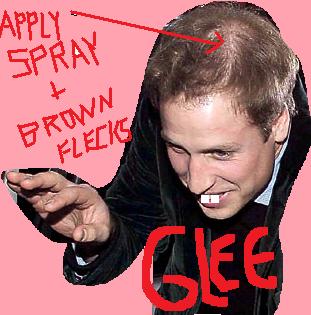 Lance Rentzel, one of the GLEE producers explained how the show will come off.
"In a very special GLEE episode we will cover the sad story of two young former GLEE members who followed different oaths in life despite the fact that both were balding."
TheDamienZone.com learned that Joey Lawrence's character, now a man of thirty and a former Glee singer, will explain to Prince William about how he learned to spray on a head of shiny black flecks so as to look like he is shaved bald by choice. 
Earlier in life, when both were losing their hair, Joey's character, Vinnie Pagnierello, went on to make bad television shows and really bad recordings of atrocious songs that never hit the charts, while William Windsor went on to become a British Prince.
In one sad scene that was leaked to us, Joey will be seen dying the top of his head with a brown spray and then putting in pin-point dots that look like hair.  After hours and hours of making fake hair dots, Joey will be collapse from exhaustion and Prince William will come to his rescue.  William will explain that it's okay to be bald just as long as you have billions of dollar and are in line to be king.  When Joey explains to William that he is broke and has no royal blood, Prince William offers to shoot him out of mercy, but Joey decides to shoulder on and in the end the two men sing a ballad about being bald.  One minute into the sad song the whole cast gathers in and they all sing a big number called "BALD" — it's really well done.
"Even though me and Joe Penny were probably the first two guys in the baldness trenches on Prime Time television, neither one of us was asked to be in this episode and I think that sucks," said a crestfallen Benjamin Salisbury.