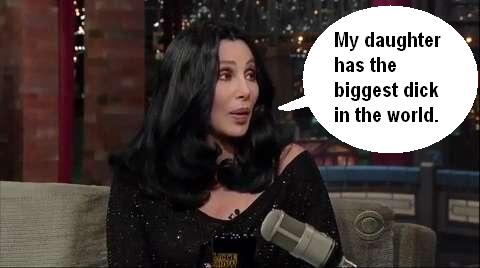 Even the strangest science fiction stories in history did not prepare doctors for what they would face when they began to construct a new penis for Chaz Bono.   What started out as a rather routine procedure, has turned into a nightmare that only a mother could love.
"We initially fashioned the penis from skin and fat taken from her buttocks and intestines," said Dr. Franz Frecker of the Beverly Hills Institute for Penis Reconstruction, Enlargement and Inception.
"After three surgeries the penis seemed  normal although it would be rather easy for an average person to note that the constructed penis did not look like an average penis.  It was a bit crooked and it just looked like a tube of skin — like those white sausage links you can buy in the refrigerated section of Cracker Barrel.  
"Personally I like the apple and sun-dried tomato variety.  In any event, the penis could be inflated to erection by using a remote control that operates a pump that is implanted in the organ.  Things were looking good but we had minor concerns that some stem cells from a redwood tree seed had gotten into the implant via a surgical assistant who did wash his hands."
Dr. Frecker was initially optimistic with Chaz's new penis, but now the other doctors are starting to see a problem, and one doctor has gone so far as to say that the penis not only does not work — it is growing to a huge size and seems to be bent on killing people. 
"There is something Satanic about it," continued Dr. Frecker.  "I don't know.   I mean, we have no idea how large it will grow or what Chaz's ultimate fate will be."
Another doctor, injured while trying to sedate the penis, vented her anger.
"Chaz got her first erection last week and as the penis rose it started to screech," said  Dr. Megan Smegan, an associate at the institute who was now in traction in the institutes orthopedic ward.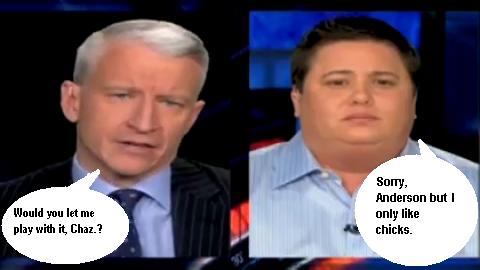 "The head of the penis was able to make several 360 degree turns and the words EAT ME appeared to rise from the penile flesh.  I ran down to the church and sprinkled the penis with holy water and the penis grew to huge proportions.  It was swinging around and roaring.  Two nurses were killed and one male nurse choked to death when he got excited and tried to suck it.  I got knocked across the room and broke seven bones but I still had the strength to call a priest but Cher, Chaz's mother, showed up before the priest came and refused religious  interference.  She took Chaz home and we don't know what happened since."
TheDamienZone caught up with Cher at her Malibu home and found Chaz strapped to a chaise lounge.  Her penis was waving in the air and had reached a length of over 16 feet.
"It's going to be the biggest and meanest dick world," said a smiling Cher.  "I mean, how many people get to say that their daughter has the biggest dick in the world?  I am really proud.  At first I wasn't too keen on having my daughter become my son, but this is golden.  Sure her dick is a little mean and it killed a few people, but I know how to handle a dick.  Gimme a few months and I will have my daughter's dick eating out of the palm of my hand."