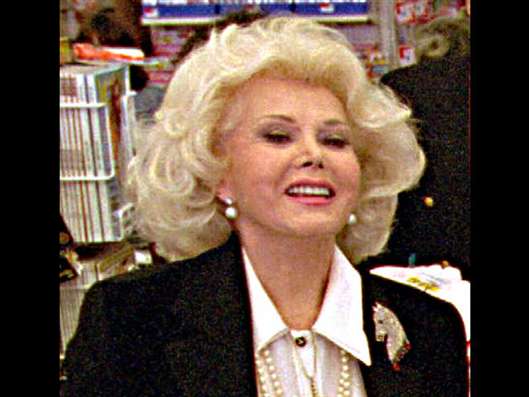 She came into this world destined to be a high-priced whore and she's leaving it as a scheming low-life whore.  A whore is a whore is a whore.
Imagine how low you have to sink to tell the press that you were given the Last Rites just so that you could get a few more days of press before you kick the bucket  — if you are even indeed going to kick the bucket. 
"I was used by a publicity whore," said Father Trent Fallopiloni of the Beverly Hills Church of the Divine Christ Jesus.  "I wasted all that holy water and two Eucharistic wafers.  Those things are hard to get these days, you know."
Zsa Zsa Gabor's husband a fake prince with a fake name, told the press that his wife was near death and that she was receiving the Last Rites of the Catholic Church.   He said she had only hours to live.
Our advice to Zsa Zsa — GO THE FUCK HOME AND DIE!   NOBODY CARES ANYMORE!  YOU'RE A FUCKING WHORE!
TheDamienZone.com has never seen anything so disgusting.   Gabor is making it look like she is at death's door so that when she recovers she will look like a survivor.  Here's to hoping she does NOT survive! 
"If I get called again to give her the Last Rites," said the disgruntled priest, "I'm going to tell her to fuck herself.  I'm a priest and I can say fuck because I can just confess it to some other priest."