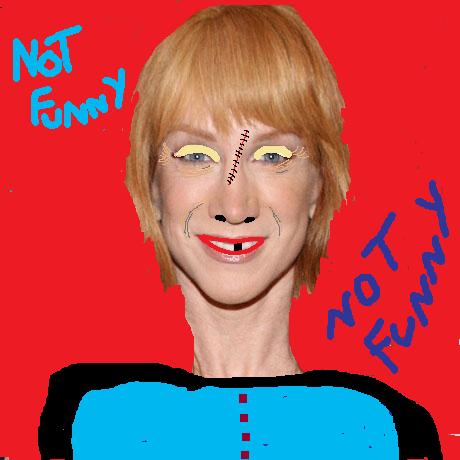 Kathy Griffin is officially no longer funny and friends in her inner circle fear that even the gays are staying away in droves.  Could it be possible that even "her gays" are sick of her?  It sure looks like it. 
"Kathy Griffin is like soooooo 2007,"  lisped Marc Lubrasil from behind the bar at Feathers night club in River Edge New Jersey where he works as a dishwasher.  
"I mean, she is nice and all, but like she just keeps making jokes about the same celebrities and she's getting kind of old and scary looking.  She like tries to kiss up to Lady Gaga and stuff but she's like so old and nobody wants to be bothered with her.  Plus we found out that the thing about her mother and the wine was a set-up so that was like so uncool."
Griffin's career plunge began on New Years Eve when she made a fool out of herself and Anderson Cooper by constantly trying to push the buttons of CNN executives with hints of profanity and lewd commentary.
"She was just unfunny and looked like a washed out hag," said Como Lierdlert of CNN's Department of Standards and Practices. 
"Her face is getting long — did you notice that, " Continued Lierdlert.  " Dick Clark can't even talk anymore and Ryan Seacrest is a midget yet they tripled her and Anderson cooper in the ratings.
"Maybe she'll start making it in smaller, more rural markets where gays are just starting to dye their hair blond and cut it like Eminem like they did in the big cities back in 2002 and 2003, but I don't know I just work here."
So it looks like Kathy is a D-List celebrity after all maybe even an F-Lister.   She can't pack them in like she used to and after years of bashing so many famous people she has no friends in Hollywood except a few bargain basement plastic surgeons and some circus promoters who are interested in hiring her so they can display her strangely deformed feet and legs.