Damien Zone
Sanjay Gupta MD is a doctor who makes most of his money selling books and being a medical correspondent for CNN. He's not usually as annoying as most cable news correspondents, but right now, perhaps in pursuit of a Pulizter Prize or something, he has been traveling to Guinea – a former French colony on the west coast of central Africa — to do stories about the people there who are dying from the deadly and incurable Ebola virus.
He reports from this country in very disease-ridden areas where most of the people have come down with the deadly illness associated with the virus.
Is Sanjay Gupta a great crusader for these poor people or is he a modern day Typhoid Mary who thinks he is above carrying the disease here to the USA?
Is he doing this out of compassion for people or is he doing it to get ratings for CNN?
Personally, I think he's not so altruistic and the stuff he is reporting has no real educational purpose. He can easily do a story about the dangers of Ebola without actually going to the place where people are infected with the disease, but I assume Dr. Gupta feels that he needs to inject a little of the "Geraldo Rivera" factor into his stories.
In my opinion, Sanjay Gupta — in his quest to look like a courageous man of medicine — is putting the lives of Americans in great danger and for that he should not be allowed to continue with these reports.
Guinea — your garden variety fourth-world dump that used to belong to France — is a country with virtually no infrastructure. Nice job, France — as usual.
These natives of Guinea are peasants scattered throughout villages. Guinea does not have millions of people sharing buses and trains and airplanes and workplaces. If one — just one of these people — acquires the Ebola virus in the USA — especially NYC — it's the end not only for the lives of hundreds of thousands, but for the economy of the entire USA.
Hey, maybe you're a good doctor, Sanjay Gupta, but do us all a favor. Stay the hell away from Guinea unless you intend to stay there for the rest of your life. Stop playing with fire. If you want to be an Ebola martyr, good for you, but in the meantime, don't risk the lives of everyday Americans.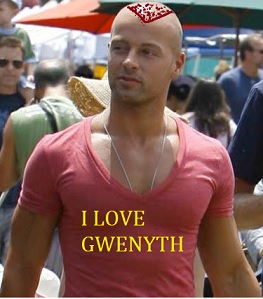 Rumors are flying throughout Hollywood about the secret romance that might very well have caused the breakup of Gwenyth Paltrow's ten year marriage to Coldplay's leading man, Chris Martin.
Many insiders believe that friction between the Hollywood super-couple, began as soon as Gwenyth started to pal around with actor/musician Joey Lawrence — a former child actor who found fame in such memorable TV shows as "BLOSSOM" and "MELISSA and JOEY"
Producer, Mildred Scalfani, who recently shot the film "Bigfoot Adirondack Stalker" which starred Joey Lawrence in the lead as a Bigfoot hunter named Slade Giuliano who goes missing after an encounter with an 8-foot tall Yeti in Saranac Lake, New York, had this to say.
"It was no secret that Melissa was seen flitting around here and there and everywhere with Joey Lawrence, but it seemed like she was treating him like a little brother and just enjoying his fun side and the fact that he fancies himself to be a rock musician more than just a TV actor.  Nobody knows Joey better than I do, and after a couple of months of this brother-sister thing he had going on with Gwenyth, I started to see there was something more to this — everybody saw it.  It was obviously some kind of deepening romance."
Some people close to the couple said that Joey Lawrence was a frequent guest at the Paltrow/Martin home and that Chris was even teaching Joey some new vocal and guitar riffs, but there was no hint that that Joey was just a buddy or a pal.  Seems they were wrong because since Gwenyth and Chris split, Gwenyth has been spotted on various Caribbean islands with Joey Lawrence who looks like he is sporting even more muscles than he ever did.
"Gwenyth helped Joey through some tough times," said Mildred Sclafani.  "When Joey underwent 6 moths of grueling and painful hair transplant surgeries, Gwenyth was always there to show her support.  
"You didn't see his former costar Mayim Bialik hold his hand as surgeons grafted 15,000 hair plugs from the back of his head to the top.   Mayim thought it was disgusting and gross, but Gwenyth was there, and when the hair grew in a rusty red color, she stayed by Joey's side…and that's when I knew this was more than a brother-sister playtime thing.  This was love, and after Joey's hair started to grow in, Gwenyth turned cold towards Chris."
TheDamienZone.com thinks it's funny how certain things that seem like obvious rumors often turn out to be totally true.  Months ago we had reports of a love affair between Gwenyth Paltrow and Joey Lawrence but we dismissed them as silly because Gwenyth doesn't go for guys like Joey Lawrence.  She thinks she's too good for an average celebrity – but we were wrong.
We are sorry to see the Paltrow/Martin marriage break apart, but we know that there is sunshine after the rain, and who better than Joey Lawrence to bring happiness into someone's life than Joey Lawrence.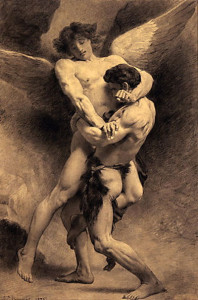 There is a new school of thought in New Age Science circles wherein those involved discuss the origins of human thought and the various religious beliefs that seem to have permeated every culture that has ever risen since the dawn of mankind.
Some see homosexuality as a form of angelic visitation or genetic incarnation, and that the very nature of an angel as a homosexual or asexual entity resembles greatly the subculture that was created by the European Catstrati caste of the 13th through 19th centuries.
Naturally this concept is far and above the overly simplistic and homespun explanations of this new-ish TV culture of Ancient Astronauts which is being brought to the front by various faux scientist/celebrities like Giorgio Tsoukalos and Erik Von Daniken.
This concept of the  homosexual component and his purpose in society, in part, is not an entirely new idea.
The French writer, Jean Genet, wrote many novels in which homosexual prostitutes, drug addicts and thieves are depicted as angels and the police or lawmakers are portrayed as demons.
Genet wrote most of his greater works in the first part of the 20th century, and naturally he was tormented by authorities much like Oscar Wilde who came before him.  Genet, however, was a deeper thinker than Wilde.  He didn't live a life of debauchery and self indulgence — he just wrote what he thought was real, and perhaps it was real.
Wilde's trouble with the law was fueled not by his writings but by his social antics.  Genet was persecuted because of his written work — a totally different situation altogether.
The idea of a universal belief in an afterlife and all things that one would see as spiritual or ritualistic are not simply ideas put there by aliens from another planet.  It must go deeper than that because history tells us a very different story.
In almost every culture prior to the imposition of Judeo-Christian, and later Islamic ideals, on what was deemed to be socially acceptable behavior, homosexuals were revered and treated as special or even god-given entities — apart from everyone else — better and worthy of adornment.  This is still the case in remote parts of Africa and Asia.
Why, in a culture where one would assume an effeminate man would be shunned, is he held in high esteem?  What happened throughout the development of that culture to make it feel and believe the way it does?  Better still — what happened to Western culture so as to make the homosexual the object of hatred and violence and damnation?
It's far more likely that these beliefs are encoded into human DNA as part of the survival instincts for all animals who live on this planet.
The leader of this new movement is Dr. Jacques DuValier, a gay psychiatrist and theologian.   This is how he briefly describes his mission statement.
"Angels need not be depicted as beautiful entities floating down from the heavens on gossamer wings and being held aloft by glorious sunbeams.  Angels  live in our midst as somewhat less than ordinary people.  If you want to believe this aspect of 'different-ness' than who better fits the part of an angelic population than the male homosexual?  
"Yes, he is the angel.  The homosexual male is a creative person and he helps to move society forward with fashion and dance and music — all very primitive yet somehow very progressive destinations.  It was no accident that many of the world's greatest painters portrayed angels as beautiful and muscular men who had nothing in their lives but glory, beauty and other angels.  There are no women in the realm of the angelic.  The proverbial and real angel must depend on other angels for companionship and even love and carnal interests. Yes, angels have sex.  Some cultures believe angels have sex with ordinary humans which would explain my notion that there is also a strain of men who carry what we call a 'hustler gene' which makes them attractive to true angels simply as a diversion with no worry of commitment or devotion for both parties simply because the mission of the angel is far more important than setting up a home with a partner. " 
The troublesome aspect with regards to Dr. Duvalier's theory is that it doesn't explain in any way the fact that the ordinary homosexual man is simply an ordinary person — no different than anyone else. He works at an ordinary job and participates in ordinary things.  In fact, 99% of homosexual men are not great writers or poets or writers or designers or artists or even identifiable as homosexuals or angels.  They're just everyday people.  This is not to say that ordinary people are not each exceptional in one way or another, but in the realm of the angelic, there is always something deeply and openly exceptional.
If they are indeed, for the most part.  just like everyone else, then the only thing that separates them from others is the fact that they are homosexuals.  Even then, it's not completely clear because many of these men never reveal their homosexuality throughout the course of their entire lives.  How can an angel walk in our midst and never identify himself or depict any of the angelic qualities that are supposed to be attached to him?
Dr. Duvalier continued:
"The angel, the entity with the DNA needed to move society forward or backwards, is a very flawed creature.  He is as delicate as the wings that he is sometimes portrayed as wearing.  
"The homosexuals who live ordinary lives and come across as ordinary people are not fallen angels per se, rather they are men who are technically angels who have either failed or rebelled against what they are and what they know themselves to be or they do not have the drive to undertake anything other than an ordinary life.  
"The world needs gay ditch-diggers too, you know.  I know that might sound cruel, but that's the way it has to be.  A frog lays two million eggs with the hope that only one will live to grow large enough to become the king of the pond. 
"An angel carries a heavy load and most choose not to carry that load or they lose it as part of their social situations. Ironically, poverty and adversity are great stimulants to the angelic gene and often great homosexuals emerge from slums and decay.   Life as an ordinary human being is simpler and it's perfectly naturally for any creature who is 99% human to seek a simple and less complicated existence if life is already easy for them as they are.  
"The opposite often applies to very famous or wealthy homosexuals because many of them are insufferable angelic impostors — not angelic creatures at all.  
"Andy Warhol is one impostor who comes to mind in this case.  He renounced his angelic presence in favor of fame and glamour and false art.  Of course many gay men do this, but Warhol did it in a garish and almost filthy way.  I would call him a true fallen angel or a failure in many respects.   Mind you, I am not singling out Warhol.  There are so many.  He was and still is, the easiest kind to spot."  
I will have more from Dr. DuValier in upcoming weeks and perhaps some comments will inspire me to ask him some of your questions.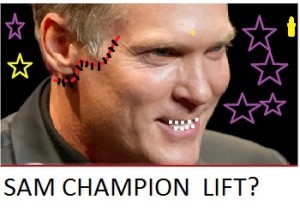 TV Weatherman Sam Champion, looks like he has his face pushed into a 70 mile per hour wind — in other words — his face looks stretched and pulled.  Has Sam had some plastic surgery — maybe even a face lift?  It sure looks like it.  Something looks weird about him — is he just getting old or what?
According to Dr. Raymond Totondi. a plastic surgeon at The Skylight Institute on Park Avenue in NYC, Sam is looking a little 'repaired" as he heads towards the big time.
"Sam Champion is no longer the local weatherman on a NYC network affiliate news program.  He is now a national weatherman and in preparing for that kind of limelight, he very well may have had a bit of sprucing up at the plastic surgeon's office.  He has also gained a lot of weight. He used to be slim and athletic back in the 1990s when pranced around on the dance floor at Roxy, but now he's looking a little chunky and puffy.  Personally, if he has indeed had anything done to his face, he should have waited until he lost that extra weight.  In my opinion, he has painted the car without repairing the engine, and that is never a good idea."
Some New Yorkers who are "in the know" think that Sam has gone into a kind of depression since Splash Bar has closed down, and maybe that's why he has packed on the pounds and pulled his face back like a Hefty Cinch Sack, but others take a more homey approach to this change in Sam.
"To me, Sam used to look like an All-American gay guy, and it was nice cause I wanted to set him up with my nephew Frankie who lives a few blocks away from me with his mother.   I thought Sam was a cute guy and a perfect match for Frankie — and he gave good weather reports, " said Mildred Sclafani of Staten Island, New York who, along with her husband, Broderick, runs a Bigfoot Lookout club in the Catskill Mountains of upstate New York. 
"Broderick and I do a lot of Bigfoot outings and we always depended on Sam for the weather.  I even invited Sam over a few Sundays for my famous raviolis with vodka sauce.  Yeah, I know that ravioli is already plural and I shouldn't say 'Raviolis' but it sounds nicer to me and it reminds me of my mother and grandmother so I say it.
"Anyway, Sam was very nice and he only ate a few raviolis,  Poor thing ate like a bird.  Recently he stopped by and he scarfed down about 30 raviolis and 4 meatballs.  His face looked a little stretched out and pulled but I figure maybe he gained weight or whatever. Hey, it doesn't matter to me, he still is good with the weather and when we set out with our group for one of our Bigfoot expeditions, we know we can depend on Sam Champion for a good forecast.  I just have to remember to get more raviolis next time he comes over.  I don't think even frigging Bigfoot would eat that many — and the meatballs too!" 
So, what's the deal?  Is Sam Champion getting plastic surgery or is he facing into a strong wind?  It looks like has had a face lift and an eye job — but we might be wrong.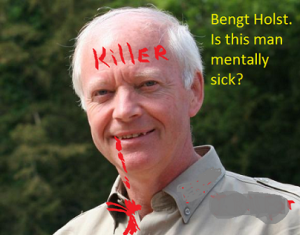 A team of forensic psychologists are planning to assemble in The Netherlands.
Their goal?
To have Bengt Holst, the director of the Copenhagen zoo, declared legally insane or have him brought  up on animal cruelty charges or to have him declared incompetent and unable to work at anything but menial jobs.
Local law enforcement agents are considering having Holst brought forward for a competency hearing and they too are considering charging him with not only cruelty to animals, but for racketeering for cruelty to animals with the intent to gain fame or notoriety.
According to a statement released by the newly-formed committee, Holst has… "…committed a grievous offense and for that he should either be sent for a complete psychological examination or he should be punished without mercy for his crimes against the animals in his charge — chief among them being the giraffe "Marius" which he had brutally killed and publicly dissected in what amounted to something akin to a grand spectacle worthy of the ancient Roman Colosseum." 
"The problem has NOTHING to do with the giraffe's meat being fed to the lions. The problem is that Marius' keepers — humans he seemed to trust — shot the giraffe in the head and ghoulishly dissected that giraffe in front of zoo visitors." said Dr. Raymond Totondi, a Zoologist and Human Behaviorist in Rome.
"The reason they gave for shooting the giraffe was horrific. Bengt Holst believed that Marius already had genes that were well-represented at the zoo and they didn't want to risk inbreeding — in other words, they didn't like his genetic makeup — so he ordered him killed him in spite of the fact that many zoos throughout Europe and the world offered to take him."
As if all of this weren't sufficiently horrific, Bengt Holst is now being viewed as madman on a sick rampage because he has now — several weeks after he fed Marius to the lions —  decided that those very lions too need to die because he is, "not in the business of raising lion cubs."
"Something is terribly wrong with this zoo and the people who run it, said a Canadian zoologist who spoke under conditions of anonymity.
"I am not a psychologist, and perhaps I should not even be saying this, but Bengt Holst is a mentally sick individual who should not be allowed to lord over any zoo or any place where the welfare of animals is a concern.  He should be fired from his job at the Copenhagen zoo and she should be charged as a criminal.  What he did to that giraffe was not only cruel to the animal, but it seemed as though Holst was enjoying being cruel to the thousands of people — mostly children — who begged that the giraffe not be killed.  
"There were plenty of options open to Holst — even an doffer of $600.000US from a European buyer, but Holst refused and opted instead to kill the animal as though he was the star of some demented reality show.  To me this shows that he is a sociopath of some kind.  I realize again that I am not a psychologist, but many on the panel who are indeed psychologists and psychiatrists, believe that Holst is indeed a sociopath and when I call him one, I am simply restating what I have been told by experts."
Hollywood TV writer and zoologist, Dave Mattia , a man who usually treads lightly on touchy subjects like this, had this to say about the meeting in the Netherlands.
"In my opinion, Bengt Holst, the administrator of the zoo, assembled paid stooges — friends and friends of friends — to watch this creep show in an attempt to legitimize what he planned on doing. Any notion that these people were truly  "invited" is untrue.  If they were indeed curious observers, they were truly sick people who might very well have tampered cruelly with the minds of their children.
"In spite of death threats against him and his staff and 47,000 or more names on a petition (most from Denmark and The Netherlands) to NOT kill the giraffe, and video requests from children throughout Europe begging him to not kill Marius, Holst went bananas and turned the entire thing into a macabre spectacle simply because he wanted to spite his detractors. That's not my OPINION — that is the opinion of the Zoological Society of The Netherlands and the London Zoo.
"Holst's fetid frustrations – whatever they may be — have overcome his judgement. Again, these are not MY words, these are the words of zoologists and zoological administrators throughout Europe. They're calling for his head on the chopping block. They're saying he is a madman and some on staff at the zoo who participated in this and are affiliated with other zoological endeavors will find themselves jobless in a few days.
"And the children.  What about the children?  
"This was a traumatic thing for a child to see, I'm sorry but I have to question the psychological machinations of anyone who thinks that this was a healthy thing to do to children — and some very strange people seem to think it was a splendid lesson for children to learn.  But these are ordinary children — not Children of the Corn.  
"One very nutty American woman who works in racehorse rescue called it "enlightening" and "wonderful for children to learn about the circle of life"  but it was not about any circle of life.  It was about one man's alleged insanity and a new slant on the old PT Barnum technique of getting people to patronize his zoo. How can this woman be in charge of the welfare of racehorses rescued from the racetrack. Perhaps she likes dead animals and suffering animals.  You never know what might be a person's motivations."
With regards to the committee in The Netherlands, when one commits a criminal act — and hopefully the authorities in Denmark will find this to be a criminal act — and one's business benefits from said criminal act, one can and often will be charged with criminal racketeering.
Dave Mattia continued:
"In my opinion, it was, what it was — a sickening spectacle brought to you by an allegedly  crazy man who has ordained himself with the divine providence to determine which animals live and which animals die as per his own edicts and opinions and his ability to kill without concern.
"You have people on Facebook and other social media — idiotic people — talking about where meat comes from and children being enriched by learning about dead animals and other overly simplistic and frankly deranged opinions, when this is not the issue at all.
"The issue is how the giraffe named Marius came to be blast-bolted in the head, and then quartered with butchering knives under the guise of performing a necropsy, so as to feed lions which in turn were later killed as well  by the same executive order that came down from the office of Bengt Holst, who, in my opinion, is either out of his mind or common people who simply do not understand the highly strange and macabre aspects that surround this cruel and unusual display of hubris and perhaps insanity" 
Here is a link to David D. Mattia if you want to learn more about him. http://www.imdb.com/name/nm3834680/
The goal of the Committee meeting in The Netherlands is to have Holst declared insane or be brought before a board of government appointed psychologists so as to determine if he is a danger to himself or to people or to animals.  This kind of thing is done all the time when families want to have a loved one put away because of psychologically inappropriate behavior.  Holst will get the same treatment as the average person who is dragged in for a competency hearing, but the odds of him coming out of this unscathed are very slim.  He will either be found to have some kind of mental illness which requires inpatient or outpatient psychiatric care, or, at the very least, he will lose his job and perhaps never again be allowed to work in a zoo or any kind.
EDITORS NOTE:  IT IS VERY EASY TO COMMENT ON THE DAMIEN ZONE.  WE DO NOT PUT YOU THROUGH A LONG PROCESS OF SIGNING UP AND VERIFYING EMAILS.  THE DOWNSIDE TO THIS IS THAT IT MIGHT TAKE SEVERAL HOURS FOR YOUR COMMENT TO APPEAR.  SOMETIMES IT TAKES A FEW MOMENTS AND SOMETIMES IT TAKES HOURS — BUT IT WILL APPEAR — WE CAN ASSURE YOU.  WE WELCOME ALL POINTS OF VIEW AND SOMETIMES ONE OF THE THE EDITORS WILL  ANSWER….EVEN IF YOU INSULT THEM.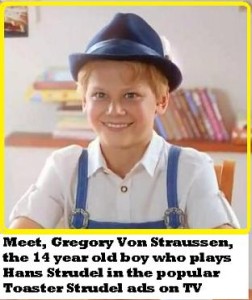 "Some Americans called it 'Gestapo' and they did not like the one commercial where I kicked down the door and it looked like I barged into the home of innocent people. I don't see what was wrong with that." [Gregory Von Straussen aka Hans Strudel].
Gregory Von Straussen just recently turned fourteen years old, and the yodeling Tyrolean-Austrian boy is one of America's most famous faces — so why doesn't anyone seem to know his name. Well – NOW YOU DO — he's Hans Strudel !!!  For more pics of him click here —–>more pics
Yes, folks, Gregory Von Straussen is the young actor with the angelically Aryan good looks who landed the job of playing Hans Strudel in the Toaster Strudel commercials. It's one of the most aired commercials in all of American television.
On a recent trip to NYC people pointed at him and called him Hans Strudel. He even signed about 100 autographs in one day, and he was gracious enough to sign each one with the name of character he portrays.
"I had to invent a completely different signature for Hans Strudel because Americans didn't seem to care that I had a real name and that my character in the commercial is not my real identity," said Gregory in his very thick German accent from the large A-Frame log house he shares with his parents in Innsbruck, Austria.
"If I tell people that I am Gregory Von Straussen, they become instantly uninterested and walk away, but when I smile and say that I am Hans Strudel, the people in the USA go crazy. I love American movies and movie stars, and I even went to the Grand Canyon two times, but I have to say that the American people are very flaky (chuckles) just like toaster strudel, yah?"
Yah, indeed ! The young actor model speaks perfect English but there is no mistaking that German accent of his. It sounds so familiar and heartwarming, It even landed him a part in an American TV show written by this well-known writer —->http://www.imdb.com/name/nm3834680/
"Actually, I have an Austrian accent and there is a difference.  I live on the western part of Austria – a strip between Italy and Germany - so I also speak formal German and Italian. I know I have an accent but I am going to a new school to try and fix that. My English teacher at my school in Austria was not a very good teacher and she had a very bad accent that she passed on to all of the students. One day a local inspector came to our school to hear our English lessons and after that we never saw that teacher again. The new teacher is from England and they say that's the best English of all to learn and so far I am in that class for six months and getting the best grades."
TheDamienZone.com figured that Gregory was grown up enough to answer some pretty adult questions, and when we asked him about the complaints the Hans Strudel commercials were generating in certain circles, Gregory was eager to answer.
"Some Americans called it 'Gestapo' and they did not like the one commercial where I kicked down the door and it looked like I barged into the home of innocent people. I don't see what was wrong with that. If you have something the people need — and everybody needs Toaster Strudel — why would you not kick in the door to make sure they get the message? I know that in some parts of the USA they do not show that version of the commercial anymore, and now the commercial is very 'Hollywood' and what I would call….shticky. I don't like that version. It does not show the brotherhood of the people who share the message of Toaster Strudel."
Currently, Gregory is doing a series of TV spots for a Kosher sausage company that will air throughout most of the German speaking world and he is also filming Italian and English language versions.
"My new agent is a nice man named Morty, and he thought that I should try to appeal to a bigger audience because I cannot make a name for myself just talking about Toaster Strudel.
"Do you know that most Americans do not eat Toaster Strudel,  and that even worse than that do not eat any breakfast at all? I cannot believe that. How do they get to school and do their calisthenics? I think all children should start the day with strong coffee, when  Father and Mother say it's okay, and then they should always eat a healthy breakfast that includes Toaster Strudel. After that they should walk to school while inhaling deeply and proudly."
Gregory's parents, Vilhelm, a fighter pilot in the Austrian Air Force, and Gretel, a piano teacher, are proud of their little Gregory. They plan on sending him to Munich to finish his secondary schooling and then hopes are that he will attend Harvard University in the USA or Oxford in England.
Currently, Gregory Von Straussen is the smartest kid in his class and his IQ has been measured to be 159 — which is well beyond the genius range. All the kids love him. He's smart, he's cute, he's famous and he gets the school endless amounts of free Toaster Strudel.
And while Gregory Von Straussen likes being an actor and making a lot of money, his dream is to one day become an artist or an architect. He especially admires the architecture of Vienna and says, "I hope that one day I will live in Vienna with my bride and dozens of children."
EDITORS NOTE:  IT IS VERY EASY TO COMMENT ON THE DAMIEN ZONE.  WE DO NOT PUT YOU THROUGH A LONG PROCESS OF SIGNING UP AND VERIFYING EMAILS.  THE DOWNSIDE TO THIS IS THAT IT MIGHT TAKE SEVERAL HOURS FOR YOUR COMMENT TO APPEAR.  SOMETIMES IT TAKES A FEW MOMENTS AND SOMETIMES IT TAKES HOURS — BUT IT WILL APPEAR — WE CAN ASSURE YOU.  WE WELCOME ALL POINTS OF VIEW AND SOMETIMES ONE OF THE THE EDITORS WILL  ANSWER….EVEN IF YOU INSULT THEM. 
E
E Harmony's Dr. Neil Clark Warren may be a bigoted guy who is opposed to gay marriage, but his grandaughter Caroline — the one with the speech impediment who appears in his commercials sporting blond pigtails — does not agree with her grandfather's stand on gay issues.
Caroline has been to many speech therapists and a cure has not been found, yet when it comes to modern social issues, the little actress speaks a lot more clearly than her stuffy grandfather.
This Hollywood writer got the inside scoop on Caroline Clark Warren:  http://www.imdb.com/name/nm3834680/?ref_=fn_al_nm_1
"I be-weeve, that gay people should be awwoed to mawwy and that my gwandfather is tewwibly wong about this," said Caroline from her penthouse apartment playroom in West Palm Beach.
"Gwandpa is vewy, vewy, old fashioned, and he doesn't wook at things the way he should. When I was a wheely wittle girl, I did not know what it meant when people say that somebody was gay, but now that I know, I will try to make my gwandfather twy to change his vewy wong idea about what people should do in the bedwoom. That stuff is vewy pwivat."
Don't hold your breath waiting for Caroline to come through on her promise to change her grandfather. The kid is pulling in a lot of money doing those TV spots.
"I make a watt of money and pwetty soon I will have enough to buy a Wools Woyce Convawtible."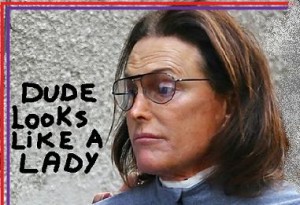 "….it's all part of the Kardashian's master plan for a mega-season storyline wherein Bruce finally gets sexual assignment surgery and changes his name — according to rumor — to Jenny Bruce." [The Damien Zone - Damien LeGallienne]
If it walks like a duck, it's probably a duck and if a guy looks like he is going through a sex-change procedure, it is safe to say that he probably is doing just that. It's becoming more and more obvious that in Jenner's case it's a whole lot more than a "Dude Looks Like a Lady" kind of thing. This time the dude IS a lady or pretty close to making the full transition.
"I believe Bruce Jenner is absolutely preparing to have a sex change operation," said a medical source close to TheDamienZone.com.
"In his current state, Bruce is what transvestite and transsexual prostitutes on the street would angrily call a 'gender fuck' because, his appearance is confusing and in spite of that, he is living life as a man. That is where the phrase 'gender fuck' is derived. He looks like one sex but proclaims to be another. Most pre-op or post op transsexuals refer to themselves as women and they take on the names of women, but Bruce is still Bruce and still claiming to be a man, so right now, as vulgar as it seems, Bruce Jenner would be referred to in the transsexual community as a 'gender fuck'.  He's very similar to the prop comic Carrot Top.
"The recent pictures of Bruce that have emerged show a very feminized and aging version of the once young man who was once a muscular young Olympian – the embodiment of manhood and virility.
"His facial skin looks like it has been thoroughly cleared of all whiskers via electrolysis and it has taken on a weathered and papery aging lady texture. His hair looks a little more lustrous which would be the result of female hormones.
"Also, no man on earth get's an 'adam's apple' shave unless they want to look like or become a woman. It's just something that is so specialized. To have that surgery is akin to wearing a sign that reads, ~I am going through a sex change operation~ and there are no ifs, ands or buts about it."
Other sources close to TheDamienZone say that this is all falsely hush hush and limply denied in the Kardashian world, but it's all part of the Kardashian's master plan for a mega-season storyline wherein Bruce finally gets sexual assignment surgery and changes his name — according to rumor — to Jenny Bruce.
"The Kardashians will score huge ratings on this "VERY SPECIAL SEASON OF THE KARDASHIANS" but right now they're playing dumb so the story is new and fresh for the Kardashian hungry morons of the world."
"Bruce has been wanting to have a sex change for years — nearly twenty or so years and it's safe to assume that a few times he either chickened out or he could not get psychiatric clearance for the procedure. Now he is so famous that any quack will do the operation just so they can be connected to a celebrity.
"Think about Michael Jackson. A regular person could never get the drug heavy-duty IV prescriptions from a doctor no matter how much they paid, but many Hollywood doctors are seduced by the whole celebrity ambiance and they'll do anything even it means putting their medical licenses in jeopardy."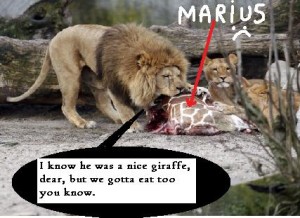 "The veterinary version of  Josef Mengele is alive and well and calling the shots at the Copenhagen Zoo.  It seems he is the person in Denmark who determines which animals are fit to live and procreate and which are inferior or flawed. Then he dissects them in front of children" [Damien LeGallienne,  10, February 2014]
TheDamienZone.com is calling for a boycott on tourism to Denmark — especially Copenhagen — especially the murderous zoo where they killed a giraffe because they didn't like its family tree.
The Copenhagen Zoo — which, in my opinion, is run by Nazis — shot and killed a perfectly healthy giraffe today and then fed the meat to the lions and the tigers. They did this because the giraffe "did not fit into their program" and they did not want him sent to another zoo because they said "it would cause inbreeding."
So that's how they do it in Denmark — very Hitler-ish don't you think?  The giraffe was named Marius, and to add insult to injury, they shot the poor guy in the head with a bolt gun because to kill him with a lethal injection would have rendered the meat inedible.   Is this zoo broke or something?  If you have to kill your animals to feed your other animals, something is really, really wrong.
Now, according to the really bad writers at CNN, the assholes are going to perform an autopsy. First of all, there is no such thing as an "autopsy" on an animal — for the 1,000th time, assholes — a postmortem on an animal is called a NECROPSY. How many frigging times do I have to tell you morons how to write correctly?
Anyway, several wildlife parks and zoos offered to take Marius but the Copenhagen zoo thought it was better to shoot a deadbolt into its brain — and it was VERY messy.  For some weird reason, they would not let Marius go somewhere else to live out his life.  It's as though they wanted to practice killing giraffes or something. I don't care how many "experts" try to explain what they did and why they did it.  The fact remains that they wanted this giraffe dead and they wanted to take this animals death to a Jerry Springer level.  They succeeded.
"The Yorkshire Wildlife Park in England offered to take him in and they have one of the best giraffe facilities in the world," said Zoologist/Writer David D. Mattia when we contacted him from our office in Belgium."

"There were so many more options open to Bengt Holst (the scientific director of the zoo) but for some weird reason he wouldn't budge."
David D. Mattia continued:
"I know there are various  protocols for situations like this, but The Copenhagen zoo laid this out for all the world to see and know about.  They turned it into a cheap sideshow and for that they have to face the music. They should never, never, never have done this.
"It's very creepy and unnatural human behavior by a zoological administration where many, if not all, the interests should be centered on animal behavior."
"I don't know why they would kill #Marius simply because his genetic strain is already well-represented in their giraffe herd. They keep repeating their mantra about maintaining genetic purity, and the more they emphasize that point, the creepier it gets. It's frightening …the way they speak so openly about this and then they dissected the animal in front of families and children.  There is something mentally wrong with somebody over there.
"The Copenhagen zoo shot a giraffe and at the same time they shot themselves in the foot. Nobody will or should go there now…not anyone who finds about this, and just about everyone will eventually.

"I thoroughly support a boycott on tourism to the Copenhagen Zoo because if the folks in charge…the scientific people…do something like this, something that should have either not been made public or something they knew would be grossly offensive throughout the world and viewed as cruel by millions of people, it speaks volumes about the mindset of the zoo itself. I think they're a little crazy or something. I would like to say something a whole lot deeper and more meaningful but the weird hubris of the powers that be at the Copenhagen Zoo is mind-boggling and there is nothing to say aside than to say that they're a little nuts."

"Of course you always want to avoid inbreeding in captive animals, but you simply don't kill a beautiful animal in what amounts to be a public spectacle and then not expect people to be outraged or to ever again patronize your zoo, especially when so many other options were available.  The whole affair turned into a macabre death-watch vigil that should have never happened.  
"What they did at the Copenhagen zoo was showy and self-serving and disgusting. Maybe they like stuff like that.  You never know what kind of wild stuff goes on in some people's heads.  Just because they're zoologists and veterinarians one can't automatically assume that they are not also out of their minds."
So Marius is D-E-A-D and now the lions will be eating him. Let's see. Wasn't there another time when some humans were seen as disposable and they too were fed to the lions?
LISTEN!  Don't waste your money on a trip to Denmark.  Donate a few bucks to your favourite charity.   This is a link to the zoologist we interviewed — http://www.imdb.com/name/nm3834680/ – click on it and learn about his projects. or follow him on Twitter @DaveMattia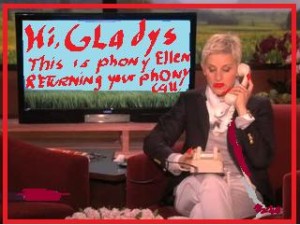 LISTEN UP, IMBECILES! GLADYS from AUSTIN and her, "I love Jesus, but I drink a little," is – was – and will forever be —- FAKE!
The face book sharers are at it again and this time these ELLEN "sharers" are even more stupid and gullible and maudlin and moronic than your usual, garden variety moron.
Old Gladys —  all 88 years of her —  is/was an imaginary character conjured up by a deserved-to-be-unknown comedian. There is nothing wrong with creating a character and making morons laugh at simplistic and mindless jokes, but it's wrong for Ellen to fool her audience. But what would you expect — Ellen thought she was fooling her audience for 20 years.
Yes, sadly, but not surprisingly, this time it's the Ellen Degeneres short bus people who have made the connection to the simpleton train.  Granted, they were always simpletons, and as much as I sorta like Ellen, she shouldn't have to trick the unfused skulls of her beloved cretinous audience to get a laugh.
Admittedly, what I am talking about happened six years ago, but the video is still out there — spreading across the world of the of the F.S.W.S. (Facebook Simpletons Who Share) community.
Six years on and the morons are still sharing it, so somebody has to do the dirty work and tell you people that Gladys, the "I love Jesus but I drink a little" phone caller on the Ellen Degeneres show, was FAKE!
There was no Gladys from Austin, but there was a local comedian in Austin who invented that character. His name is Scott Hardy and he didn't fool Ellen — she knew all along that it was this third-string Jonathan Winters wanna-be one joke wonder. In other words this was all staged and not nearly as funny as simpletons make it out to be.
All one needs to do is listen to the initial call to realize that the cadence and the structure and the ad lib nature of what was originally said by Gladys, was not what one hears from an 88-year-old woman. Ellen somehow returned the call the next day and got a big yuck from her moronic audience, but kindly note that Ellen called Gladys back for this second round routine. Where and when did Gladys give Ellen her phone number? Do you see how easy it can be to spot a routine?
"The call was staged by Ellen and the owner of a comedy nightclub in Austin," said a source close to the Ellen show. "We did get a call from an angry old woman who complained about the plant behind Ellen, and then Scott came up with this gimmick. It was just for fun but the producers at the Ellen show pushed it to the limit and never really thanked Scott or gave him any credit. They never like to pay people."