Damien Zone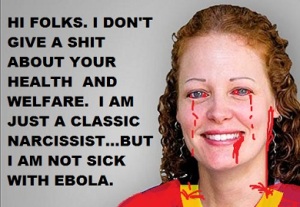 "In my opinion, going to work in West Africa was part of her Kaci Hickox show — her "look at me" gig. If she infects someone, she should be charged with murder. As she is now, she should be charged with reckless endangerment."
"She demanded to be sent out of New Jersey and now in Maine she refuses to follow the protocol for health care workers returning from West Africa because, in my opinion, she doesn't really care about human life.  I believe that everything she has done in the healthcare industry is rooted in narcissism and a kind of perverse enjoyment she gets from being surrounded by the dead and dying.  She's a mental case and there are plenty more just like her."  [Damien LeGallienne] 
Set aside for a moment the fact that Kaci Hickox might have Ebola and take a deeper look at what I believe to be her true illness — her mental illness.
Sounds simplistic, but the first clue that confirms the theory I am about to present is her name.
Yes.  The simple and silly fact that this woman spells her name in an invented way gives away the fact that she is a crazy person. Her name is probably Casey, but since she seems to be an "all about me" person, she has invented a crazy spelling — for attention.  If her parents did indeed name her Kaci — and spelled it as such — then they're nuts too and she has inherited their lunacy.
Let me put this is as simply as possible.  Kaci Hickox, in my opinion,  is a sadistic narcissist.  She places value on no one's life but her own.  Again, I believe she is a sicko in the deepest sense of the word.  She has the proverbial "crazy eyes" too.
In my opinion, Kaci Hickox's face is the face of the worst kind of clinical narcissism.
All of her work in West Africa can now be dismissed as null and void. She is not a hero — seems she never really was. Her good deeds were actually rooted in narcissism and self-importance and not love for her fellow man.
Strangely enough, this is not uncommon behavior. A lot of mentally screwed up people love mayhem and illness — this is why they like to work in certain fields. Have you ever taken a look deep into the lives of a lot of people who work at animal shelters or on ambulance crews?  Sure 90% of them are just doing a job, but the rest are sick.  They actually enjoy illness and death.  A lot of people who work in animal rescue secretly harbor joy in crucifying delinquent owners or pet abusers.
Naturally it sounds like a good thing to care about the welfare of injured or neglected animals.  Greater still is the desire to assist people who need an ambulance, but in many cases the true devotion of these types is that they enjoy seeing sick and dying animals and people.  They are drawn to this kind of creepiness.  
Think about it this way.  What if Mother Teresa did all of the things she did not because she loved to help the sick, but because she was aroused by the smell of filthy people and rotting flesh?  Sounds crazy, right?  I am certain that Mother Teresa was not motivated by stench and misery, but a lot of people are — and this is why they go into certain professions or vocations.  
Such is the case with Kaci Hickox.  
In the 18th and 19th century,  Kaci would have been called a "night nurse" — someone who gently watches over the sick in the wee hours when nobody else is around and most of the patients kick the bucket.  It was widely known — or at least whispered about – that many or most of these night nurses weren't really the caring and selfless creatures of God they presented themselves to be.  Instead they were monsters who didn't want to share the joy of death with others.  They derived perverse pleasure from death and dying and they wanted to be there.  You might find this hard to swallow, but there are all kinds of mentally sick people walking around — and they wallow in the mayhem and misery.
In much the same way, Kaci Hickox is a night nurse — the worst kind. In my opinion this woman does not care about human life — she cares about herself. Going to work in Africa was part of her show — her "look at me" gig. If she infects someone, she should be charged with murder. As she is now, she should be charged with reckless endangerment.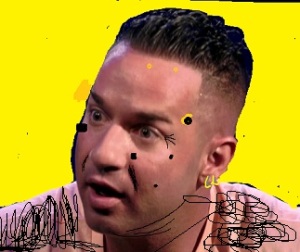 Assault in a tanning salon, writing bad checks, Federal income tax evasion — it's all in a day's work for Mike The Situation Sorentino of MTV's Jersey Shore.  But, as the jowly faced 30+ something moron waits to hear about his sentencing on all of these various crimes, his get-me-a-paper-bag face is changing from a kinda homely guy with a nice set of guns and abs, to a really fugly, cheeky and jowly guy whose abs and guns have gone to "pushing-forty" seed.
The Situation already had a very prominent Robert DeNiro type of mole on his upper cheek, but his recent battles with career failure and the the threat of an extended stay in a federal prison have caused physiological changes which have led to a serious outbreak of excess moles on both his face and body.  The Damien Zone has drawn black dots over the new moles to enhance them and we realize that the photo looks faked.  But he had them covered with makeup and we wanted you to see the new spots.
In a recent court appearance, The Situation's signature mole was now accompanied by a bunch of satellite moles and spots.  One mole might be called a beauty mark but a cluster of moles is not something anyone would find to be appealing unless they had a fetish for moles or blemishes.
"The Situation might be suffering from adrenal fatigue or adrenal exhaustion and this can cause muscle loss and outbreaks of moles due to the body's inability to combat the inflammation that comes with excess secretion of the adrenal hormone cortisol," said Dr. Ray Totondi of The Skylight Institute for Health and Wellness in Zurich.  
"The adrenal glands are two small pieces of tissue that sit on top of the kidneys. They are glands that produce hormones pretty much make or break the way our bodies work.  The hormones important, as far as The Situation goes, are CORTISOL and ADRENALIN.   Too much cortisol – from stress or serious illness — can cause extreme facial and abdominal fatness and loss of muscle.  It also accelerates the inflammation that leads to mole formation as a result of too much exposure to sun or tanning beds.  Too much adrenaline leads to hypertension and abnormal behavior.  The cycle is serious because excess adrenaline production results in excess cortisol production – and so the cycle feeds upon itself.  If The Situation doesn't get some rest or peace of mind he will eventually become a very overweight man with a huge face and lots of moles and rashes."
Mike The Situation is certainly looking like his face if puffing up, and lately he has been keeping his body covered up with suits from the Italian Stallion Clothiers in the Willowbrook Mall of Wayne, NJ. USA.   It sure sounds like he is ruining his adrenal glands.  The alcohol doesn't help either.  If he has ever done steroids, he is a goner. Nothing destroys the adrenal glands faster than anabolic steroids.
Mike The Situation is now facing very serious tax evasion charges, and he had been indicted.  Insiders say that he tried to claim his moles and facial fat as depreciation liabilities that were going to hurt his career.  Do you have symptoms of adrenal exhaustion?  — Click Here and find out —–>
Dangerous Adrenal Fatigue.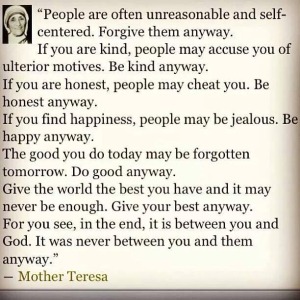 Here is the latest Internet hoax and  the photo that comes with it.  Facebook morons are pumping these out faster than the Franklin Mint pushes out worthless 9-11 memorabilia.
MOTHER TERESA NEVER SAID THIS!  IT'S EVEN ADDRESSED THERE IN BLACK AND WHITE ON HER OFFICIAL WEBSITE.  IT LISTS THE FAKE QUOTES AND THIS IS ONE OF THEM.  HOW FRIGGING HARD IS IT TO LOOK SOMETHING UP BEFORE YOU SHARE IT WITH THE REST OF YOUR MORONIC FACEBOOK SIMPLETONS?
This quote, printed over a photograph of Mother Teresa, is floating around on Facebook.  It is inspiring millions of simple-minded Facebookers — but there's a problem.  SHE NEVER SAID IT!   There is no record of the Mother Teresa ever saying this and on her official website, this quote is singled out as one of the fakest.   Here is the page 
Das Quota
  If that one doesn't work, the reprint of the page is printed at the bottom of this.
Devout followers of the Mother Teresa have been trying to tell people in social media for years that this quote not genuine, but we live in the day where all one needs to do is put something up on Facebook and it becomes the law of the land — at least where idiots are concerned.
Why do people on Facebook fall for this baloney?  Last year it was the fake quote attributed to Betty White about testicles and vaginas.  Last month it was all about fake Robin Williams quotes,  and this week it's about the Mother Teresa crock of bull.
All you need is to be vaguely familiar with how to use the internet — how to research something —  to know that this is not true,   I hate to tell all you people who have been magically hoisted onto a heavenly plane by this quote that it is 100% not true.  MOTHER TERESA NEVER SAID IT.
Please be advised that Mother Teresa
did not

say or write the following:
People are often unreasonable, illogical, and self-centered; Forgive them anyway. If you are kind, People may accuse you of selfish, ulterior motives; Be kind anyway. If you are successful, you will win some false friends and some true enemies; Succeed anyway. If you are honest and frank, People may cheat you; Be honest and frank anyway. What you spend years building, someone could destroy overnight; Build anyway. If you find serenity and happiness, They may be jealous; Be happy anyway. The good you do today, people will often forget tomorrow; Do good anyway.http://www.motherteresa.org/08_info/Quotesf.html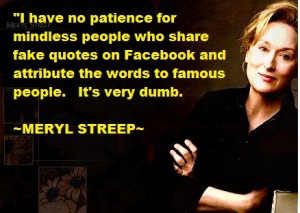 "Don't feel sad that you've been duped and you're basically a stupid idiot.  Even the old raggedy folk singer Janis Ian shared it on her Facebook wall — and she got 300,000 likes.  Wow, wouldn't you like to be able to do that — even with a fake story?
Of course,  this is not the first time Janis Ian has fooled the entire world with a fake story.  Back in the 1960s with her song "Society's Child" she had the whole world fooled into thinking that some imaginary black guy would want to f**k her.  And now, in her 80s or something, she has converted to Lesbianism — so the whole point is moot."  [Damien LeGallienne]
The Facebook Simpletons are at it again, folks, and this time the fake quote of the year has been attributed to none other than Meryl Streep.  You know — MERYL STREEP — the old actress who sits in the front row at every Academy Award ceremony and anoints,  with just a nod of her enlarging head and crooked razor nose, the next big Hollywood actress.
Meryl is greatly admired by people who think that being able to do bad impersonations of foreign or regional accents is the hallmark of great talent.   Meryl Streep, through no real fault of her own, is the champion of the stupid.  She is the favorite of fat housewives, people with no taste in cinema, and now, with her latest portrayal of the drunk and pill popping mother of a dysfunctional family, she is the darling of all passed middle-aged confirmed bachelors who dutifully do the grocery shopping with their elderly mothers.
So anyway, what is all the fuss?  The fuss is about a big and magically inspirational (not) quote/essay that is floating around under a photo of Miss Streep.  You know the drill, right?  Somebody shared it to your Facebook wall and you were so moved and so touched and so enlightened and so goddam stupid that you shared it.
The quote starts out like this:
MERYL STREEP SAID —  "I no longer have patience for certain things, not because I've become arrogant, but simply because I reached a point in my life where I do not want to waste more time with…etc"  NO SHE DID NOT!  IT'S FAKE!
That's as far as I will go — because aside from the fact that it's fake,  it's stupid and simplistic and maudlin and it's EVERYWHERE!   Why is it everywhere?  It's everywhere because it is written the way psychics make predictions or Astrologists write hororscopes.   They use some kind of magical force that reaches far beyond the mind of the Facebook Simpleton and suddenly everything they say applies to you.  You can't believe how much you and Meryl Streep think alike.  You're kindred Simpletons.  That has to be somewhat comforting, right?
What?  You can't believe you were duped?  Of course you can't.  If you COULD believe it, you would never have been duped in the first place.  Hush…it's okay…it's okay.  You are a Simpleton, my humble reader, and there is nothing wrong with you other than the sad fact that you're a FSWS — Facebook Simpleton Who Shares.  There are millions of you.  You aren't alone, and if you're not alone, you're okay.
Notwithstanding the dumbness of so many people who share this eternally dumb shit, when does it end?  I mean, when do you finally figure it out?  When do you learn to see the obvious fake quotes?
I sometimes wonder if this kind of internet stupidity isn't some kind of terminal illness — after all, even a rat with an electrode drilled into its skull eventually learns which lever to push to get the cheese.
But — lab rats are decidedly more intelligent than the Facebook Simpleton Who Shares, and unless they bite you with mouths full of sewer bacteria, the lowly rat is not anywhere near as dangerous as the Facebook Simpleton Who Shares.
Okay, you want to be liked, so you spread misinformation and fake stories with nary a care about truth or accountability.  But that is as it should be.  It's the way the average person goes through life simply because the average person is a Simpleton.
It might not be so bad after all when you think about it.  I mean, if you are reading this, maybe there is hope for you.
In other words, if you are reading this, you might – A) Have a serious problem separating fact from fiction and you go through life like a sewer rat or –  B) You're not as dumb as most of your cousins and high school friends or their kids or their videos of cats and grandchildren or people pouring buckets of water on their heads.
Getting back to the quote, which was actually written by some Portuguese bullshit artist for one reason or another, I could dissect the whole thing and show you why the mindless people in our midst are swayed and swooned by the maudlin sentiment therein, but I don't have time.  It's enough for you to know that just about everyone on your Facebook page, including Janice Ian, is, to some degree or another, a Facebook Simpleton Who Shares.
NOTE: Commenting on this blog is easy — I don't put you through hoops to speak your mind.  I don't care how much you insult me or hate me.  And, unlike most bloggers, I often respond.  Yes, it's true.  I often take the time out to respond to both my fans and my haters.  Not an easy task either since I get about 100,000 readers per month.
That horrible baseball-stealing woman with the Suze Orman lipstick lesbian haircut — that square-assed  old hag in white pants and a big bully belt who snatched away a baseball from a child, has finally been identified.   Her name is Grennele Brashkowitz, and if you think she is the most hated wicked witch in the world, wait until you hear what she does for a living.
Baseball fans the world over have been wanting to know her identity ever since she snatched the ball away from the unidentified child to whom it was thrown by a Juan Miranda at Minute Maid Park in Houston.
"The announcer on TV said what I did was 'beyond wrong' but there is nothing wrong with a kid learning that life is about competition and learning to take the hard knocks,"  Brashkowitz said from her home in New York City where she works as — get this — a child psychologist of all things.
"I was on a cross-country vacation with my life companion Judy, and we decided to go to a baseball game.  I even bought a special outfit at Nordstrom — white shirt with white pants and a huge leather belt — I looked great and I deserved to be on TV.  I deserved that ball too.  That little kid will have a lot of chances in life.  Sometimes she will screw up and sometimes she will succeed.  That's the way life goes for everybody.   So get over it!"
Brashkowitz is now heading back to her native Quebec since she feels that her life has become unlivable since she snatched the ball from that poor little girl.  She is being drummed out of her job and shunned in her community.
"I didn't even know the kid was there.  I didn't even see her, but what difference should that make?  I win!  That is what I do!  In the long run the kid will get on TV shows and whatever but I will always be seen as an evil woman with a big ugly belt.  Yeah, that's what the guy on the local news said about me.  He said I had an ugly belt.  Can you imagine saying that about a belt I bought for $99.00 and that was with 40% off.  How could it be ugly?  
"I can't take it anymore in this f****g country and I don't care what anyone thinks of me or my hair or how out of style they say I looked or that my ass was big and flat like they say.  Yeah, let's see you live with those kinds of insults and see how long you can take it.   And all this because I beat out a little brat for a baseball.  Give me a break!"
Grennele Brashskowitz is a child psychologist in private practice with four other clinicians.  So far all of the staff has walked out and the partners are in the process of buying her out of the business.  Strangely enough, according to her associate, Daneesh Pargrim PHd. she is beloved by her patients and has never had a blemish on her record.
On the New Jersey shore, close to the decay of Asbury Park, lies a place called Allenhurst — and they have their own private beach club.   It's called the Allenhurst Beach Club, and each year on Labor Day they put the lives of their members in jeopardy by dying their ocean lime green with a chemical dye they say is safe and fun for all.  They're wrong.
There is nothing safe about dumping a whole lot of a chemical into an ocean filled with children, teens and adults.  They think this is cute and fun and great but the chemical in question is used in medicine and all forms of science wherein a tracing dye is needed.
But, like all things that start out nice until some kids start getting cancer, it's a great tradition — just like the tradition of never seeing one African American face in any of the Allenhurst Beach Club's website photographs.  It kind of seems as though the Allenhurst Beach Club likes for its water to be green and for its members to be white.   Traditions are great.
The green water event organizers — Jack Lehmann and Gail Matarazzo — whoever they are — and they certainly are not chemists — dumped two vats of a chemical called Fluorescein sodium into the oceanfront upon which their uppity beach club lies.   Then everyone runs into the green and glowing ocean and has a blast.  Sounds kinda sick, doesn't it? 
On Saint Patrick's day, way back when, they used to dye the Chicago river green with this very same substance but it was banned by environmentalists in 1966.  Can you imagine that?  Something that has been banned for nearly 50 years in Chicago is still making oceanic mirth in Allenhurst, NJ.  Can you believe the stupidity of these people?  I can.  They're a bunch of nouveau elitist morons who don't give a shit about anything.  An ordinary person can't even get on their beaches let alone have a chance to bathe in the glowy green ocean — and lucky for them because all that green fun might kill them.
Here is how Wikipedia describes the chemical.
FLOURESCEIN: "Topical or oral use of fluorescein can cause adverse reactions including nausea, vomiting, hives, acute hypotension (a sudden drop in blood pressure), anaphylactic shock (like a serious reaction to a bee sting or a peanut allergy) and related severely allergic reactions that can result in cardiac arrest and sudden death due to the severity and speediness of the allergic reaction.
The most common adverse reaction is nausea, due to a difference in the pH from the body and the pH of the sodium fluorescein dye; a number of other factors, however, are considered contributors as well.
The nausea usually is transient and subsides quickly. Hives can range from a minor annoyance to severe, and a single dose of antihistamine may give complete relief. Anaphylactic shock and subsequent cardiac arrest and sudden death are very rare, but because they occur within minutes, a health care provider who uses fluorescein should be prepared to perform emergency resuscitation."
So — enjoy your dip in the ocean at the Allenhurst Beach Club — if they'll allow you to become a member.  Remember that TheDamienZone.com dedicates itself to weeding out the stupidity and dumbness in out world, and this summer, the Swimming o' the green at Allenhurst is not only UNLUCKY — it's the dumbest thing we ever heard.  Have a look at the club — scroll down to read the membership policy — oh wait — they are not accepting new members.
Allenhurst Beach Club
BEACH INFORMATION

Chris Rogers – Beach Manager
Jack Lehmann – Beach Manager
Link to Allenhurst Beach Club Official Websire
 Beach Club is now open for the Summer
Enjoy and be SAFE
ALL LOCKERS and CABANAS ARE FILLED
NO NEW MEMBERS FOR 2014

Official Opening June 19, 2014 and closes for the season on September 26th, 2014.
Locker and Cabana clean-out September 28th, 2014.

Hours of operation 
June 19  –  June 30 10:00 AM to 6:00 PM
July    1  –  Sept 26 10:00 AM to 7:00 PM
Joan Rivers will probably not survive this and Melissa Rivers (her daughter) will have to make all the decisions until such time that Joan passes away..  This isn't Melissa's first tragedy, but she's up to the task. [Damien LeGallienne]
This is a possible scenario for the truth about Joan Rivers' current condition as the world waits to hear about the fate of their beloved comedienne.  She will probably hang in there for a few more days and then she will be put in a private room where she will pass away.
Latest reports say that Joan Rivers is now "resting comfortably" in a medically induced coma.  The phrase "on life support" has been heard. So what does that mean? Here are some answers from Hollywood Insider and scientific writer Dave Matt.     
These are not 100% certain facts as they pertain to Miss Rivers, and not even her doctors know what will ultimately happen,  but I will present a very likely scenario for what is probably happening to Miss Rivers and to what may have happened to her — all the elements that led up to her current status as a patient in New York City's  Mount Sinai hospital.
Early Thursday 28 August 2014 –  Miss Rivers was put under sedation for what some initially believed to be an ENDOSCOPY — a procedure wherein a tube is placed into the throat to have a look at the stomach and esophagus.  This was assumed because the private outpatient center where she went for this procedure describes itself as "a resource for digestive disorders." 
Later reports stated that she went there to have her vocal chords examined. That kind of work could have been done in a private surgery suite such as this one where Joan Rivers was taken ill with cardiac arrest.  It's not a great idea, but it can be done.  
In either case, the place where Joan went is a qualified medical office where many wealthy New Yorkers go for private care when they get minor procedures; chiefly, endoscopy of the stomach and esophagus.
During the procedure, it was reported that Miss Rivers stopped breathing and her heart stopped beating.  This unforeseen complication can happen during any procedure where one is anesthetized to any degree — even in a dentist's chair.
Sources now say that CPR was applied at the clinic but one can assume that more aggressive means of life sustaining support actually began after paramedics arrived on the scene.
Okay, so here is what may have happened afterwards, and in my opinion is probably what is going on now.
Miss Rivers "failed" during the endoscopic procedure and whatever life saving measures they did there — at that very moment — and how well they worked minute by minute — will determine the ultimate fate of Joan Rivers.
If the doctor or doctors who performed the procedure at the clinic were skilled in emergency medicine and equipped for emergency resuscitation — if they had some, any or little success reviving her, she still may have gone for a considerable length of time without adequate oxygen for her body to maintain function.
The degree of oxygen deprivation depends on the amount of time JOan Rivers went without breathing or someone breathing for her via mouth to mouth or by "bagging."  The organ most in question and usually the most affected is the brain.
The ambulance that came to take Miss Rivers to Mount Sinai — even under the fastest circumstances — would have taken at least 8-10 minutes.
Upon arrival, the paramedics would have started or initiated resuscitation — perhaps shocking her heart with a defibrillator and breathing for her with a bag or mechanical ventilator while or after they rushed her to the hospital wherein more advanced equipment would be available and her condition could be more thoroughly accessed.
Currently, she is said to be intubated/ventilated — on a breathing machine — and she has been placed in a medically induced coma.
There are many reasons for putting someone in a medically induced coma, but in this case these are some certain possibilities.
She may have suffered brain damage from a lack of oxygen to the brain, and they are watching her neurological signs.  This is very likely.  A deep coma slows down swelling of the injured brain.
Miss Rivers may have suffered some extensive organ damage from the lack of oxygen to her other organs as well, and the best way to keep her body oxygenated and to keep her other organs from failing is to keep her deeply unconscious and on a breathing machine or a (ventilator) with an oxygen content that is much higher than ordinary air.  Her body temperature has also been lowered as this seems to aid in reducing further brain damage.
It is now known that Miss Rivers' life is indeed being maintained by mechanical means.  She might also have been comatose to begin with and the drug-induced coma serves only to ensure that she is in a totally suspended and "stable" state
Another possibility is that Joan suffered some kind of medical crisis at the private surgery center.  She may have had  a cardiac event and/or stroke or one of the many things that can go wrong with a patient before, during or after any medical procedure.
Miss Rivers is 81 years old, and while her energy and her talent seems eternally energetic, advanced age is not in her favour at this point.  When she is removed from life sustaining equipment — breathing and feeding machines etc — she will either continue to breath on her own for an unknown length of time, or she will expire.  The hospital has not said — and will not say — the extent of the  of brain damage, but neurologists will watch her brain functions with electronic telemetry. If she shows little to no brain function, then removing her from the machines after whatever length of time has been determined by her family will either result in her death or continued life in a yet-to-be-determined condition.
My best guess is that she is currently being held in a "stable" condition while doctors address the issues of how much end organ and/or brain damage, if any, may have occurred during the time when she was either not breathing or her heart was not beating or both.
Is Joan Rivers on life support?  Yes — in a sense — essentially she is totally on life support.  I cannot say if her brain is damaged , but it sounds suspiciously like there must be some degree of suspected brain deficit.
Keep in mind that Joan Rivers was taken to Mount Sinai hospital whilst still unconscious.   This is not to suggest that someone who has a heartbeat restored and is now breathing and beating, simply pops up instantly and becomes awake.  That can happen — mostly in movies — but obviously this is not the case here.  The doctors at the endoscopy clinic did not bring her "back to life."
Currently the doctors ay Mount Sinai are watching her organ functions.  Kidneys, lungs, brain etc.   Her brain is the main thing thrown into this life or death equation.
The other looming danger here — assuming her brain is okay or somewhat okay — is always the fear of ARDS — Acute Respiratory Distress Syndrome.   This is what can happen to lungs after oxygen deprivation or trauma to the body or any of its organs.  It is often fatal, but so far ARDS is only something that CAN happen.  At the present time, that issue has not been addressed because her brain function takes top priority.
In the end, the odds would suggest that Miss Rivers was without oxygen for some length of time and this is what they are dealing with now — a brain that has been injured to some extent.
Hopefully she will recover, but the amount of time that has passed suggests that she is only theoretically "stable" having been medically placed in a stable state of "wait and see."  This is a grim situation.
Her daughter Melissa is by her side making difficult decisions as the doctors do whatever it is they must do in this situation and keep the family informed on her overall prognosis — which is probably very poor at the current time.
The end results will be, partial recovery, full recovery, lingering coma and life support, or death or opting to hasten death by disconnecting her from all manner of life support.  The fact that she will die within the next week to ten days is the most likely scenario.
Melissa Rivers will have to make all the decisions until such time that Joan passes away or she recovers.
Let's pray that Joan Rivers comes to her rest without any fear or pain.
It started with a trickle of ice and some cold water and now it has taken over the internet. All kinds of people, from high school jocks to 90 year old grandmothers, are taking the A.L.S. CHALLENGE to raise awareness about Lou Gherig's Disease — and some of them are dying.
Since the beginning of the summer of 2014 when people started dousing themselves and others with icy water and challenging others to do the same or donate to an ALS charity, the ALS Challenge has raised a substantial amount of money, but it has also killed at least a dozen people in the USA alone.
"I was watching when my brother-in-law did the ALS thing in the park with his kids at our family reunion.  Everybody was laughing and having a good time when Mike took the bucket and poured it over his own head.  He let out a gasp like anyone would do when they get freezing water poured on their heads and we laughed.  But then, all of a sudden, Mike wasn't laughing and he looked up at his wife and he tried to wave for her to come over to him and then he dropped down and turned gray.  The paramedics were there in about 10 minutes but he was dead.  The whole picnic and everything was ruined. People's lives were ruined.  I think people should just write a check or something.  I know it's a fatal disease but it's not worth dying for." [Raymond Totetundi, Mamaroneck, NY. USA]
Raymond Totetundi's brother-in-law Mike is neither the first nor the only person to die as a direct result of the ALS challenge, but his death in a crowded cookout park was the first to bring attention to the possibility of serious injury and death associated with the ALS Challenge.
Here is list of three people and the circumstances that resulted in their deaths after taking the ALS challenge.   The first one is strange but true and, of course, it could only happen in New Jersey.
1) Concetta DelloFagiollo, age 77,  Belleville, New Jersey:  Mrs. DelloFagiollo was killed in early August (2014) when she took the ALS challenge in a rather unconventional way.  Instead of ice cold water, she used a large pot of ice cold tomato sauce and meatballs while standing in the backyard of her home as two of her sons and four of her grandchildren watched on in horror.
She'd made the two gallons of sauce and meatballs weeks before and then froze it for future use.  She put the pot in the refrigerator so it would thaw out over a couple of days.  Her son says she got the idea to take the challenge when she saw it on TV.
With her grandson's cell phone cam running, Mrs. DelloFaggiollo's sons Carmine and Alphonse dumped the pot of tomato sauce and meatballs on her head.  In the video she seems momentarily chilled and she jokes, "I don't think that Lou Gherig was Italian."  Then, she falls to the ground and her body starts twitching. The video ends there. EMS was on the scene in minutes but Mrs. DelloFagiollo was already non-responsive and was declared dead a half hour later at a local hospital.
"One minute we were a family having fun with our mother and the next thing you know we're standing in the Emergency Room of a hospital and standing there while the doctor told us our mother was dead.  It was like a dream because she was right there behind the curtain and you could smell the gravy and meatballs and it was like she was already in heaven and calling us home for supper like when we were kids.  That's the only way I could describe it.  The doctor was nice but he couldn't understand the way we felt because he wasn't Italian." [Carmine DelloFaggiollo - son]
2) Jolene K. Parlhunter, age 33, Millstone, New Jersey:  Jolene stood under the roof her family's garage while her brother's prepared to dump an aluminum garbage can of ice and water.  Her cousin Jennifer filmed the event as Jolene called out the challenge to several of her friends at work.  As Jolene is speaking, her brother accidentally knocks over the trash can and it falls from the garage roof and lands hard on Jolene's head.  Her skull was crushed and she was killed at the scene.  Police estimated the weight of the trash can filled with a block of ice and water at about 170 pounds.  The block of ice alone weighed 75 pounds. Police have confiscated the cell phone used to film the event pending an investigation.
"She was just getting ready to tell her brothers to dump the water but her older brother almost fell and when her other brother reached out to help him, the can just fell down hard and squashed her head like when  you drop a pumpkin from something high up.  I dropped my phone and ran away screaming because she was all messed up and disgusting.  The weird thing now that I think about it is that her brother's didn't even bother to break up the giant block of ice they put in the trash can, so even if they got it right, that block of ice would still have killed her.  Why didn't they even think about that in the first place?" [Jennifer Smith - cousin]
3) Karl Boulliet, age 66, Keansburg, New Jersey:  Karl took the challenge on a fishing boat out on the expansive Raritan Bay while participating in bluefish tournament.   Karl had just landed a bluefish that, at 25 pounds, was certain to win him the the $1.000 grand prize, and in the flush of victory he decided to take the ALS Challenge right there on deck.   His nephew Taylor-Joe Hudak describes.
"My Uncle K was really happy to catch that fish and him and his friends gulped down a few beers and everybody was like going crazy and having a great time.  Then some guy I don't know decided that it would be a great idea to use some crushed ice and picnic cooler full of ice and water to make my uncle take the ALS Challenge right there on deck.  My uncle was totally into it.  So like three of us filmed it and he challenged some other guys on the boat and his sister who is my mother and then these guys dumped the ice water on him.  He was cold and shivering but laughing. Then he walked to the back of the boat and while he was walking he just collapsed and was out cold.  He was breathing but we could not wake him up.  It took about 5 minutes for us to get to the dock but by then he wasn't breathing and the firemen did CPR but he was dead in the ambulance and they said he had a heart attack from the shock. Personally I think that he finally caught a great fish and that's the way he wanted his life to end."
Editor's note:  Most people should consult their doctors before taking the ALS Challenge.  The Damien Zone thinks that it might be a better idea to donate some money to a worthy cause associated with this incurable disease.
NOTE:  Commenting on this article is very easy and hassle free — no crazy stuff to fill out or cross check —  but the downside is that it might take a few hours for your comment to appear while an editor approves it and sometimes responds.  All comments within reason are published, so keep checking back.  We do not edit out profanity so speak your mind.  This is a free country — express your opinions.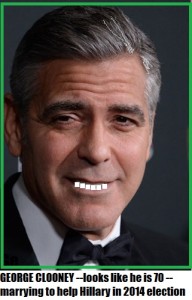 "George Clooney needs a "Magic Johnson" wife to drag along on Hillary's campaign trail, and it looks like they've found him one.  I wonder if George has even met the poor girl yet." [Damien LeGallienne]
The most recent jibber-jabber in the world of the American Simpleton is now all about the upcoming George Clooney fake marriage. Guys who do hair and women who do nails and housework — confirmed bachelors who work in retail etc., cannot get enough of this malarkey.  They love it because it beats having to learn about something real or important.
The Clooney gang has put the ultra-fake machine into overdrive because they are gearing up for the Hillary Clinton Presidential campaign, and of course they are going to need a wholesome image for their man Clooney.
George Clooney needs a "Magic Johnson" wife to drag along on the Hillary campaign trail and it looks like they've found him one.  I wonder if George has even met the poor girl yet.
In any event, the driven nature of the American Simpleton as a variety of humanoid, is to live vicariously through the real or imagined adventures of celebrities and star athletes — people who would step over their corpses in the gutter were they to have a massive stroke on Sunset Blvd.
Putting  that little bit of anthropology aside, allow me to say that nothing about George Clooney besides the shit and piss in his toilet is genuine or sincere or real.  He is the ultimate impostor and the average simpleton in the USA has elevated him to the kind of status that all impostors crave — he is believed and beloved in spite of the fact that his entire life is invented and scripted.
George Clooney has taken impostor-ship to a new level — he thinks he can invent pretty much say, or do, or lay claim to anything and everything and that everyone will believe it.  It's the worst kind of hubris, and if you know anything about the word hubris (which many of you do not) you will learn that it means more than just arrogance..  It's a malignant type of arrogance that leads to a tragic downfall.   Yes, it's true.  Look it up and learn something.
Okay, so let's examine why George Clooney is an impostor and why the simpletons of the USA and Europe (not so much) think so highly of a man whose only truth lies in the toilet.
George Clooney is not really handsome or virile or sexy.  That's all been invented by his press people.  For 20 years — in spite of never having had a hit film or TV show —  George Clooney's people put his "Scruffy in Armani" pictures on People-ish magazines and millions of morons who browse or buy from the rack at the supermarket are instantly conned into believing that it's a true fact.
It's Orwellian.  "This is the image of a handsome man and this is what has been determined to be the watermark of male beauty."
It's not out of the question that some women and men might find Clooney to be attractive because even the ugliest of the ugly ultimately finds someone who finds him or her to be attractive.
Dean Martin sang the song, "Everybody Loves Somebody Sometime" and for every George Clooney who has a hundred press people working overtime to propagate the lie that their man is an Adonis, there are millions of ordinary to outright ugly guys who have at least one old, desperate slut at the bar chasing after them.
Keep in mind that George is not butt ugly, but in real life he would go unnoticed. He has millions of dollars to take what little he has and work with it so as to create the illusion of good lucks and sophistication and virility.  In my opinion, like Rock Hudson who came before him — and luckily not 
in
 him — Clooney is a closet queen who masquerades as a swinging bachelor.  He's living in a Frank Sinatra movie circa 1963 only this Frank Sinatra has a hint of mint.  He looks 15 years older than he is and his body is thin, frail and ugly and dark and waxed and plucked.   Rock Hudson, on the other hand, was actually handsome and he wasn't a phony.   Hudson was forced to hide his gayness.  He never stood on sanctimony — playing the gay-adjacent game.
So, Simpletons of the USA, prepare yourself for the new First Lady of the American red carpet because she will be coming to a whistle-stop Presidential campaign spot near you.  Ah yes, Mrs. George Clooney.  Look for her because she has been hand-picked by marketing experts, and she will bring along her shy and retiring and totally phony stupid and politically moronic and untalented husband.  After the election George will back with the guys on  the gay Greek island of Mikonos — and the wife will have a movie career.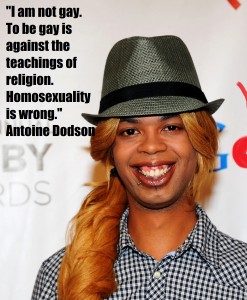 Why is this Antoine Dodson Facebook page suddenly so popular?
In light of the recent life changes announced by Antoine — a guy with quirky talent who got lucky when somebody broke into his apartment in the projects — you would think people — especially gay people — would be more discerning about the people they "share" on Facebook — but they are not discerning.
They're morons just like their heterosexual counterparts who live only to "share" without concern or forethought.  That is the nature of the Facebook Simpleton regardless of sexual orientation.
FOLKS!  Antoine Dodson is no longer gay — he says so himself — where is the outrage?  Antoine believes living a homosexual "lifestyle" is wrong and anti-religious.  Don't you morons know that about him?  Do you ever read a frigging news story or even pick up a cheap magazine?   I am happy for Antoine that he is no longer hunting for a paycheck, but how dumb are some people — really? 
I am not hating on Antoine Dodson because he was a low income, gay African-American who lived in the projects and then became famous.  I am angry at the LGBT community for not knowing  that he has angrily and religiously ditched them in favour of chicks and babes — so he says.
The gays who don't read or don't care still love him, and it makes no sense whatsoever.  His Facebook page has over 1,000,000 followers — ahhhh — but maybe that's the key to Antoine's recent transformation?  There are less than 20 million gay people in the USA and success with the gay crowd is nowhere near as lucrative as it is with the Christian straight crowd.
Okay, I get it now.  Using Jesus for money — nothing new about that.  Is Antoine doing that or has he had some kind of weird revelation?  I don't know.  That's his business, but the sad truth is that nobody has bothered to learn about the new Antoine Dodson.  Therein lies the stupidity of certain people, and that is why we write this blog, right?  We write to expose stupidity and dumbness when and wherever it might occur.
The Simpletons of Facebook — which is just about everyone who has an account on Facebook — embraced Antoine when he became an overnight sensation via his viral video, and in spite of his recent admissions and admonitions  against gaiety, he is still popular — especially in the gay male community where one would expect him to be vilified, but in order to know the more recent truth about Antoine Dodson, at least one gay guy would have to read or learn or study — something the average Facebook Simpleton is unable to do with any degree of non-stupidity.
Let's start from the beginning.
A few years ago, someone broke into Antoine's home in the low income projects of the Lincoln Park Housing Project in Huntsville, Alabama, USA, and climbed into bed with his sister.
Antoine's sister bravely stated that the intruder tried to rape her, and when she was interviewed on local TV about that incident, Antoine chimed in with his diatribe against the intruder.  It was concise and comical — so comical in fact that some enterprising young musicians took his TV interview and put it to an AUTO-TUNE music video which went viral.
Do you know it?
"Hide your kids, hide your wife, hide your kids, hide your wife, and hide your husbands because they're raping everybody out here.  You don't have to come and confess. We're looking for you.  We gonna find you, we gonna find you. So you can run and tell that, run and tell that, home boy, home boy….etc."
So Antoine became an overnight sensation with his auto-tuned "Hide your kids, Hide Your Wife" viral video musical, and Antoine was openly gay — very flamboyant and funny and engaging — and but now he is singing a different tune.
Seems the former Miss Thing Dodson, has prayed away the gay and gone religiously freaky. Doesn't anyone know this about him?  Do the simpletons of Facebook only look for homophobia in the American GOP or on CBN?   Antoine himself sounds awfully homophobic, and he has renounced his faith in Judy Garland, and for most gay men that's grounds for excommunication.
Antoine Dodson announced recently that he was straight at the same time he proclaimed himself to be the 'True Chosen Hebrew Israelite descendant of Judah' on Facebook. He is now expecting a child with a woman he calls "his queen." This is a far cry from the queens Antoine used to impregnate — in a manner of speaking. 
Dodson stated, "I have to renounce myself, I'm no longer into homosexuality I want a wife and family, I want to multiply and raise and love my family that I create,"
This was mild when compared to some of the things Dodson has said since claiming to have made the switch from dicks to chicks.
"The Bible states against it (homosexuality)."  "I am not praying away the gay.  You can just lift it.  If you want to change your life you can."   "I'm trying to move away from being gay and become a better person." "Back then I was dumb.  I didn't know the Bible, I didn't read the Bible like I should have done."
It gets even more in your face, folks, but I don't have the time.  The truth is that Antoine used the money he made to get his ass out of the projects and into a nice home in Los Angeles where he now proclaims a to be a chosen Hebrew Israelite.
Yeah, so to all of you morons out there in Facebook land, be mindful of the person you are helping to make wealthy.  Personally, I don't care if Antoine is gay or straight or just plain stupid — which he seems to be — but really, how could so many people not know the truth about the new Antoine Dodson?
Like Antoine Dodson himself said when he addressed the news camera and the American public: "You are really dumb. You are so dumb.  Fer real! "