"The creepy thing is that this school can't put up a Nativity scene and display the three wise men and the baby Jesus,  but it can put up a display that celebrates homosexuality and transsexualism to an audience of under-aged kids — something is a little sick about that. If a guy in a trench coat stopped any of these kids on the street and talked to them about these subjects, he'd be in big trouble."  [Damien.  TheDamienZone.com ]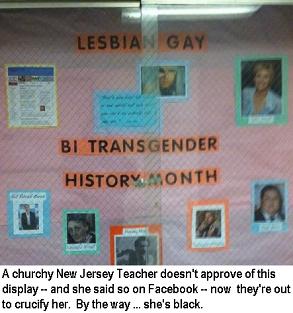 School officials in Union Township are preparing to figuratively lynch  a teacher at Union High School who allegedly posted comments on her Facebook site criticizing a school display recognizing Lesbian Gay Bisexual and Transgender History Month and calling homosexuality "perverted."  
On Saturday, a local attorney who said he had initially been contacted by a parent, wrote to the district calling for the teacher's dismissal.  
I am going to assume that parent or the child was laying in wait for a teacher to do something "wrong" — you know the type — someone just waiting for a teacher to screw up — and where this teacher screwed up was by using Facebook in the first place.  Facebook is like target practice for people who love to shoot down people who can indeed by shot down.  Teachers and politicians turn themselves into sitting ducks when they sign on to Facebook.
The lawyer who is handling this mess, John Paragano, a former township councilman, provided the district with what he said was a copy of the Facebook thread that included the offending remarks.  He did not say why the parent was scoping out the Facebook page of teacher Vicki Knox.  Was she baited into saying this?  Did the parent masquerade as a someone else in an attempt to extricate Ms. Knox's opinions?   Were these opinions otherwise unknown by students at the school?  Just like the thousands of teachers who probably feel the same way Knox does, Knox was not smart enough to stay off of Facebook.  If there is anything that should get her fired, it's the simple fact that she is stupid for expressing her opinions on Facebook.
The copy of Ms. Knox's Facebook status update was also provided to The Star-Ledger, in which Ms. Viki Knox, allegedly referred to homosexuality as, "a perverted spirit that has existed from the beginning of creation," and a "sin" that "breeds like cancer." 
Hey. that's her opinion.  She wasn't beating up any gay students or anything.  There is no record of her showing any bias against gay kids — and kids in school shouldn't even be talking about what kind of sex they like. 
Obviously this information was supplied by a Facebook "friend" because only "friends" see another Facebooker's posts.  So my best guess is that somebody ingratiated his or herself with Ms. Knox and then pounced on her when she fell off the wagon of protecting her own privacy.   
"Hateful public comments from a teacher cannot be tolerated," wrote Paragano, also a former Union Township Municipal Court judge. "   "She has a right to say it, but she does not have a right to keep her job after saying it."
Paragano sounds like a puppet for hire — a typical lawyer who has NEVER called somebody a "faggot" or a "homo" or whatever nasty word you can think of — never, never,  never, — no NEVER — he is the most tolerant person on the earth.
Union Chief School Administrator Patrick Martin (a deer in the headlights) said the district is investigating the incident.  In other words, they are going to fire the teacher and then a bunch of woe-is-me-and-my-child parents and their hungry lawyers will set out to destroy this teacher and sue the school and the city and the county and the state and anbody they can dig up from whatever graveyard it is where lawyers get their dead bodies.
Knox, 49, of Union Township, is also the faculty adviser to the high school's student prayer group, The Seekers Fellowship, the local chapter of a nationwide organization. 
Okay, she's an African American  church-lady and she is expressing her opinions.  Merciless and tunnel-visioned as they often show themselves to be,  gay activists like to compare their struggle with the struggle of blacks in America.  Trouble is, black folks have less liberal predators in their midst.  They do not to pretend to tolerate things.  Sadly, they statistically vote against their own interests – but that's a story for another day.
Knox did not respond to requests for comment. But two other people who wrote comments on the thread said Paragano's copy was authentic.
Township resident Judy Amorosa challenged Knox directly on Facebook, writing "What kind of a Christian are you? God made each and every one of us — gay, straight, black, white, Christian, Jew, blond, brunette — and we should all love each other." 
Judy Amorosa — bless her heart —  sounds like another one of those holier than thou people who have never expressed any opinions on anything or anyone unless it was lofty praise sent from heaven.  She has always, throughout her entire life,  been tolerant of EVERYTHING and EVERYBODY.  As a matter of fact, she is so holy and glowing in the light of the Holy Spirit that she is going to be canonized by The Roman Catholic Church in a few years.   She's Mother Theresa disguised as a New Jersey housewife.  Who'da thunk, huh?
The case raises broader questions about rights of teachers to speak freely in the age of social media.  But teachers SHOULD NOT be on Facebook because there is always a student or a parent who will set out to get you — the story about Viki Knox is ample testament to that unwritten rule.
It has also prompted gay rights advocates to question the ability of teachers who express such views to enforce New Jersey's new anti-bullying law, adopted last spring in the wake of the suicide of Tyler Clementi, a Rutgers student who killed himself after learning he had been watched, via webcam, having sex with another man.
TheDamienZone is so sick of this new bully thing.  Why do gays think that they are entitled to less bullshit than the average person.  If a kid dresses poorly and gets bullied, nothing will happen, but heaven forbid if he is  gay and somebody calls him a name — or she's fat — or he has a handicap — or he is a minority —  what a mess.
The American Civil Liberties Union of New Jersey released a statement defending Knox's First Amendment right to make the comments.  You never thought you'd hear me standing up for The American Civil Liberties Union, but this time they got it right.  Of course, had Ms. Knox been a white teacher, they'd be the ones going after her.  Lawyer Paragano would not be in the picture.
"Although we do not agree with the sentiments expressed on Ms. Knox's personal Facebook page, her comments are protected by the First Amendment," stated Ed Barocas, the group's legal director. "The ACLU believes that the response to offensive speech is not the restriction of speech, but more speech."
Barocas added, "The school has the right to investigate whether she is performing her job in accordance with school policies and the state's Law Against Discrimination."  Sounds like they are half-assed siding with her, doesn't it?
But Garden State Equality, a gay rights group, joined the lawyer Paragano in calling for the teacher's dismissal.
"Teachers are supposed to be role models for our children, not hatemongers," said Steven Goldstein, who chairs the group. "I don't see how this teacher could possibly be effective in implementing the state's new anti-bullying law, designed precisely to teach children that bullying, including cyber-bullying, is unacceptable."