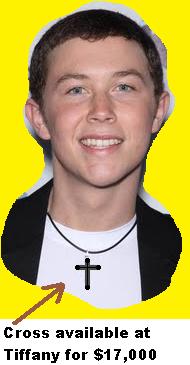 Scotty McCreery's cross, the one that he wears around his neck is selling like hotcakes ever since Tiffany Jewelers has made a replica of it and is selling it for $16,900 in New York City.
"The McCreery cross is our biggest seller right now," said Julius Tiffany III from his shop on 57th street in the heart of Manhattan. 
"There is something about that cross that inspired our greatest artists to duplicate it in genuine platinum and onyx.  So far, despite the high price, we have sold over 500 of the crosses to wealthy New Yorkers and people as far away as South Africa.  It was that cross that made McCreery an American Idol and that cross will put Tiffany on the mass market almost as famous as Jared's or Kay Jewelers.
"We must remind buyers that this is a cross and not a crucifix.  A crucifix has an image of Christ hanging on it and is worn mostly by Roman Catholics.  This is a regular white bread and mayonaisse  American cross — no frills or warmth or anything like that — just a cross — the kind that makes non-Christians dislike Catholics  and confuse them with bible thumping Christians."
Anyone who wants to buy the McCreery cross has to get orders in as soon as possible and they should contact Tiffany's and put a down payment.  Tiffany is only going to make 500,000 of them and they warn all buyers to be aware of knock-offs and counterfeits.