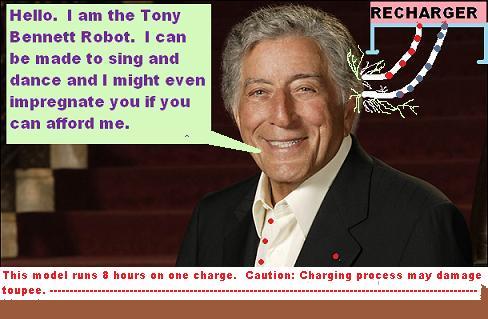 An anatomical replica of singer Tony Bennett was put up on the stage of American Idol to sing with the untalented kid Haley Reinhart– and boy was it a hit.  It looked just like the 85-year-old crooner and sounded better than the real thing. 
"I remember going to Disneyland when I was a kid and seeing Abraham Lincoln re-animated as a robot,"  said Dr. Patty Hunter of Marfa, Texas, an expert in Animatronics and Robotics at Robotronica Industries in Houston.
"The way the people at Fox have animatronically reproduced a likeness of Tony Bennett is astounding.  His facial features are perfect and match exactly with recent photos.  They have even made his understated toupee look ever-so-slightly fake and that's something that even Madame Tussuad was never able to accomplish.   It was a marvel of electronic engineering and artistry.   I wanted to sing with Tony myself.  I might even let his robotic llikeness  have intercourse with me, but I am not sure if he was built with a penis or if he is perhaps so perfectly manufactured that they gave the 85- year-old replica a penis is unable to get hard enough  to satisfy me.  Now THAT would be realistic!"
Tomorrow the people at American Idol will reveal that the Tony Bennett they saw was really just a robot and that the real Tony Bennett is way too old to be messing around with these untalented sound-alike kids.