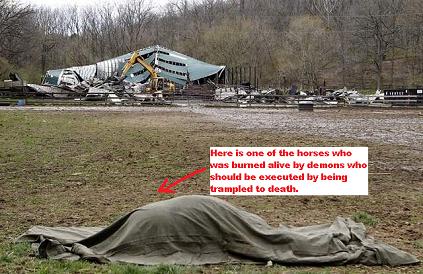 Firefighters in rural Ohio are offering a $5,000 reward today for information about who was behind an Easter arson attack that killed eight horses, including a week-old colt, in a blaze being investigated as a hate crime against the animals' gay owner.  This $5,000 reward seems kind of chincy to me.  This isn't The Laramie Project, I know, but this is cruelty of the highest and most malicious order.
Brent Whitehouse said he noticed an orange glow (that would be the fire) coming from the barn near his farmhouse in McConnelsville, Ohio, just before midnight Sunday. He ran out to the barn, but the door jammed — its hinges likely melted from the fire's heat.  If the hinges melted, imagine the paind suffered by the horses.
"I couldn't get the door open,"  said Whitehouse  "I could still hear the horses kicking and I tried as hard as I could to get them out, and I just couldn't get them out in time."  <—–Imagine the horror of this.
"Whoever did this, I can't believe they would take the time to actually harm an innocent animal," continued Whitehouse. "Because the way that barn burned, they had to be around those horses. And to see a little baby colt, a week old, and know that they were going to kill
Homophobic slurs like "Fags are freaks" and "Burn in hell" were discovered spray-painted on the smoldering wreckage of his barn. Authorities have launched a hate crime investigation, as Whitehouse is gay. When white trash gay bashers (and I am assuming they are white) go out on a bender, they really know how to hate – this is even worse than hate and it's my opinion that one or more of the perps is a homosexual and can't face it.
Neighbor and friend Bobbie Nelson said she believes those responsible for the arson "obviously don't know [Whitehouse] very well, because he's a sweet-hearted person, and how he lives his lifestyle is nobody's business but his own."
"To take it out on these innocent horses was beyond any fathom of what anybody should ever do to anybody," another neighbor who worked with Whitehouse's horses, Yvette Yeadon.
I hereby sentence those responsible to be put to death by trampling.  They should tied to the ground in a barn where a few wild horses are allowed to roam around.