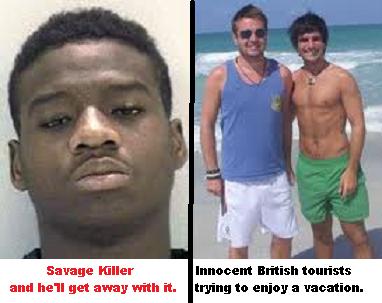 British tourists James Cooper, 25, and James Kouzaris, 24 are both dead because they made the tragic mistake of visting the United States of America — the country where savages are allowed to run free no matter how bad their criminal record might be.  There are parts of the USA that are less safe than the hills of Afghanistan. 
Sixteen-year-old savage Shawn Tyson shot the pair even though he should have been in jail for other charges — but somehow the state of Florida,  a dumping ground for criminals, savages and gangs, allowed this barbaric creature — this miscreant mutant of nature to run free.
I urge all Europeans to stay the fuck away from the USA — it's too fucking dangerous and there's nothing here to see that's worth dying for.
This has happened before and again it was perpetrated by the same element.  It will only keep getting worse, so my best advice to all Europeans is to not come to the USA — you're putting your life in danger.