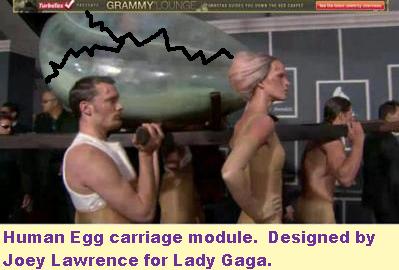 Lady Gaga arrived at The Grammys in an egg — but it wasn't just any egg.  The 1950s design-style was the work of TV's Joey Lawrence who crafted the egg after 3 years of graphic studies at UCLA c of Design and Artistry.
"I built the egg as a labor of love," said the star of ABC Family's 'Melissa and Joey." 
"I wanted to build a special human container that would suggest life coming from non life and I knew that Gaga would appreciate the conceptual design.  It took me 2 years to design the egg, but I built the actual egg in twenty-seven days.
"While my hair transplants were growing in, I needed to fill the void and building this egg for Lady Gaga was the perfect time passer.  I plan on building more human modules in the future and the egg was my genesis.  I don't know how far I will go with this, but I am happy that I completed this.  It is truly a masterpiece and a major work of art.  I am glad that I made it and have the sense to realize what a genius I have become.  If only my hair was not sprayed on my head — if only."
The egg will serve its purpose only for The Grammys and then it will be ceremonially destroyed and burned at a ceremony near Joey Lawrence's home.