It is believed that Steven Tyler was deposited on earth around the same time as the the Pleziopods which can now only be found as fossils in old rocks on the bottom of the sea.   They are estimated to be almost 2 billion years old and the earliest form of multicellular life on earth.  Steven Tyler has a mouth similar to the Coelocanth fish which was once believed to be extinct for 60,000,000 years, but it was found alive and well in the Indian Ocean in 1938.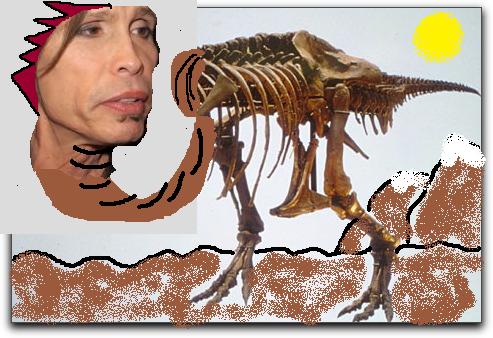 Artist rendering of original STEVEN TYLER 
It is safe to assume that Steven Tyler, his plastic surgery notwithstanding, is between 64 million years and 2 billion years old – give or take a week.
Just kidding — Stephen Victor Tallarico (born March 26, 1948), better known as Steven Tyler, is now 62 years old.  His mouth, however is much older because it is so large that its mass moves faster in time and space.