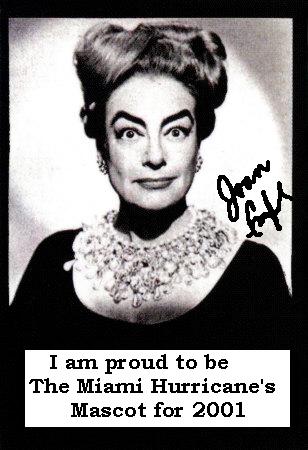 Aside from being considered to be one of the greatest team rosters in history, the 2001 Miami Hurricanes Roster has something else to boast about. 
"We had the most gay players on any sports team in history and that includes figure skating,"  said  Enda Round, a Miami drag queen who used to be a tight end for the Miami Hurricanes.  Of course I am now a wide receiver — really wide — but we won't get into that right now."
It seems that the myth of the 2001 Hurricanes has been perpetrated by the pro-gay sports lobby who are sick of being represented by people like Martina Navratilova nd Greg Louganis. 
"We were the gayest team," said a former player speaking in anonmymity.  "Now you have Bret Favre who is not gay but he does have that premature aging disease and my gawd he really looks old.  I could just die."
"Yes, there was truly something special about that team and most of it involved brotherly love — if ya know what I'm talking about,"  said Terry Bradshaw, a man who has been dodging gay rumors for decades.  "I spent a lot of time in that locker room just talking to the guys and making rum punch.  Those were the good old days."
The 2001 Miami Hurricanes chose Joan Crawford to be their team mascot, and during each game a man dressed as Joan Crawford would run out onto the field and smack an actor dressed as Bette Davis.   One time both benches emptied after Joan Crawford got into a real fist fight with a a rival mascot who was a rooster.
Ah –  what a story.