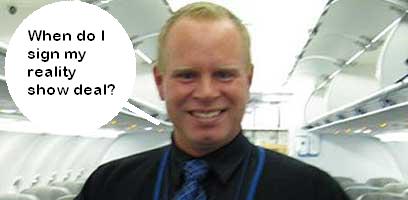 We at TheDamienZone.com pride ourselves on our intuition.  After all, we are not human beings and it's so easy for us to see through human behavior and motivation.   We know when people are up to no good and this is why we knew that Steve Slater, the nutty queen who threw herself down an emergency exit slide, had motives far beyond just wanting to quit his job.
This girl got tired of dishing out soda and coffee to disgruntled passengers.  Looks like she wanted to be a star.  She's going to get the star treatment too because the big guns (hehe) at Jet Blue are pissed off at their little Mary Mary quite contrary.
Jet Blue executives have issued a memo and it looks like Stephanie Slater is going to get the book thrown at her.  Hopefully it will be a copy of Blue Boy or Mandate, but whatever book it is,  Stephanie is not a hero — she's a fucking idiot!
JetBlue Chief Operating Officer Rob Maruster says in the memo that the airline is still investigating, but that no one has yet corroborated Slater's version of events. In fact, JetBlue notes, several passengers "have given interviews that tell a different story."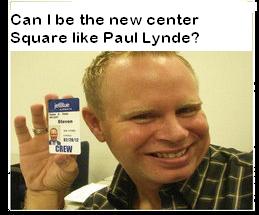 "If Mr. Slater's story proves to be accurate, and even if there was a precipitating event that motivated his behavior, that still doesn't excuse his actions," Maruster wrote.
The airline said "the most distressing aspect" of news coverage is that the danger of deploying an emergency slide hasn't been taken seriously enough.
We at TheDamienZone.com never believed Slater's story in the first place.  He had "reality show" written all over his fat shiny red face.  We hate reality show people and when we find one,  we are merciless.  Let's hope a judge agrees.