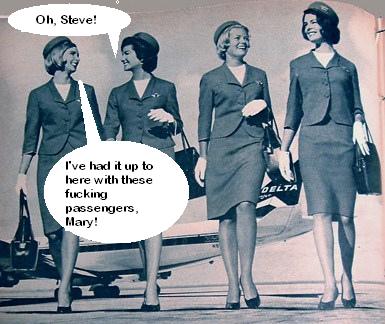 "What a fabulous queen," exclaimed passenger Frank D'Angelo, 81, of Brooklyn.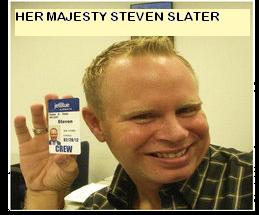 "I guess she just couldn't take it anymore.  You should have seen her.  It was a sight to behold.  That fabulous queen grabbed her beer and slid down that slide like a true heroine.   She reminded me of the daffy bitchy queens of old."
D'Angelo, a passenger on a Jet Blue flight from Pittsburgh to John F. Kennedy International Airport in New York, was referring to the bizzare antics of flight attendant Steven Slater.  
 Slater, a queen of mega proportions,  flipped out on the plane and ruined a nearly 25-year career in the gay dominated male flight attendant business.
People describe Steven Slater as a nice guy, but yesterday the flight attendant for JetBlue apparently totally lost control following an argument with a passenger.
Slater was working on a flight from Pittsburgh that had landed at John F. Kennedy International Airport in New York, when he was hit on the head by a bag a passenger was pulling out early from an overhead compartment.
According to the New York Daily News, words were exchanged and Slater's reaction was to blow his top. He spewed profanity at stunned proper Presbyterian passengers, grabbed a beer and activated the plane's emergency slide, then bolted off the plane.  The only thing he didn't do was pull the other passenger's hair.
Passengers told the News as part of his rant, Slater, 38, said he planned to quit the airline and move to Provincetown.
"He seemed kind of happy (and gay) about it. He was like, 'I just quit my job,'" says passenger Phil Brooks, 36, of Brooklyn.
Slater got on the AirTrain that takes travelers into the city, but his bizarre behavior continued when he stripped off his tie and threw it at train passengers.  he must have thought it was a feather boa.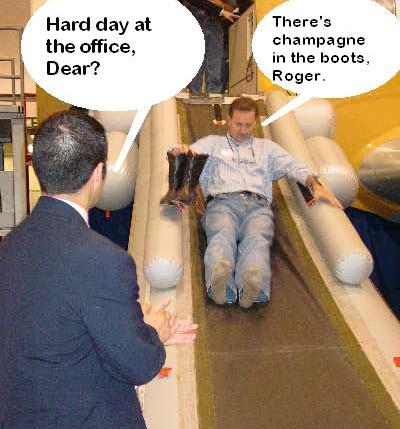 It was unclear how long Slater had worked for JetBlue, but there were some reports he had worked for airlines for 20 years.  Like any dutiful queen he had previously worked in Bam's and Macy's as an officious and bitchy retail queen.
JetBlue reported the incident, but police did not arrive until Slater had left the scene. He was arrested at his beachfront home in the Rockaways.
Slater was reportedly smiling when police led him away in handcuffs and when he was later charged with reckless endangerment and criminal mischief and leaving before he could receieve his Daytime Emmy for best actress.
"It's pretty much the craziest thing I've ever seen on a plane," says passenger Catelinet.
The brother of Slater's partner says he was "dumbfounded" by the wacky incident. "He's an everyday ordinary guy, a nice queen," John Hechelle, 39, tells TheDamienZone.com.
A JetBlue co-worker who was on the flight, calls Slater a working-class hero and a fabulous queen and his tantrums were, " worthy of a scene from Mommy Dearest."

"It's something we all fantasize about," she tells the newspaper. "But we have kids and a mortgage or are just too chicken – or sane – to go through with [it]."